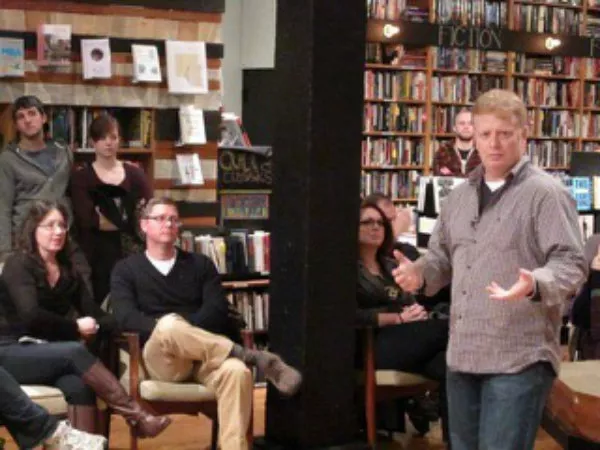 Courtesy of Trey Dowell
Trey Dowell speaking at a book signing in Indianapolis.
The story of how local author Trey Dowell got his first book, The Protectors, published is one that he says teeters between life and death. It has almost as many dramatic twists and turns as the novel itself.

It starts with a familiar trope: Stuck in a rut at a meaningless job, Dowell realizes his real passion and decides to take a risk to pursue his dreams of writing.

"I was in computer hardware and software sales. I was making a really good income, but it was slowly killing me," says Dowell, now 47. With all the stress and long hours he had to endure, he just didn't enjoy life. When the economy tanked in 2009, the St. Louis native saw it as his time to get out and learn how to "re-love" life again.
Courtesy of Trey Dowell
If you had the power to change the world, would you?
"If I thought stress was bad then, it was going to get a lot worse," he says. "I thought, 'Why not give writing a shot and really devote myself to it and give it a try?'"
Dowell had little experience writing. As he says, the only English course he took while studying at Washington University was a mandatory composition class. But the urge was strong.
"I would say maybe fifteen years ago, I got it in my head to write a short story. It really came out of nowhere," Dowell says. "Growing up I was always a big fan of verbal fiction, but since most people call that lying, it wasn't encouraged in my family."
So he tried his hand at writing a short story and did what he says all beginning authors do — show your draft only to people with the same last name as you. "I still have a copy of it and it's not horrible, but it's not great. I didn't send it out. I didn't take any risk."
When his then-girlfriend urged him to enter a short story contest, to his surprise, he won. But even after that, Dowell didn't pursue writing again until after quitting his job years later.
Surprisingly, he remembers the three years of writing full-time as a "charmed life." Once he could put all his efforts into a book, he achieved quick success.
"It sounds horrible, but the first time I entered a contest I won. The first time I submitted a short story for publication it got accepted. The first time I submitted for an award it won," Dowell recalls. "I'd go to my writing friends, and I know how crazy and awful this is going to sound, but I'd ask, 'I thought this was supposed to be hard?'"
Then he hit a major roadbump. In the summer of 2013, after some months of hearing only rejection, his agent got an email from an editor at Simon & Schuster.
In a follow-up phone conversation, the editor professed to love it. But shortly after Dowell told everyone he knew that he had a book deal, the publishing company came back with more rejection — or, as they called it, "a revise and resubmit."
"At that point, because I really thought we had a deal, it was incredibly disheartening," he says. "It was one of the worst days I remember ever feeling."
And the suggestions were overwhelming: "I had no freaking clue how to change things. If you're a contractor, this wasn't just 'add a window.' It was 're-pour the foundation and add a second story.' I was just like 'Well, it's over. I can't do what he wants me to do, so I'm done.'"
Ten days later, Dowell had a heart attack. As it turned out, six of his coronary arteries were blocked. He needed open-heart surgery and 11 stents to fix it.
And even after that, he wasn't fully whole. Dowell says his coronary arteries are smaller than normal; his doctors felt they had no choice but to leave them as-is.
"So I have two coronary arteries that are 95 percent blocked that are just there in my heart," he says. "It's kind of like a ticking clock that just there's nothing they could do. Now I kind of just live with this knowledge that at any time those two might close."
Grueling rehab and a "month of solid awfulness," though, led to a big realization. "When I was done, those changes that seemed impossible before, all of a sudden—and I hesitate to say this because I don't think heart attacks are a gift—but it gave me a little bit of a gift in that I didn't care anymore. I wasn't overwhelmed by the writing. I just like, 'Well shit, I could go at any time, so why not try?'"
Dowell spent two months working on the changes that his editors suggested, as well as adding new details that he thought would make the book better. Three months after his heart attack, he sent it back to Simon & Schuster. And this time, he had a deal.
The Protectors
, a novel about an ordinary guy named Scott McAllister with the power to put anyone to sleep, was published in 2014 by Simon & Schuster's new line, Simon 451. The novel follows McAllister as he attempts to stop his ex-girlfriend and former teammate, Lyla, who appears to have gone rogue. It's more of a thriller than a superhero book. The basic question is a simple one: "If you had the power to change the world, would you do it?"
Dowell, who lives in Maryland Heights, has now finished his second novel—a story about a time traveling company—and has heard some interest from 20th Century Fox about movie rights to
The Protectors
. But that's something he says he's just going to "shut up and wait for." After jumping the gun about the book deal itself, he's learned his lesson.
But what he's learned has been surprisingly good.
"Every dream that you have as a writer, I got to live that dream," he says. "But it was due to this awful, awful thing that happened to me and it totally changed everything."