image courtesy of Bill Streeter
Well-known for his Lo Fi Cherokee series, Bill Streeter is turning to a frothy new subject: beer.
UPDATE: On March 6, St. Louis Brews exceeded its $15,000 Kickstarter goal with 163 backers, with eight days left in the campaign.
Original story follows ....
This year, the St. Louis Brewers Guild boasts that St. Louis will have more local breweries than ever before — and that's going back to the city's inception.
Local videographer Bill Streeter wants to examine this boom. His new project, St. Louis Brews, will be a feature-length documentary that both examines the scene today and places it in the context of the city's rich brewing history. The film will tell the story of St. Louis's eight-year shift from a one-brewery, Anheuser-Busch-dominated town to a robust craft culture, while examining the city's previous "Golden Age" of brewing, the 1880s.

Streeter's first feature documentary,
Brick by Chance and Fortune: A St. Louis Story
, earned critical raves and
aired on KETC
(Channel 9). He's probably best known for his music and culture-focused web series, Lo Fi Cherokee.
In researching this new film, Streeter again took a crash course in St. Louis history.
St. Louis Brews
is inspired in part by
Reedy Press's book of the same name
. But while he follows similar historical trails and interviews the book's authors, he also plans to provide new content and an updated look at modern breweries.
Streeter says he encountered many similarities at the core of St. Louis's craft brewing scene yesterday and today. "Both the brewers in the 1800s and the modern craft brewers have this strong sense of community and a very wholesome approach to beer as a beverage that can help community along," he says. He invokes Schlafly's art shows and the numerous local events where families bring their strollers and their dogs to enjoy beer in the outdoors — which he thinks are very true to the spirit of German beer halls. "It's not so much about getting drunk and party atmosphere; it's more of family and community."
The filmmaker also thinks he's discovered a parallel character in the creativity and daring of local brewers. Streeter says that the old-school German brewers "had respect for traditional brewing, but they weren't afraid to try new things and really expand the market and expand the business. That's almost identical to what modern craft brewers are doing today." And from 4 Hands Brewing's unique fruit-flavored saisons to Urban Chestnut's Wolpertinger 2016, the options are many.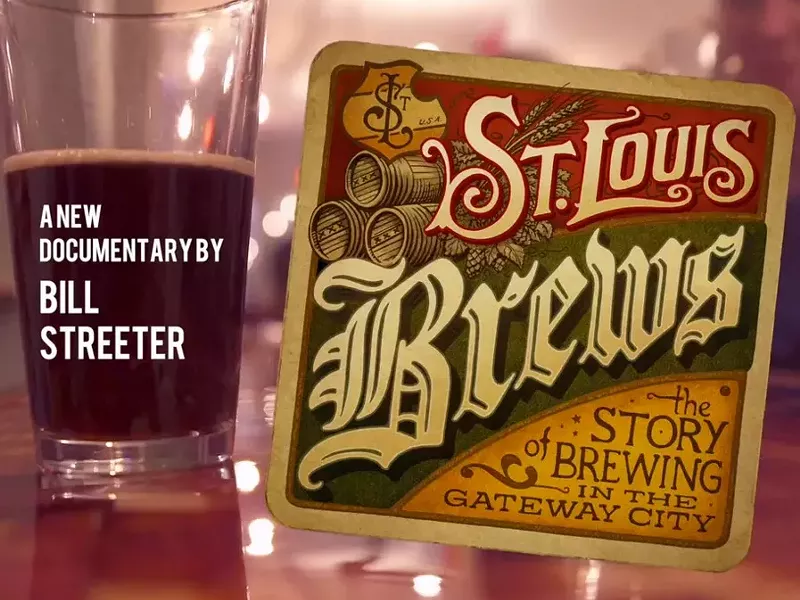 Streeter thought about making a film about beer for several years, but he's glad he only recently made the move to film and edit it. "It's a lot more interesting story now than it was," he says, thanks to the ways in the beer industry locally has changed since InBev's 2008 acquisition of Anheuser-Busch.
And Streeter considers it "a little ironic" that even though he's making a documentary about beer, he's been cutting back on his own consumption. He recalls lunching with his friend Pokey Lafarge, who told him, "It seems like with this project you're keeping beer in your life somehow." In some sense, this film is his ode to beer.
Later today, Streeter plans to post a Kickstarter to fund the film. (Update:
It's now live!
) Although he's already filmed parts of it, he'll need help paying for post-production and festival dues; he also contracted two local musicians to compose the music, and the Kickstarter will help pay them.
He plans for St. Louis Brews to premiere publicly in November at the St. Louis International Film Festival. Dying to get a peek? He'll hold preview screenings for some people who donate to the Kickstarter. Last night, he debuted the trailer for the St. Louis Brewers Guild — and won a standing ovation.
But he hopes that the film will reach a broad audience, not just beer fanatics or local brewers. "Whether you're into beer or not, it's a history documentary, it's a business documentary. It should be inspirational to anybody even if they're not into beer. If you're into history, or you're into St. Louis, or into beer, or if you're into all three, you should be able to enjoy this film," Streeter promises.