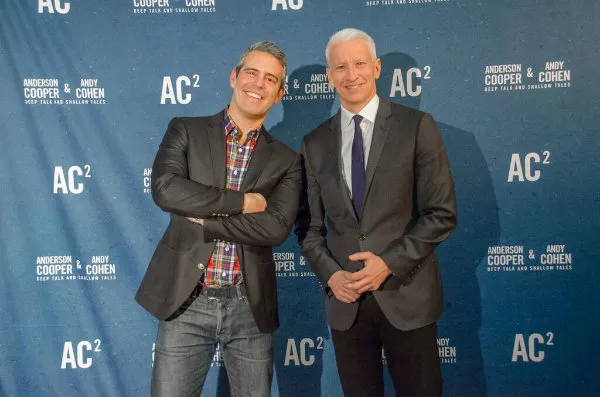 Photo courtesy of Glenn Kulbako
Andy Cohen and Anderson Cooper are bring deep talks and shallow tales to the Fabulous Fox on Oct. 15.
The Rams may have left St. Louis, but at least Andy Cohen is coming back.
The St. Louis native-turned-TV host/Bravo exec made the joke as he greeted reporters at the Fabulous Fox on last Thursday —- an appearance to promote Cohen's touring show with Anderson Cooper, AC2: Deep Talk and Shallow Tales. The live show comes to the Fox one night only on October 15, with
tickets available as of today
.
Despite his celebrity, which stems from the
Real Housewives
talk show spinoff
Watch What Happens: Live
, Cohen has always maintained some serious St. Louis pride. From naming his dog Wacha to the
choice words
(or should we say gestures?) he gave to "jackhole" Stan Kroenke on the night the Rams got NFL clearance to depart for LA, Cohen has always had his hometown's back.
See also: Andy Cohen Has a Few Choice Words for Stan Kroenke
When he brings his show to the Fox in October, Cohen said he would definitely share stories about growing up in St. Louis — along with the usual Cooper-Cohen repertoire that he says meets at the "intersections with news and pop culture."
"It's like you're going out to a bar with us," Cohen says. "It's like a night out with us and you're kind of eavesdropping… you'll be surprised by the stories that we have about each other that we kind of goad each other into telling."
Cohen and Cooper actually met more than 20 years ago over a phone call that was meant to extend into a blind date—but Cooper knew a romantic relationship wasn't going to work from the start, Cohen says. "He says now that he always pictures me gesticulating wildly on the other end of the phone and that turned him off… but we wound up becoming great friends and we've traveled all over the world together."
Although St. Louis may not be as exotic as some of their other vacation spots, Cohen said he looked forward to treating Cooper to some local highlights. "If I can get him here the night before, I'd love to take him to a Cardinal game. I want him to have some provel cheese, maybe Carl's, maybe Steak N' Shake."
See also: Companion Bakery's Cafe/Campus Now Open in Maryland Heights
Cohen said whenever he comes back home he also makes sure to visit Companion, the bakery owned by his cousin, Josh Allen, eat some St. Louis pizza at Café Manhattan and catch a performance by Jake's Leg—the St. Louis-based Grateful Dead tribute band he's been a fan of since he went to Clayton High School. "It's usually just to see my family and eat like nobody's watching," he adds.
Keep an eye out for Cohen and Cooper when they bring their act to St. Louis in the fall. Cohen promises it will be one of their best performances.
"This is something we've been looking forward to," he says. "We've been on tour for a year now and we've held St. Louis back a little bit because we wanted the show to be as great as it could be when we finally hit the Fabulous Fox."