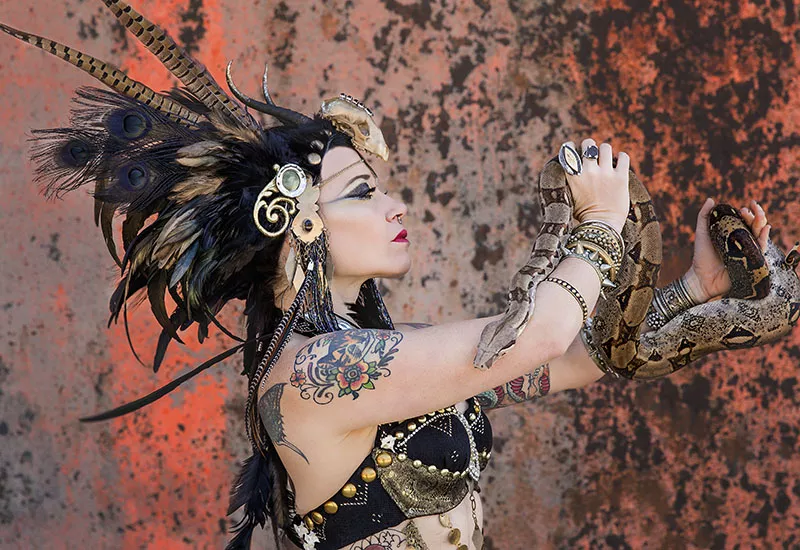 Carrie Meyer — the Dancer's Eye
Cirque du Erotica 4 brings the sexy circus to R-Bar on Friday.
The weather's going to be amazing this weekend — which means it's the perfect time to set aside those winter blues and get out and do something. There's a David Bowie film at Webster, a sexy circus in the Grove and monster trucks doing what monster trucks do downtown. Best of all, none of it will cost you more than $10 a person.
Make plans now, and make this weekend a good one!
1. See a sexy circus in the Grove
You may think you've outgrown the circus, but you'll change your mind when you see what Cirque du Erotica 4 has cooked up. More than a dozen performers celebrate the sensual capabilities of the human body in an artistic display at 10 p.m. on Friday at R-Bar (3960 Chouteau Avenue; www.r-barstl.com) You'll witness sexy circus acts, sideshow stunners, live music and decadent dancers, including local favorite Ami Amore, bellydancer extraordinaire. Tickets are $12 per person or $20 per couple.

2. Catch a musical based on a novella by James Joyce
It's the Feast of the Epiphany in Dublin, which means the Morkan sisters will throw their annual dinner party, and beloved nephew Gabriel Connor will be the guest of honor. The evening is normally a delight for Gabriel, but this year feels different. Aunt Julia suffers more from her spells of weakness and Gabriel's wife Gretta is lost in thought, to say nothing of Molly Ivors' hectoring lectures on his lack of patriotism. Richard Nelson and Shaun Davey's intimate musical The Dead is adapted from James Joyce's novella of the same title, and strives to get at the same quiet realization as the story: that we're all joined in death, no matter how far away it feels. The Saint Louis University Theatre Department presents The Dead at 8 p.m. Friday and Saturday (February 19 to 27) at the Saint Louis University Black Box Theatre (3733 West Pine Mall; 314-977-3327 or www.slu.edu/utheatre). Tickets are $7 to $10.


3. Meet an inspiring advocate
Frankie Muse Freeman first achieved local fame in 1954 when she served as lead counsel for the NAACP's suit against the St. Louis Housing Authority and its discriminatory policies, a case she won. Just nine years out of law school, she was already changing St. Louis for the better. In the intervening 62 years Freeman has continued to work as an attorney, a civil rights activist and a fully-engaged member of her adopted hometown. On Friday at 7 p.m. at the St. Louis County Library Headquarters (1640 South Lindbergh Boulevard, Frontenac; www.slcl.org), Freeman discusses the arc of the civil rights movement. Admission is free, and copies of Freeman's memoir A Song of Faith and Hope will be sold on site by Left Bank Books.

Turn the page for more things to do, including an event for David Bowie fans
4. See monster trucks at the Edward Jones Dome
Is there any sport more American than the Monster Jam? Comically oversized trucks compete by crushing cars and jumping over exploding obstacles, with points given for the driver's style? That's so damn American it should be on the $20 bill. Monster Jam visits the Edward Jones Dome (701 Convention Plaza; www.monsterjam.com) Saturday at 6:30 p.m. Sadly, the mighty Metal Mulisha truck is not scheduled to be here, but the excellent War Wizard (with driver Shane Phreed) is on the bill. Also slated to run wild are El Toro Loco, Grave Digger and King Krunch. Tickets for Monster Jam are $10 to $125, and pit party passes (which let you visit the pit from 2 to 5 p.m. to meet drivers and their trucks) are an additional $10.

5. Watch the Pale White Duke in his most intriguing film
David Bowie was a man in the process of total collapse when he starred in Nicolas Roeg's 1976 film The Man Who Fell to Earth. Bowie's growing alienation from the real world (fueled by his then-prodigious cocaine habit) informed his performance as an extraterrestrial who came to Earth so he could ship some of our abundant water back home to his desiccated planet. Disguised as an inventor of innovative technology, this alien amasses a fortune so he can afford to build the spaceship he needs to get the water home in time to save his family. But in the process he's seduced by drink, sex and television. It's a hyper-stylized film that feels not just ahead of its time, but outside of time. The Webster Film Series screens The Man Who Fell to Earth at 7:30 p.m. Friday through Sunday (February 19 through 21) at Webster University's Loretto-Hilton Center (470 East Lockwood Avenue; 314-968-7487 or www.webster.edu/film-series). Tickets are $4 to $6.
6. Learn about the secret war for Missouri
Civil War buffs and fans of local history can indulge in a double dip on Sunday at the Missouri History Museum (Lindell Boulevard and DeBaliviere Avenue; 314-746-4599 or www.mohistory.org). In conjunction with its new exhibit on spies and saboteurs, the museum hosts a presentation by Marc Kollbaum on the Boat-Burners of the Civil War at 1 p.m. and a screening of Brant Hadfield's documentary The Battle of Island Mound at 2:30 p.m. The Boat-Burners were headed by pro-Confederate judge Joseph W. Tucker, who with his cohort attacked steamships on the Mississippi from here to Memphis, with little regard for their civilian passengers. Hadfield's film is about the 1st Kansas Colored Volunteer Infantry, which was made up mostly of runaway and freed Missouri slaves. The unit fought the first-ever battle in the Civil War waged by African American soldiers. Hadfield will answer questions following the screening. Both events are free to attend.