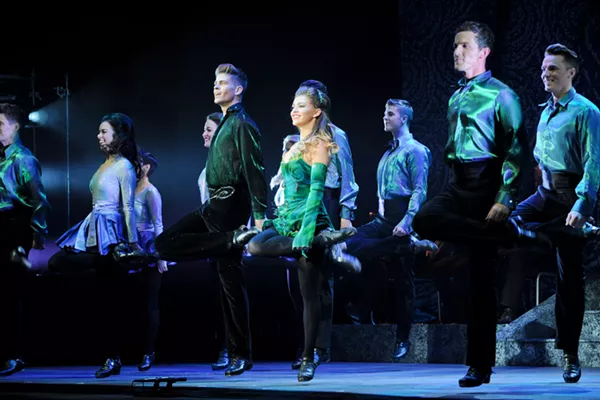 © Riverdance. Photography Credit: Jack-Hartin
A scene from Riverdance
Yes, those famous Irish dancers you used to love are still around. In fact, they're celebrating two decades of making you want to throw on some ghillies and jump up on the stage to join in the Celtic wonder that is Riverdance.
Riverdance - The 20th Anniversary World Tour is coming to the Fox Theatre this weekend — and rather than taking on a "been, there, done that" attitude, you should care. Sure, you may have seen them work their magic in 1996, but that doesn't count at this point.
Here are three good reasons Riverdance still matters — and you just might want to consider getting yourself a ticket.
1. They've built a legacy.
Let's face it: we live in a world where the performing arts are often underfunded. Dance companies have both opened and closed their doors over the past 20 years, but Riverdance has withstood the test of time. The sensation started as a mere seven-minute spot on the 1994 Eurovision Song Content, a major European TV song competition. With 300 million people watching, it caught fire — and by 1995, Riverdance - The Show was born in Dublin. When it made it to the U.S in 1996, debuting at Radio City Music Hall, all eight shows sold out. The show has been on stage in one place or another pretty much ever since. Obviously, if the show has continued this long, performed for this many audiences and is still going strong, they're doing something right.
2. They're a glimpse at the fairly unfamiliar.
At any dance studio, you can find classes in ballet, tap and jazz. Contemporary dance companies and modern-based university programs are common — even modern dance legend Katherine Dunham made her mark in the St. Louis area. We get a generous dose of musical theater dance here thanks to our variety of theater troupes. But how often do you hear about Irish dance around here? Sure, you can take Irish dance instruction here, but it doesn't always get as much attention as other styles, even as it's an amazing skill. And that's exactly why Riverdance is needed. It is a large-scale production that can expose many people to a cultural art form they may not otherwise experience.
3. The show has something for everyone.
OK, so the above sentence has become somewhat cliche. It's the go-to phrase to convince everyone and anyone to come to your event. But with Riverdance, it really is true. Can't get enough of reality dance TV shows? Obviously, the dancing here will have you covered. Were you a band kid at whichever St. Louis high school you attended? You're bound to love the powerful Celtic score. Do you spend your weekends at karaoke and piano bars? We dare you not to start singing along with the awe-inspiring vocalists. It's a complete theatrical experience and a true crowd pleaser. And guess what? Tickets
are still available
.
You can see Riverdance - The 20th Anniversary World Tour Friday, Feb. 12 at 8 p.m., Saturday, Feb. 13 at 2 p.m. and 8 p.m., and Sunday, Feb. 14 at 1 p.m. and 6:30 p.m. For ticket information, visit fabulousfox.com.