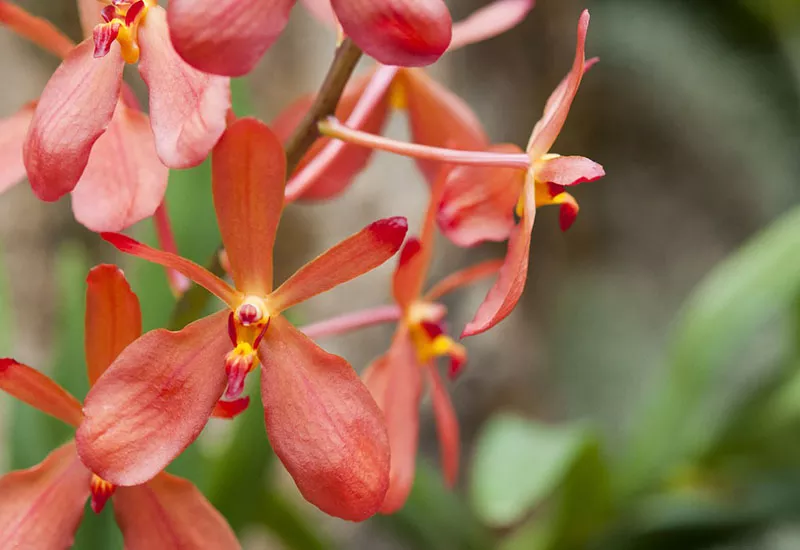 Photo by Benjamin Staver
Orchids are at MoBot beginning this weekend.
Not into the Super Bowl or Mardi Gras? Your weekend doesn't have to be a dud. Here are our picks for seven other things to do this weekend — no beads or bowls among them. More interested in art? Check out
our list of this week's most intriguing openings
.
1. See a thriller on stage at Stray Dog
Jan and her husband Greg want to have a restful stay at an old farmhouse, but the owner has a fondness for dark and scary ghost stories. This is bad for Jan, who is trying to recover after her recent mental breakdown. The stories are bad enough, but now she's hearing unsettling sounds at night and seeing things she's not sure are real. Is she slipping back into madness, or is someone working very hard to push her back over the edge? Peter Colley's play I'll Be Back Before Midnight is an eerie descent into the shadowy world of mind games and insanity. Stray Dog Theatre presents the thriller at 8 p.m. Thursday through Saturday (February 4 through 20) at the Tower Grove Abbey (2336 Tennessee Avenue; 3314-865-1995 or www.straydogtheatre.org). Tickets are $20 to $25.

2. Ogle some orchids at MoBot
Henry Shaw acquired his first orchids from Mrs. Henry T. Blow, whose husband was Minister of Brazil. The Missouri Botanical Garden orchid collection has grown steadily since that 1876 gift, and now numbers around 7,000 plants representing 3,202 species. The garden's annual orchid show allows the public to experience these exotic beauties without the need for a friend in Brazil. The specimens in the show are regularly rotated out, so the more times you visit, the more orchids you'll see. The orchid show is open from 9 a.m. to 5 p.m. daily (February 6 to March 27) at the Missouri Botanical Garden (4344 Shaw Boulevard; 314-577-9400 or www.mobot.org). Tickets are $5, in addition to regular garden admission ($4 to $8).

3. Thrill to a Brandenburg Concerto at the Symphony
Johann Sebastian Bach wrote his Brandenburg concertos in the hopes of attracting a patron (the Margrave Christian Ludwig of Brandenburg), but instead just burnished his own reputation as a master of color and tone. The Brandenburg Concerto No. 3 in particular stands out for the manner in which the instruments (three violins, three violas, three cellos and a bass) work together in unique ways depending on where the listener is positioned. Solos transfer from player to player, or disappear entirely into the gem-like world of sound that is constructed in the piece's twelve-minute duration. When played by a skilled group, the effect for audience members is like sitting inside a kaleidoscope and hearing, rather than seeing, the shifting patterns of color and shape. Renowned violinist Anthony Marwood leads the St. Louis Symphony Orchestra through the Brandenburg No. 3 at 8 p.m. Friday and Saturday (February 5 and 6) at Powell Hall (718 North Grand Boulevard; 314-534-1700 or www.slso.org). Also on the program are Dvořák's Serenade for Strings in E major and Pēteris Vasks' violin concerto Distant Lights. Tickets are $25 to $116.

4. Get ready for opera season on U. City
If you believe opera is a staid and stuffy art from a bygone age, come get educated at the Gateway Opera Showcase. This prequel to the company's third season comprises scenes from several made-up operas, and none of them could be called "staid." You'll see a key scene from Star Trek the Opera, in which Kirk and Spock are in love; Lolcats teh Oper (sic), which blends classic YouTube cat videos with random snippets of well-known operas; and Opera the Opera, which is a sketch-style opera that stars Cinderella and references numerous well-known shows. The Gateway Opera Showcase is performed at 8 p.m. tonight at the 560 Center (560 Trinity Avenue, University City; www.gatewayopera.org). Tickets are $20, and include two drinks.

Turn the page for more weekend cultural events.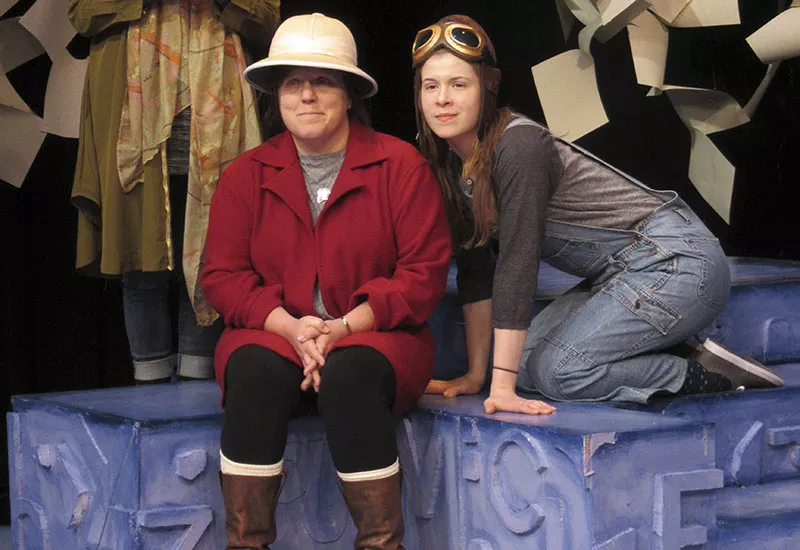 Photo by Traci Clapper
Eleemosynary comes to Mustard Seed this weekend.
5. Catch a play about a spelling bee
A spelling bee plays a large role in Lee Blessing's play Eleemosynary, with explains the arcane title. The definition of "eleemosynary" is "an act of charity," and that's just what the three generations of women in the play need. Artemis is estranged from both her daughter, Echo, and her mother, Dorothea. She left Echo in Dorothea's care so she could pursue her scientific studies, but also so she could get away from her domineering mother. To her surprise, Echo and Dorothea get along quite well in her absence. Echo enjoys her grandmother's practiced eccentricity, and Dorothea encourages her precocious granddaughter to learn everything and excel in everything she does. When Dorothea falls ill, Artemis and Echo must come to some sort of rapprochement. But instead of discussing how to do that, they always end up talking about the national spelling bee that Echo plans to win. In order for charity to work, you need both a generous giver and a generous receiver — something the definition of eleemosynary can't explain. Mustard Seed Theatre continues its season with Eleemosynary. Performances take place at 8 p.m. Thursday through Saturday and 2 p.m. Saturday (February 5 through 21) at Fontbonne University's Fine Arts Theatre (6800 Wydown Boulevard; 314-719-8060 or www.mustardseedtheatre.com). Tickets are $25 to $30.

6. See a documentary film festival at the Missouri History Museum
The ninth installment of the Africa World Documentary Film Festival returns to St. Louis this weekend, and it's a corker. There is a documentary about the life of early tennis great Althea Gibson (Althea), a coming-of-age documentary about group of young Afrikaans boys in South Africa (Fatherland) and the much-anticipated documentary Tear the Roof Off: The Untold Story of Parliament Funkadelic, which is about the two greatest funk bands of the '70s (and '80s, and still to this day). Director Bobby J. Brown takes questions after the 6:30 p.m. Saturday screening, with help from P-Funk members Jerome "Big Foot" Brailey and Billy "Bass" Nelson. Films start at 10 a.m. Friday, and 1 p.m. Saturday and Sunday (February 5 to 7) at the Missouri History Museum (Lindell Boulevard and DeBaliviere Avenue; 314-746-4599 or www.africaworldfilmfestival.com). Admission to all films is free.
7. Check out a new museum exhibit
For many of us, the fear of spies and traitors in our midst lessened when the Cold War ended. But for the men and women who defend our country, that only marked a change in tactics. The fight to keep America safe from espionage and foreign agents has been going on since 1776, and it shows no signs of slowing down any time soon. Spies, Traitors, Saboteurs: Fear and Freedom in America, the new exhibition at the Missouri History Museum (Lindell Boulevard and DeBaliviere Avenue; 314-746-4599 or www.mohistory.org), presents a detailed history of domestic terrorism from Benedict Arnold to Timothy McVeigh and beyond. Spies, Traitors, Saboteurs was created by the International Spy Museum in Washington, DC, and it offers insight on the various threats that have plagued America, from the radicals of the post-World War I era to the modern militia movement. The exhibit is open daily through May 8 at the Missouri History Museum (Lindell Boulevard and DeBaliviere Avenue; 314-746-4599 or www.mohistory.org). Admission is free.