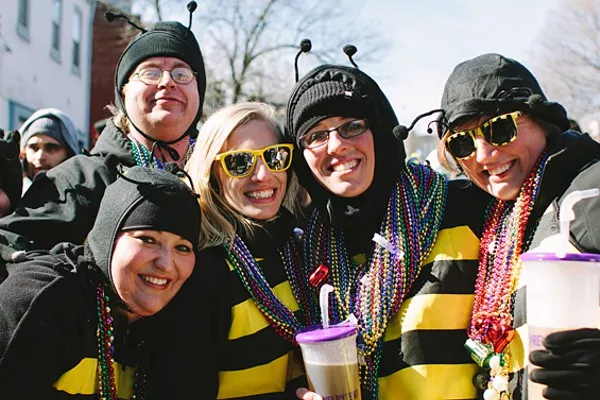 Fat Tuesday itself isn't til next week — but in St. Louis, Mardi Gras festivities get started tonight. Dance at the mayor's ball at City Hall — or just wait til tomorrow morning when the nation's second-largest Mardi Gras street party kicks off in Soulard. Are you the kind of stickler who wants to wait til Tuesday itself? There's a party for that, too ... though this year it helps to be a hockey fan.
Here are ten options for living it up during everybody's favorite celebration of wretched excess.
1. Dance the night away at the Mayor's Mardi Gras Ball
This black-tie gala is held in the rotunda of City Hall. Your ticket gets you vale parking, open bar, dinner, dessert and dancing to the music of the Funky Butt Brass Band and Dirty Mugs. Proceeds benefit the Mardi Gras Foundation, which distributes community grants to improve Soulard and doowntown. Fri., Feb. 5, 7 p.m., $150-$3,000, www.mardigrasinc.org. St. Louis City Hall, 1200 Market St., St. Louis, 314-622-3000.
2. Catch the Mardi Gras Grand Parade
This is it, people. The Grand Parade starts at 10 a.m. at Busch Stadium (Broadway and Poplar Street; www.mardigrasinc.com), but things really kick off when the lead marcher hits Soulard. The entire neighborhood becomes a street party that lasts late into the night, with drink and food specials at most bars, music in the streets and beads flying about hither and yon. Admission to the parade and Soulard is free, but bring money for party fuel. Sat., Feb. 6, 11 a.m., free admission. Busch Stadium, Broadway & Poplar St., St. Louis, 314-345-9600. Once you're in Soulard, hit the
Bud Light Party Tent,
which includes
three massive, heated tents. There's a full bar with signature cocktails, a buffet provided by Joanie's Pizzeria, a dance floor with music by Rockstar DJs and private restrooms. Tickets are only available in advance, and you must be 21 or older to enter. Visit www.mardigrasinc.com before tickets sell out. Sat., Feb. 6, 9 a.m.-6 p.m., $99. Soulard Market Park, Lafayette Ave. & S. 9th St., St. Louis.
3. Get the party started in Laclede's Landing
Doors open at 6 a.m. on parade Saturday at Big Daddy's- The Landing for all your pre-party needs. Hurricanes, beats, booze and live music are offered in a heated tent and covered patio all day long, with free shuttles to Soulard until midnight. Sat., Feb. 6, 8-3 a.m. Big Daddy's-The Landing, 118 Morgan St., St. Louis, 314-621-6700.

4. Celebrate like an adult at Boogaloo's Mardi Gras Party
Celebrate Mardi Gras in Maplewood with hurricanes, sazeracs, vieux carres, jambalaya, gumbo and etouffee. Feb. 5-9. Boogaloo, 7344 Manchester Road, Maplewood, 314-645-4803.

5. Choose a less frantic scene in Tower Grove East ...
Riley's Pub has drink specials all day, with a Mardi Gras shuttle bus every hour from 10 a.m. to 6 p.m. Sat., Feb. 6, 10 a.m.-6 p.m. Riley's Pub, 3458 Arsenal St., St. Louis, 314-664-7474.

6. ... Or in Bevo Mill
Keeton's opens at 8 a.m. for breakfast buffet. Ride in style to Mardi Gras on our shuttle bus, the first bus leaves at 8:45 a.m. Sat., Feb. 6, 8 a.m., $10 for breakfast and bus. Keeton's Double Play, 4944 Christy Blvd., St. Louis, 314-351-6000.

7. Drink some frozen liqueur on the edge of Soulard
Trops' Mardi Gras features five flavors of the bar's signature popular frozen cocktails: Hurricane, Redbird, the Louie, Silver Bullet and Tiger Paw. Sat., Feb. 6. Tropical Liqueurs, 1800 S 10th St, St. Louis, 314-328-1730.

8. Celebrate Fat Bluesday with the St. Louis Blues
Enjoy the last call before Lent at Scottrade Center, where the St. Louis Blues — the winter sport team that didn't stick a knife in your back — take on the Winnipeg Jets. The concourse will be packed with Mardi Gras-style entertainment, food & drink, and games. Plus, you get to watch hockey. Tue., Feb. 9, 7 p.m., $134. Scottrade Center, 1401 Clark Ave., St. Louis, 314-241-1888.



9. Return to Soulard on Tuesday for 1860's Fat Tuesday Party ...


Mardi Gras specials all day. $9.95 all-you-can eat Cajun food, plus Tom Hall live from 9 a.m. to 1 p.m. Tue., Feb. 9. 1860 Saloon, 1860 S. Ninth St., St. Louis, 314-231-1860.

10. Or, enjoy a Fat Tuesday Party downtown
Flying Saucer Draught Emporium is celebrating Mardi Gras on Fat Tuesday with a NOLA-inspired party. Creole dishes will be on offer, plus specials on Abita Brewing Company beers all day long. Weekly trivia game starts at 7:30 p.m.. Laissez les bon temps rouler! Tue., Feb. 9, noon-midnight, 901-603-9689, Flying Saucer Draught Emporium, 900 Spruce St., St. Louis.