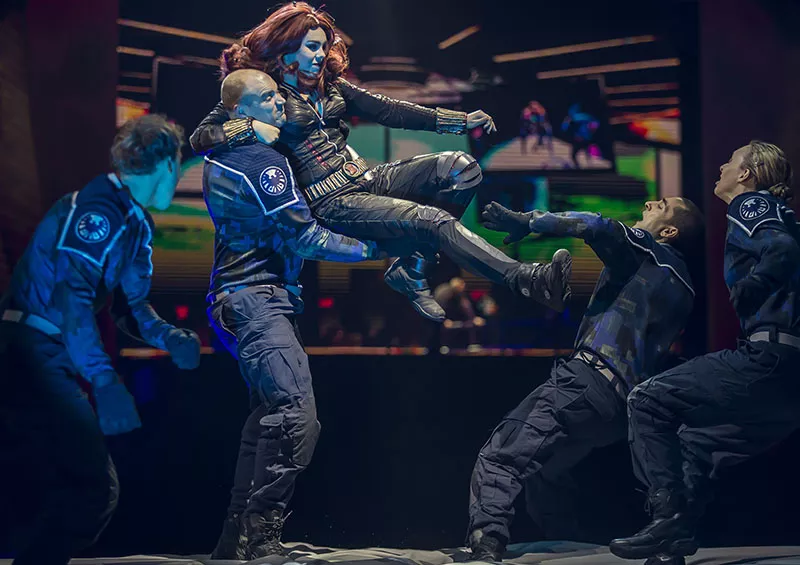 The Marvel Universe takes the stage at Scottrade Center.

So it's cold outside — so what? There is a ton of interesting things going on this weekend in St. Louis — from a show featuring real, live Marvel superheroes to motorcycles racing on ice (yes, really). And none of these seven events will break the bank, so you have no excuse to stay curled up on your couch.

Here are our picks for this week's most intriguing events, all of them priced at $25 or less.

1. See Superheroes in the Flesh at Scottrade Center
The Marvel Comics Universe conquered cinemas with a host of top-grossing films, then did the same to Netflix with a one-two punch of Daredevil and Jessica Jones. Now those mighty Marvelites take on the world of live-action theatricals with Marvel Universe Live! In this family-friendly extravaganza, earth's mightiest heroes — The Avengers, Spider-Man and the X-Men — must stop Loki and his emissaries of evil (Red Skull, Doctor Octopus and the Green Goblin) from assembling the shattered cosmic cube and ruling the world. The show uses pyrotechnics, motorcycle stunts, martial arts and real-time special effects to create live comic-book action. Marvel Universe Live! is performed at 7 p.m. Friday; 11 a.m., 3 and 7 p.m. Saturday; and noon and 4 p.m. Sunday (January 8 through 10) at Scottrade Center (1401 Clark Avenue; 314-622-5400 or www.scottradecenter.com). Tickets are $25 to $120. — Mark Fischer


2. Catch a Classic Play at the Rep
The Repertory Theatre of St. Louis' season continues with a production of James Goldman's regal dramedy, The Lion in Winter. Edward Stern directs this duplicitous tale of twelfth-century political warfare, which revolves around the royal scheming of the members of the Plantagenet dynasty during the not-so-great Christmas of 1183. King Henry II of England is on the cusp of naming his successor while fending off threats from within his inner circle. Schemers include his estranged wife, Eleanor of Aquitaine, who has only recently been released from prison (Henry gave the order to jail her), and his three quarrelsome sons. The Lion in Winter is performed Tuesday through Sunday (January 8 through 31) at the Loretto-Hilton Center (130 Edgar Road; 314-968-4925 or www.repstl.org). Tickets are $17.50 to $79.50. — Rob Levy


3. See a Music-Focused Documentary
This weekend the Webster Film Series screens The Winding Stream, a documentary clearly forged from the love of its subject. Director Beth Harrington's film charts the story of the Virginia musician and amateur musicologist A.P. Carter, who with his wife, Sara, and his sister-in-law, Maybelle, formed in the 1920s the foundational country music clan the Carter Family. The powerhouse Maybelle immediately distinguished herself with her unique instrumental approach of playing a bass-strings lead on her Gibson L-5 (tuned down from standard pitch). One of her three singing daughters, June, caught the ear of a young Johnny Cash, listening to Carter Family sides on his family's radio in Dyess, Arkansas. Johnny and June eventually married and made their own story of enduring love and devotion. The Winding Stream meshes all this rich history with the present-day Carter clan's efforts to preserve and honor their incomparable cultural legacy. The film screens at 7:30 p.m. Friday through Sunday (January 8 through 10) at Webster University's Moore Auditorium (470 East Lockwood Avenue; 314-968-7487 or www.webster.edu/film-series). Tickets are $4 to $6. — Alex Weir
4. Visit a Motorcycle Show
Last year, St. Louis' bikers went hawg wild for the first ever St. Louis Motorcycle Show. It was such a rip-roaring success that this year it has doubled in size from 50,000 to 100,00 square feet at America's Center (701 Convention Plaza; 314-276-4497 or stlmotorcycleshow.com). At this rate it could become an annual event. A main stage with live entertainment has been added, and the infamous extreme riders of Ill Conduct will perform stunts guaranteed to get a rise out of even the greasiest of helmet hair. The show boasts more than 7,000 square feet of custom choppers and vintage rides, and Harley-Davidson, Suzuki, Honda, Yamaha, BMW and Kawasaki are just a few of the companies with booths touting the new models. The St. Louis Motorcycle Show is open from 10 a.m. to 7 p.m. Saturday and 10 a.m. to 4 p.m. Sunday (January 9 and 10). Admission is $10, but kids fifteen and younger are admitted free with a paid adult admission. — Mark Fischer

Turn the page for more weekend fun....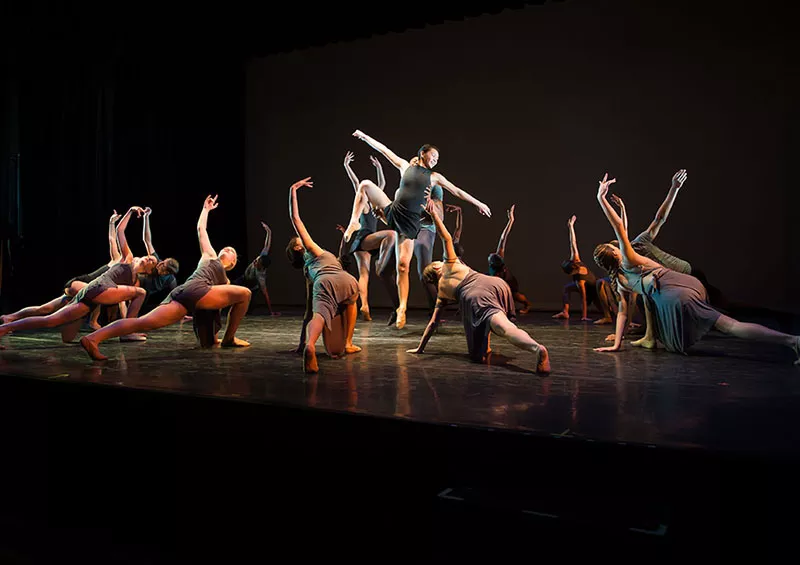 Perpetual Motion brings COCAdance and the COCA Hip-Hop Crew together in U. City.

5. See Some Amazing Dance
Maybe your holidays didn't go exactly as you had planned. Perhaps your gifts were disappointing, or perchance you fell prey to a grinchy, unlit strand of lights on your tree, or maybe you had a little too much New Year's Eve fun, if you know what we mean. Make up for all of that this weekend and support local artists at the Center of Creative Arts (524 Trinity Avenue, University City; www.cocastl.org). When COCAdance and the COCA Hip-Hop Crew take the stage for Perpetual Motion, you will be delighted and invigorated by energetic contemporary dance and beat-driven hip-hop moves, performed by COCA students ages ten to eighteen. We're guessing that by the time this future-of-dance showcase is over, you'll be all set up to look forward to the year ahead, rather than backward at your 2015 woes. Your opportunity to hit the reset button on the new year comes at 2 and 5 p.m. Saturday, and at 1 and 4 p.m. Sunday (January 9 and 10); tickets cost $14 to $18. — Alison Sieloff

6. Watch Motorcycles Race — on Ice
The adrenaline-averse already know that motorcycles are risky. For starters, you have to balance on two wheels and hold on while you steer, and there's also that whole wind-in-your-face thing. Sure, that's exhilarating, but bugs! Other wheeled things! The elements! The riders from Xtreme International Ice Racing live for all of the aforementioned, but even that's not enough for them. They ride — nay, race — on ice without brakes and with metal studs on their tires! For. Real. To hold onto your seat as you witness twenty-plus fast-paced races whip around a frozen tundra, head to the Family Arena (2002 Arena Parkway, St. Charles; www.familyarena.com) at 7:30 p.m. Tickets cost $5 to $25 — the adrenaline rush is included, but parking is $10 extra. — Alison Sieloff
7. LOL at a Comedy in Creve Coeur
Those who claim to communicate with the spirit world are often not what they seem. For the pair of temporary mediums in David Hawley's new comedy The Other Side, the need for quick cash is the source of their supernatural powers. The duo are actually psychology students who convince themselves that what they're engaged in is serious research, but their most ardent client believes in their abilities. She's desperately seeking information about her crime-boss father's whereabouts. Her violent brother also has a deep interest in the two psychics, but not for the same reason. First Run Theatre presents The Other Side at 8 p.m. Friday and Saturday and 2 p.m. Sunday (January 8 through 17) at Desmet Jesuit High School's Hunter Theatre (233 North New Ballas Road, Creve Coeur; 314-352-5114 or www.firstruntheatre.com). Tickets are $10 to $12. — Paul Friswold