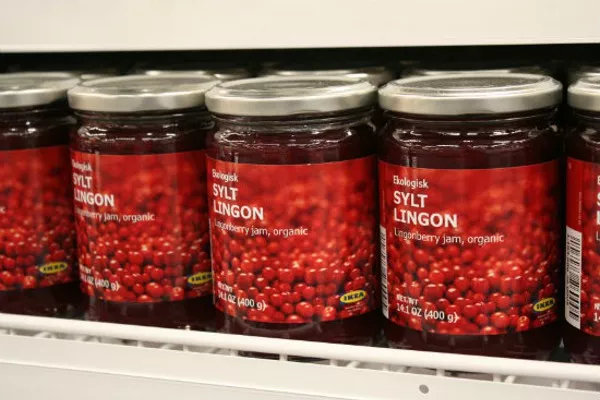 Photo by Johnny Fugitt
IKEA's Sylt Lingon — how better to say "happy holidays"?
The weather outside will be far from frightful this weekend — so it's the perfect time to get out and about and experience St. Louis. See the Gateway Men's Chorus! Catch the St. Louis Symphony (they're playing the score from
Star Wars
, among others)! Laugh out loud to the wits behind Mystery Science Theater 3000 — right here in the flesh at the Ivory Theatre! There's a ton of stuff going on, so make your plans now.
Here are our eight picks for the weekend's top events.
1. See a post-modern puppet show
Decoding the meaning of an artist's work has never been easier than in Wyatt Kahn's Work. In this post-modern puppet show, Kahn's individual paintings are translated into non-anthromorphized puppets. Kahn plays the puppet version of himself, who is attacked in his studio by his own creations. Each puppet has the same mindset that the artist experienced while creating that particular painting, and each of them challenges the work and its meaning. It's a wry take on the art of art criticism and the responsibility an artist bears for his or her own creations. Work is performed at 7:30 p.m. Thursday and Friday (December 10 and 11) at the Contemporary Art Museum St. Louis (3750 Washington Boulevard; 314-535-4660 or www.camstl.org). Tickets are $15 to $50. — Paul Friswold

2. Dine out at IKEA
The festive season is upon us, and at IKEA, the holiday glow emanates from more than just the Magnards and the Svirvels (those are table lamps, for the uninitiated). Join your fellow celebrants tonight, Friday, from 6 to 8 p.m. at the Swedish Julbord buffet, an all-you-can-eat extravaganza boasting loads of Scandinavian delights at the IKEA Restaurant at IKEA St. Louis (1 IKEA Way; 888-888-4532 or www.ikea.com). Pile your plate (whether it be an Arv or a Frodig) high with salmon, Christmas ham, mashed potatoes, meatballs with lingonberries, red beet salad and more. And take a taste of Julbord home with you — many of the evening's delights are also available in the store's Swedish Food Market. Tickets cost $4.99 to $16.99, and you must buy them before the day of the event. — Brooke Foster

3. Make your yuletide super gay
Crowded malls, creepy Santas, canned carols playing on repeat since before Halloween: Too often, what should be a joyous season just leaves folks feeling blugh. Recapture the delight of the holidays at the Gateway Men's Chorus' concert Make the Yuletide Gay at 8 p.m. Friday and Saturday (December 11 and 12). No group lifts spirits quite like this amazingly talented choir. Committed to giving voice to gay culture in the St. Louis region, the chorus performs shows that are as important and affirming as they are entertaining. Forget the Rudolph reruns and the icky 'nog — make this holiday concert your new favorite tradition. Both performances take place at St. Stanislaus Church (1413 North 20th Street; 314-287-5669 or www.gmcstl.org). Tickets are $15 to $25.— Brooke Foster

4. Hear some symphonic movie scores
The Force is strong in John Williams, the composer of numerous iconic film scores, including Jaws, E.T. and The Color Purple. Just in time for the release of Star Wars: The Force Awakens, the St. Louis Symphony Orchestra and conductor David Robertson celebrate Williams' six decades of work with The Music of John Williams. The program includes tunes from the Star Wars saga as well as fan-favorite scores from Jurassic Park, Superman and Home Alone. Performances take place at 7 p.m. Friday and Saturday and at 2 p.m. Sunday (December 11 through 13) at Powell Hall (718 North Grand Boulevard; 314-534-1700 or www.slso.org). Admission is $30 to $70. — Rob Levy

Turn the page for more weekend fun....
Photo by Joan Marcus
Wicked, man.
5. See opera on the big screen
Mozart's The Magic Flute follows the adventures of Prince Tamino and the brave bird catcher Papageno as the duo tries to rescue Pamina, daughter of the Queen of Night, from the clutches of the purportedly evil Sarastro. They journey through the land between the moon and the sun, where magic works and the spirits deal personally with mortals. Fortunately, Tamino and Papageno have a magic flute and magic bells to aid them. Nine years ago Julie Taymor directed a shortened, English-language version for the Metropolitan Opera that incorporated fantastic puppetry and lavish (even for opera) costuming. You can revisit that esteemed performance from 2006 again at 12:55 p.m. Saturday at the Saint Louis Art Museum in Forest Park (314-721-0072 or www.slam.org). Tickets are $12 to $15.— Paul Friswold

6. Laugh at bad sci fi at the Ivory
Last month Mystery Science Theater 3000 creator Joel Hodgson announced that the show would return in 2016 with a new host and a new mad scientist to pester whomever gets the hosting gig. Tonight the original mad scientists of MST3K Trace Beaulieu and his sidekick Frank Conniff appear at 7 and 10 p.m. at the Ivory Theatre (7620 Michigan Avenue; 314-534-111 or www.ivorytheatrestl.com) to riff on two of the worst movies ever filmed. Each performance features a different film and requires a separate admission. Tickets to each show are $35.— Mark Fischer

7. Root for Elphaba at the Fabulous Fox
At this point, unless a house has fallen on you, you have heard of Wicked, the three-time Tony Award winner that is an international phenomenon. Based on Gregory Maguire's novel Wicked: The Life and Times of the Wicked Witch of the West, the Stephen Schwartz and Winnie Holzman musical explains how friends Elphaba and Galinda become school friends and later, deadly foes. The wildly popular show returns to the Fox Theatre (527 North Grand Boulevard; 314-534-1678 or www.fabulousfox.com) for performances at 7:30 p.m. Monday through Friday, 2 and 7:30 p.m. Saturday, and 1 and 6:30 p.m. Sunday (December 9 through January 3). There are no shows on Christmas Day, and only 1 p.m. performances on Thursday, December 24 and 31. Tickets are $40 to $200. — Rob Levy
8. See a Zorro screening at Webster
Today superhero movies are all the rage, but nearly twenty years before Batman even graced the pages of a comic book, much less the silver screen, Douglas Fairbanks laid down the template for all the costumed crime fighters who would follow in the landmark action-adventure film The Mark of Zorro. The movie tells the harrowing tale of wealthy playboy rancher Don Diego Vega who puts on a mask, cape and sword to become Zorro, defender of the oppressed. The 1920 silent classic screens at 7:30 p.m. tonight at Webster University's Moore Auditorium (470 East Lockwood Avenue; 314-968-7487; www.webster.edu/film-series). Renowned accompanist Ben Model plays the live soundtrack for the film, which is part of the Webster University Film Series. Admission is $4 to $6.— Mark Fischer