Courtesy of Warner Brothers
Harry Potter and the Sorcerer's Stone — playing at the Science Center Friday.
December is here, but it's not quite Christmas yet. So before you get stuck at endless holiday parties, get out there and have some fun. This weekend you can celebrate Harry Potter at the Science Center, sport your ugly Christmas sweater at Ballpark Village, see printmaking on Cherokee and so much more.
Here are this weekend's five recommended events.
1. Learn About the Science of Harry Potter
Harry Potter and the First Friday Perhaps you're still patiently awaiting your Hogwarts admissions owl and struggling to ignite your magical powers. You're not alone. Even if you can't get that old broom off the ground, don't be ashamed to drive your decidedly non-magical car to the Saint Louis Science Center (5050 Oakland Avenue; 314-289-4400 or www.slsc.org) for Harry Potter and the First Friday. The evening's magic, so to speak, includes free screenings of Harry Potter and the Sorcerer's Stone (at 7, 9 and 10 p.m.; pick up your free tickets beginning at 6 p.m.), live owls from the World Bird Sanctuary, a couple of potions lectures (starting at 6 and 8 p.m.), the St. Louis Quidditch Cup, transfiguration demonstrations and even wand creation — no word on whether you'll be able to include any phoenix feathers in yours. Admission and most activities are free. — Alison Sieloff
2. Attend America's Biggest Ugly Sweater Christmas Party
Can America have a Christmas that doesn't involve ugly sweaters? The world will never know, because every year at least 1.4 million people receive an ugly sweater as a gift. But don't return it — revel in it. Wear your worst to the World's Largest Ugly Christmas Sweater Party at 7 p.m. tonight at Ballpark Village (601 Clark Avenue; www.stlballparkvillage.com), and help out a good cause. Your $40 ticket gets you a clean vintage ugly sweater, a Santa hat and a raffle ticket. If you bring four canned goods to donate for Operation Food Search, you'll also get a gift certificate to the Diamond Family and 15 percent off your bill at Drunken Fish. The goal is to help feed local families, and maybe set a new world record for the most people wearing ugly sweaters in one place. — Paul Friswold


3. Check Out Local Printmakers on Cherokee
The Print Bazaar on Cherokee, which runs from 10 a.m. to 6 p.m. this Saturday, brings together more than 40 artists and printmakers from around the Midwest. Twenty-four businesses along Cherokee open their doors to these artists and allow them to set up shop for the day—one of Cherokee's biggest shopping days. The free event features artists who specialize in printmaking, letterpress, screen printing and printed fabrics. There will also be art demonstrations, customized printing and on-site framing. Prizes will be awarded to the first five people to visit 25 booths and collect the corresponding stamps. Attendees will be given a commemorative, hand-printed passport that acts as both a map and a way for artists to mark that visitors have been to see their work. — Joshua K. Connelly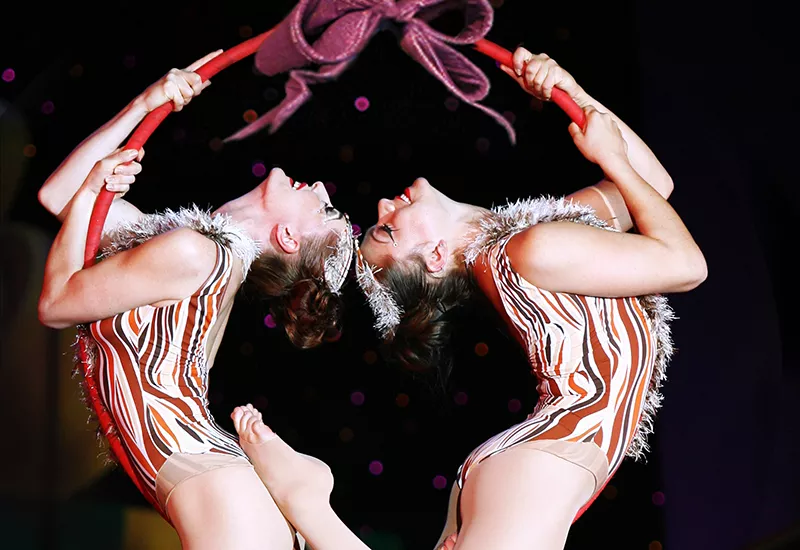 Courtesy of Cirque Productions
4. Attend Cirque du Soleil's Latest Showstopper
If you need a bit of an infusion to get the holiday feels a-flowin', head to the Fox Theatre (527 North Grand Boulevard; 314-534-1111 or www.fabulousfox.com) for Cirque Dreams Holidaze. This showy spectacular dazzles with 30 performers who bring the bendy, heart-stoppingly superb enchantment of modern artistic circus to the stage, with the help of hundreds of costumes, original and familiar holiday music, and a lot of imagination. Penguins show off their balancing skills, gingerbread men demonstrate their athleticism and much, much more — basically, we'll all leave wowed and energized. Cirque Dreams Holidaze is performed at 7:30 p.m. Friday, 2 and 7:30 p.m. Saturday, and 1 and 6 p.m. Sunday (December 4 through 6). Tickets cost $25 to $75. — Alison Sieloff


5. See an Arthouse Movie
World War I obliterated large tracts of Europe — France and Belgium especially. What's often overlooked is the "world" part of the Great War; this conflict didn't play out in Europe only. The acclaimed 2014 film Theeb takes us to the Mid-East where the British armies battled the Ottoman Empire and its local allies. Hussein and his younger brother, Theeb, live in a traditional Bedouin village in western Arabia; they're cut off from the larger world by huge expanses of desert. Their quiet lives are changed suddenly by the arrival of a British officer and his guide, who need the help of the two young Bedouins to locate a well situated along the old pilgrimage trail to Mecca. The Webster University Film Series screens Theeb at 7:30 p.m. Sunday through Tuesday (December 6 through 8) at Webster University's Moore Auditorium (470 East Lockwood Avenue; 314-968-7487 or www.webster.edu/film-series). Tickets are $4 to $6. — Alex Weir