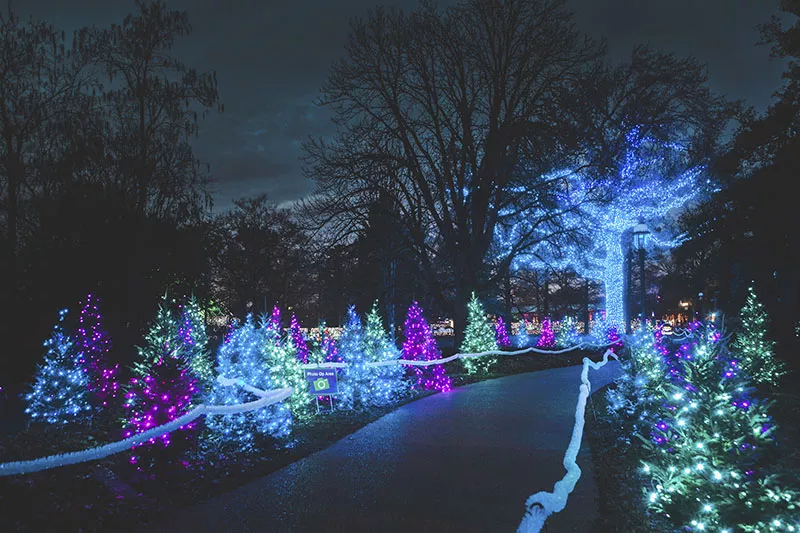 Photo by Sonya Lalla
The Missouri Botanical Garden — site of two of this week's recommended events.
It just might snow this weekend
— but don't take to your fainting couch just yet. Even if the snow comes, it almost surely won't stick — and that means you have no excuse but to get off the couch and do a thing or two.
Fortunately for you, there's a ton going on this week. Inhale the aroma of conifers at the Missouri Botanical Garden, enjoy a gallery installation at Third Degree Glass Factory, or even check out some of the most beautiful quilts in the world at the Quilt National. Whatever you do, don't spend the weekend curled up under a blanket — the weather is only going to get worse, so why not enjoy yourself while you still can?




1. See America's top quilts at the Peabody Opera House
Experience the quilt in a whole new way: as a form of modern art, and as the canvas for an intricate story. The biannual Quilt National takes the familiar form and puts it in a fascinating new light. This year the show moves to Peabody Opera House (1400 Market Street; 314-499-7600 or www.peabodyoperahouse.com), and includes more than 55 award-winning quilts from around the world. As always, proceeds from the juried show benefit Safe Connections — which means your ticket directly supports services for survivors of relationship violence and sexual abuse. The Quilt National is on display Thursday through Saturday (November 19 to 21), Monday to Wednesday (November 23 to 25), and Friday and Saturday (November 27 and 28). Admission is $10.— Brooke Foster

2. Start your holiday shopping early with some amazing ornaments
Kickstart your holiday festivities — with fire. On Friday at 6 p.m., Third Degree Glass Factory (5200 Delmar Boulevard; 314-367-4527 or www.stlglass.com) reveals its artists' signature ornament for this Christmas during Third Friday. Find that perfect, limited-edition glass ornament to festoon your tree. Check out the new gallery installation by Mark Witzling, Into the Mind. Enjoy acoustic tunes from the Maple Jam Band. Warm up on the patio with (and be dazzled by) fire-spinners. Plus, create a gift for somebody on your nice list in a guided glass-art class — you can make a paperweight, a nightlight, flame-worked glass beads, or fused-glass jewelry. Admission to Third Friday is free, but glass classes require a fee of $35 for materials. — Brooke Foster

3. Check out the holiday lights at MOBOT
Transport yourself to a world of sheer holiday magic at the third annual Garden Glow. This event turns the already-gorgeous Missouri Botanical Garden (4344 Shaw Boulevard; 314-577-5100 or www.mobot.org) into a Yuletide dreamscape, with a million-plus lights twinkling throughout the grounds. Snap your photo against wintertime backdrops, enjoy traditional holiday tunes, take part in special seasonal festivities, and dig into warming comfort foods in the garden's on-site café, Sassafras. Garden Glow is open 5 to 9:30 p.m. Wednesday through Sunday (November 21 to December 17), and from 5 to 9:30 p.m. nightly from Friday, December 18, through Saturday, January 2. Admission is $6 to $18. — Brooke Foster

Turn the page for more inexpensive fun.
At Guns and Hoses, police take a few punches for a good cause.

4. Catch an arthouse flick
Director Tsai Ming-liang's debut feature film, Rebels of the Neon God, is a water-soaked urban drama set in Taipei, Taiwan. The story weaves two seemingly separate, angsty coming-of-age tales into one narrative amid Taipei's youth culture of malls, arcades and rough streets. The first focuses on the broody Hisao-kang, a student whose father drives a cab. The second strand concerns a pair of hoodlums who smashed a taxi's rearview mirror one night — the taxi driven by Hsiao-kang's father. Hsiao-kang starts following the hoods, slowly working his way up to a final confrontation. Rebels of the Neon God screens at 7:30 p.m. Friday through Sunday (November 20 through 22) at Webster University's Moore Auditorium (470 East Lockwood Avenue; 314-968-7487 or www.webster.edu/film-series). Tickets are $4 to $6. — Rob Levy

5. Celebrate conifers — and inhale the aroma of pine
This season, have yourself an evergreen little Christmas at the Gardenland Express train exhibit at the Missouri Botanical Garden (4344 Shaw Boulevard; 314-577-5100 or www.mobot.org). The theme is "conifers of the world," and it celebrates those cone-bearing plants of the season — the pines, junipers, firs, yews and spruces. Six tracks of LGB G-scale model trains chug along through the 5,000-square-foot display of live plants (coniferous and blooming), which is enlivened by miniature winter scenery such as ice skaters on a pond and skiers on the slopes. Gardenland Express is open from 9 a.m. to 4 p.m. daily through Sunday, January 3, 2016, but closed on Christmas Day. Tickets are $5, in addition to the regular garden admission of $3 to $8.— Mark Fischer
6. Watch cops get beat up for charity
If it's the night before Thanksgiving, that means it's time for Guns 'N Hoses, the annual charity boxing event of the season. Police officers, firefighters and EMTs from across the St. Louis area meet in the ring at 6:30 p.m. tonight at Scottrade Center (1401 Clark Avenue; 314- 622-5400 or www.stlgunsnhoses.com) for three-round bouts of boxing and mixed martial arts matches. Proceeds go to the BackStoppers, an organization that provides assistance to the families of first responders who have lost their lives in the line of duty. Tickets are $15 to $35, and they're available directly from area police and fire departments or via the website.— Mark Fischer