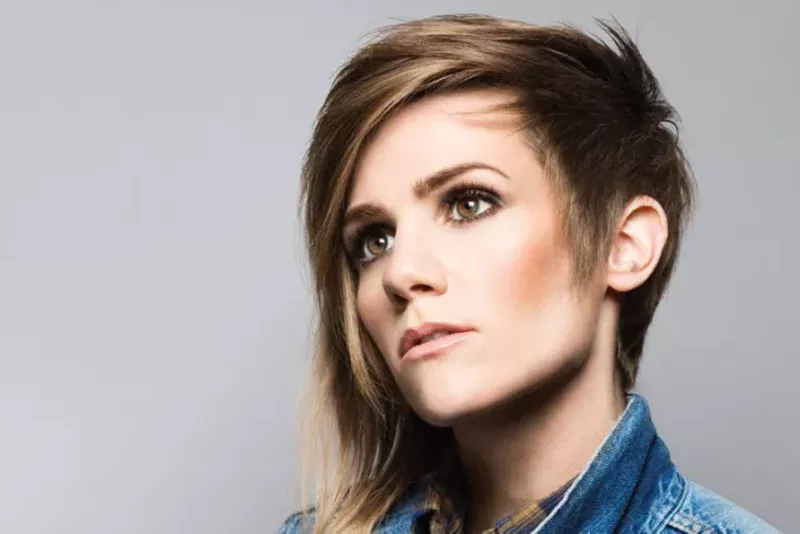 Photo by Mandee Johnson
Cameron Esposito will perform at the Firebird on Friday, November 6.
There is certainly a line between performing
to
an audience and performing
for
an audience. Some comics are built for a ten-minute set that appeases everyone from the blue-collared to the scholarly. Those comics can walk on stage and see a bachelorette party or a begrudging work group and deliver the same set, time after time, with little to no chance of failure. Because after all, confidence is what sells humor.
There are other comics, though, who would rather bomb for months on end because the thought of telling the same joke twice is more painful than the disapproving silence that can engulf a room. These are the comics who prevail. These are the comics who find a balance, the ones who can tell a joke that a bachelorette party doesn't want to hear but wind up being their best friend at the bar an hour later. These comics speak from the confidence of experience as opposed to fear of silence. These are the Espositos.
Far away now from the open-mic world, Los Angeles-based comedian Cameron Esposito now finds herself at LAX a few days a week, hopping planes to get herself and her partner, fellow funny lady Rhea Butcher, on to the next show. At this point in her career, four minutes of jokes simply doesn't make sense anymore.
"As a comic coming up in Chicago, you are supposed to do three to five sets a night, every night of the week," Esposito says. "Then when I came out here it was a big adjustment, but it's nice to schedule in and important to have a little time to be a human being."
Esposito goes on to explain that the painstaking process of waiting around for your time at the open mic has, in effect, just taken on a different form at this point in her career.
"A lot of this job is waiting around," she says. "At every level. I mean, I just shot the biggest movie that I have been in yet. And shooting a movie is really a shock so early in the morning. They do your make-up and hair and then you have a rehearsal. Everything else has to be set up and then the camera needs to be moved to a different location. So five minutes of film are multiple day shoots. I would say across the board, this is a slow-and-fast-at-times gig. You are either moving at a break-neck speed where you are on stage and responding to other people in the room or you're off stage waiting to go on. It's very slow. I don't think that that ever changes."
For Esposito, that get-up-and-go, sit-down-and-wait aspect of a comedy career has manifested itself more than ever in the past year. That big feature film she mentioned, the upcoming
Mother's Day
, is still in production, and she's acting alongside Jennifer Aniston, Kate Hudson and Jason Sudeikis. Esposito is also wrapping her first book, a collection of autobiographical essays, which was no simple task.
"I am excited about it. It is also very difficult to write a book," she says. "Cheers to all the people that write them. Good job guys, you're killing it."
But if anyone is up for the challenge and can appreciate and celebrate the work for its difficulty, it is Esposito.
"The wonderful thing about standup is that I learn by doing, and it takes a really long time — usually a decade — before you are any good at it," she says. "I have gotten to the place where even if a joke isn't perfect, I understand standup and I understand what needs to happen to make a joke better. Then a side effect of having worked in standup is that people start offering you other opportunities, like to create a show or write a book. Those are all in these skills."
This dynamic and head-on, bull-by-the-balls attitude is exactly what it takes to propel a standup comic up and out of the masses. Esposito is making her stop in St. Louis on Friday, November 6 at the Firebird with Butcher. If you're familiar with her most recent album,
Same Sex Symbol
, that's exactly what you're
not
going to see. Even in the midst of writing a book and shooting a feature film, Cameron is using this tour to prepare for her third full-length album. So while she may claim that a comedy career is a lot like waiting around for the water to boil, this comedian refuses to drop below a rapid simmer.
<!—StartFragment—>"I have this one thing that I know how to do, and then I'm learning how to do these other things," she says. "It's really exciting to be learning something new. I am glad that it is just not a static thing."<!—EndFragment—>
Cameron Esposito with Rhea Butcher
8 p.m. Friday, November 6. The Firebird, 2706 Olive Street. $15 to $18. 314-535-0353.