Bill and Ted, man. Join Bill — aka actor Alex Winter — for a Q-and-A after the screening Friday.
This weekend is going to kick some serious ass. There's an art show featuring portraits of pop culture protagonists and their mortal enemies at Mad Art. It's First Friday at the Saint Louis Science Center and the weekend of Slovak Fest in south city. And, most excellently,
Bill and Ted
is playing at the Tivoli — and actor Alex Winter will even be there in person.
All of it's $10 or less and most of it's free, so start making some plans now. Here are this week's top picks:
1. Bring your frenemy to a Mad Art Gallery show
Batman and the Joker, Captain Ahab and Moby Dick, Sherlock Holmes and Moriarty — popular fiction is filled with protagonists locked in eternal conflict with their arch-enemies. This dynamic is explored in the ninth installment of the Famous Fictional show at the Mad Art Gallery. Friend and Foe: Portraits of Allies and Adversaries from Comics, Literature, Movies and Television includes work by Bill Keaggy, Sharlene Kindt, Peter Pranschke and more than 30 other local artists. Famous Fictional opens with a free reception from 7 to 11 p.m. Friday, November 6, at Mad Art Gallery (2727 South Twelfth Street; 314-771-8230 or www.madart.com). Admission is free, and there will be a cash bar. — Mark Fischer

2. Go geek at the science center
Reality is overrated. It involves alarm clocks, the paying of bills and all sorts of tiresome responsibilities. But virtual reality, illusions, simulacra — these ideas are fascinating in theory and practice. The Saint Louis Science Center celebrates the magic of, er, magic at 6 p.m. Friday with False Reality: Illusions, Oddities and Tesla at the James S. McDonnell Planetarium (Faulkner and Clayton drives; 314-289-4424 or www.slsc.org). You can attempt to make yourself invisible in the cloaking experience, create your own holograph, be dazzled by a science demonstration that takes you inside Tesla's workshop or wonder at the superhuman cerebral feats of Zi the Mentalist. Even the planetarium itself gets in on the act as Radiant Studio Works uses its 3D projection mapper to alter the surface of the building. Admission to First Friday is free, but some activities require a nominal fee.— Paul Friswold

3. Have an excellent adventure

The St. Louis International Film Festival celebrates the excellence of former St. Louisan Alex Winter with a screening of Bill & Ted's Excellent Adventure at 9:45 p.m. Friday at the Landmark Tivoli Theatre (6350 Delmar Boulevard, University City; 314-727-7271 or www.cinemastlouis.org). Winter (Bill) and Keanu Reeves (Ted) play high school dudes whose band, Wyld Stallyns, will eventually change the world and create a Utopian society. But if they don't get a passing grade on their history report, Ted's father will send him to military school, breaking up the band and ruining the future. Helping them on their ultimate Ted Talk is Rufus (George Carlin), a time traveler who takes the duo into the past to enlist Billy The Kid, Socrates and Abe Lincoln. Can they ace the test and and rock San Dimas High School? Winter, the recipient of of this year's Charles Guggenheim Cinema St. Louis Award, will be present to conduct a Q&A. Admission is $10 to $12. — Rob Levy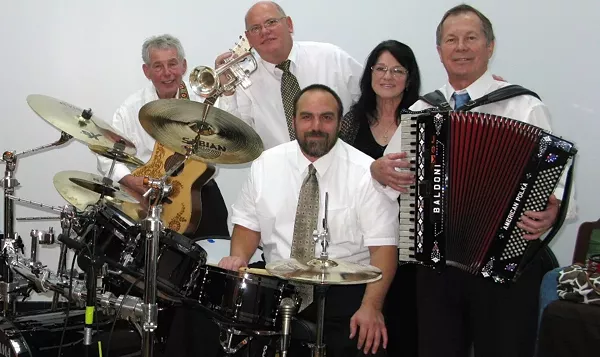 The Joe Polach STL Express, now performing at a Slovak festival near you.
4. Party heartily in south city
If you're a big eater, you won't go hungry at Slovak Fest. The south-city tradition is all about hearty food, music and beer. The menu is packed with old-country favorites such as the filling holubky (a beef-and-rice-stuffed cabbage roll) and chicken paprikash, as well as halusky (egg dumplings and gravy) and traditional Slovak pastries. After you eat, dance it off to the music of Larry Haller's Two Star Final and Joe Polach and the St. Louis Express Band. Slovak Fest takes place from 11 a.m. to 6 p.m. on Saturday at St. Lucas Lutheran Church (7100 Morgan Ford Road; www.slovakfest.com). Admission is free. — Paul Friswold

5. Celebrate the Arch with an museum show
As you may have heard, the Gateway Arch is now 50 years old. The Saint Louis Art Museum celebrates the Arch not as monument but as art in the new exhibition St. Louis Modern: The Era of Innovative Design. Viewing Eero Saarinen's design as a massive sculpture, the show's curators place the Arch in the context of other artists' work and use it as a way to discuss the the modernist revolution in art and industrial design between 1935 and 1965. The show features pieces such as an armchair designed by Charles and Ray Eames, Victor Hugo Proetz's Bull's Eye Mirror and a 1954 Corvette by Chevrolet. St. Louis Modern is on display every day except Monday through January 31, 2016, at the St. Louis Art Museum in Forest Park (314-721-0072 or www.slam.org). Admission is $6 to $14, and free on Friday. — Paul Friswold