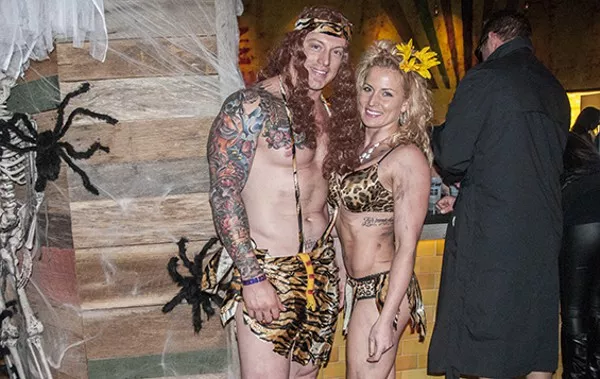 Photo by Caroline Yoo
Halloween revelers at last year's Ballpark Village party — $4,000 goes to the winning costume this year.

Sure, there was lots of spooky stuff going on last weekend, but that was just the pre-party! Here are 19 events this weekend where you can celebrate Halloween in high style — everything from haunted houses to a costume party river cruise to some big street parties with huge cash prizes.
Did we miss anything? Let us know in the comments section.
Arika Parr's Costumes & Cocktails Halloween Party: Halloween is the perfect night to let your alter ego shine. Create whoever you want to be at Arika Parr's third annual Costumes & Cocktails Halloween party! There's a cash prize for best costume, free VIP swag bags for first 100 ladies, live music featuring Tish Haynes Keys and the yummiest cocktails ever! A portion of the proceeds benefits the mentoring program for nonprofit organization the Kwame Foundation. Sat., Oct. 31, 8 p.m.-1 a.m., $20, arika@aparrfectidea.com, costumesandcocktails.com. Lumière Place Casino & Hotel, 999 N. Second St., St. Louis, 314-881-7777.


Central West End Halloween: For more than 30 years, grizzly ghouls, ghastly ghosts and petrified partiers have been getting down at the Central West End's Halloween bash (Maryland and Euclid avenues; www.cwescene.com). This all-day street festival on Saturday features a wide range of events such as tarot card readings, street performers and a dog parade. While the daylight events are family friendly, the nighttime festivities are for a more mature crowd. At 8 p.m., judging begins in the infamously competitive adult-costume competition, when creative masqueraders battle it out for more than $4,500 in cash and prizes. The CWE Halloween party runs from 10 a.m. to midnight. Admission is free, but there is a $25 fee to enter the costume contest.
Dark St. Louis Halloween Seminar: The St. Louis Paranormal Research Society will present its Dark St. Louis seminar at the Lemp Grand Hall. Come hear noted lecturers talk about the darker side of the paranormal in one of St. Louis' most haunted locations! Don't be afraid to be scared this talloween! Sat., Oct. 31, 8 p.m.-1 a.m., $20-$25, 618-340-5526, stlprs@charter.net, www.DarkSTL.com. Lemp Grand Hall, 1817 Cherokee St., St. Louis.


The Darkness: While those prone to seizures or heart attacks are forbidden entry to the Darkness, attendance has been skyrocketing among those with male pattern baldness, because America's scariest haunted house is more hair raising than ever! Those who make it inside will pass through ancient ruins filled with demons and giant man-eating worms, and the few who survive to reach the second story will want to check out the books of the dead in the all-new haunted library. The Darkness (1525 South Eighth Street; www.scarefest.com) is open nightly from Thursday, October 22, through Sunday, November 1. Tickets are $23 to $25. 314-631-8000.


Falling Awake: Costumes highly encouraged! Escape artistry by Dr. Judas Lynch, burlesque by Lola Van Ella, music by 18andCounting, the Only Ensemble, Kid Scientist, the River Kittens and Bobby Dazzlers. Food and cocktails! Thu., Oct. 29, 7 p.m., $25 in advance, $30 at the door. www.citymuseum.org. City Museum, 701 N. 15th St., St. Louis, 314-231-2489.


Frew's Monster Mannequin/Halloween Flash Mob: Students from Principia College, Showtime Dance Studio and Alvareita's College of Cosmetology come together to create incredibly spooky live monster mannequins and a fabulous Halloween-themed flash-mob experience during the famous Alton Halloween Parade! Mannequins will be in the windows starting at about 6:30 p.m., with the flash-mob performance at about 8 p.m. Sat., Oct. 31, 6:30-9 p.m., Free, 618-466-8820, angie@bestbridalprices.com, www.frewsbridal.com. Frew's Bridal, 305 Piasa St., Alton.


Halloween 2015: Halloween falls on a Saturday this year, and Pepper's Bar and Grill is throwing the best Halloween party in St. Louis! Join us all day for a scary good time! Grab your best costume and all your friends, and enter our costume contest for fun prizes! Sat., Oct. 31, 9:30 a.m.-11:45 p.m., free, 314-352-9909. Pepper's Bar & Grill, 5452 Gravois Ave., St. Louis.


Halloween Costume Party Cruise: Dance the night away on a Halloween cruise featuring a DJ, costume contest, hors d'oeuvres and a cash bar. The costume contest winner receives two tickets to the New Year's Eve cruise. Must be 21 or older to board. Sat., Oct. 31, $26. Gateway Arch Riverboats, 11 N. 4th St., St. Louis.


Halloween Movie Commons: The Young Friends of St. Louis Public Radio and the Nine Network join forces to bring you a fun and spooky movie night under the stars. We'll be showing Little Shop of Horrors (1960) and Night of the Living Dead (1968) on the Public Media Commons' two-story screen. The Fortune Teller Bar will bring a signature drink and a tarot card reader. Costumes optional. No masks or weapons. 21 and up only. Cocktail hour starts at 6 p.m. Fri., Oct. 30, 6-11 p.m., $10 ticket includes one drink ticket and one food ticket, www.stlpublicradio.org/events/index.php. Public Media Commons, 3653 Olive St., St. Louis.


Halloween Story Night: Join the Book House for an evening of hair-raising tales of horror from local authors and writers, including Jon Beidelschies, Stephen La Chance, Debbie Kupfer, Esther Luttrell and more. To add to the chilling atmosphere this evening, author Patrick Dorsey (Haunted Webster Groves) will introduce the group to the supernatural Japanese parlor game Hyakumonogatari Kaidankai, or "A Gathering of One Hundred Supernatural Tales." As each storyteller tells their tale, a candle is extinguished, making the room darker and darker, drawing the spirits of the season closer. Fri., Oct. 30, 7-10 p.m., free admission, 314-968-4491, info@bookhousestl.com, www.bookhousestl.com. The Book House, 7352 Manchester Road, Maplewood.


Hellrazor's Ball: From 8 p.m. to midnight on Saturday at Mad Art Gallery (2727 South Twelfth Street; 314-772-1180 or www.madart.com) presents Hellrazor's Ball 2015, a thrilling night of terror hosted by the paranormal team 3 Girls in the Dark. This night of the dancing dead features live music from Hung Like a Martyr, beats by DJ Mixxx and tarot readings by Shona of Divine Intuition. Those who dare can commiserate with the dearly departed through spirit boards, or find their own spirits at the bar. The spine-tingling party also features a photo wall, costume contest with a cash prize and devilish appetizers. Tickets are $7 to $10. — Rob Levy

Turn the page for more Halloween weekend options....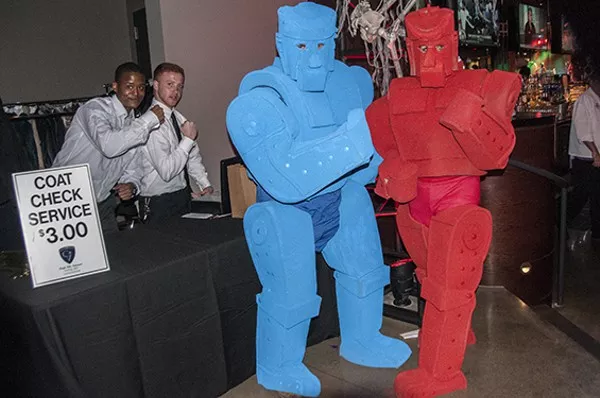 Photo by Caroline Yoo
Don't feel like slutting it up for Halloween? There are other options....
Howl-O-Ween:
Come join Howl at the Moon for our annual Howl-O-Ween party! Featured drink specials are available all night long. Show off your best costume and win up to $500 in cash and prizes! Fri., Oct. 30, 5 p.m.-2:30 a.m., 314-736-4695,
stlouisevents@howlatthemoon.com
,
www.howlatthemoon.com/st-louis
. Howl at the Moon, 601 Clark Ave., Unit J, in Ballpark Village, St. Louis.
Johnnie Brock's Dungeon Halloween Bash: "Brock" is a name that's synonymous with baseball in this town, owing to the incredible career of left fielder Lou Brock. But thanks to Johnnie Brock's Dungeon, the largest costume shop for miles around, it also conjures spook-tacular images of Halloween tricks and treats. Worlds collide Halloween night as Ballpark Village (601 Clark Avenue; www.stlballparkvillage.com) presents the Johnnie Brock's Dungeon Halloween Bash for the 21-and-older crowd. The all-inclusive package includes a souvenir glow-in-the-dark cup, draft beer, house wine, live music from Dr. Zhivegas, access to four bars from 8 to 11 p.m. and the opportunity to compete in a costume contest for a $5,000 prize package. Admission is $40.
A Mourning Hollow: Tesseract Theatre Company presents the world premiere of A Mourning Hollow. Eight playwrights wrote a vignette that's set in the fictional city of Plains Hollow, Missouri. These linked stories deal with the relationships in a small town as it celebrates at the annual Halloween festival. Begins Oct. 30. Sundays at 4 p.m., Fridays and Saturdays, 8 p.m. Continues through Nov. 8, $5-$10, www.tesseracttheatre.org. Regional Arts Commission, 6128 Delmar Blvd., University City, 314-863-5811.


Rocky Horror and a Little Bit More! Enjoy the hits of that cult-classic musical, The Rocky Horror Show in revue! Join the cast as they bring you the hits you love as well as a few other fabulous spooktacular favorites! Soon to become a Halloween tradition, get your tickets while you can — your Halloween experience awaits you at the Emerald Room! Oct. 30-31, 7-8:30, 9-10:30 & 11 p.m.-12:30 a.m., 22.00, 314-932-7003, www.buzzonstage.com/st-louis/the-cabaret-at-the-monocle-emerald-room/rocky-horror-and-a-little-bit-more. Emerald Room, 4510 Manchester Ave., St. Louis.


Slay Me! A GlitterBomb Halloween Spooktacular: This horrifyingly fierce show is packed with the city's most frightening and delightful entertainers! STL's favorite bearded queen, Siren, will be your hostess with performances by Rydyr, Kenadie St.James, Maxi Glamour, Princess DiAnal, Pinko, Gypsy Havoc, Jenna Cydal, Duchess, Aiden Control and Marquis Saturn Sanchez! DJs Charlie Buttons, Haunter, and CoCo Buttons will be mixing it up all night. Fri., Oct. 30, 9 p.m.-3 a.m., $5 with a portion donated to PAWS/EFA, 314-479-9729, buttons@glitterbomb.net, www.facebook.com/events/936178273124194. JJ's Clubhouse, 3858 Market St., St. Louis.


Spirits in the Garden St. Louis' renowned ghost hunters, the Monster Paranormal Crew, were invited to conduct a paranormal investigation of the Victorian section of the Missouri Botanical Garden (4344 Shaw Boulevard; 314-577-5100 or www.mobot.org). The startling results of their mission are revealed on Friday from 6 to 9 p.m. at the Spirits in the Garden celebration. Attendees can also participate in the Wicked Plants Scavenger Hunt and show off their Halloween spirit in a ghastly costume contest. Halloween-themed cocktails from Wood Hat, Pinckney Bend and other local distilleries haunt the grounds, and DJ Rob Levy monster-mashes it up, spinning spooky sounds. Admission is $35 and includes a commemorative tasting glass, samples from the distilleries and plenty of appetizers. Designated drivers pay only $15.
TWR's Halloween Party & Costume Contest: The tradition is back for a seventh year! The Waiting Room Bar & Venue hosts our annual Halloween party and costume contest on Oct. 30, starting around 9 p.m. We have cash prizes for first through third places again this year, with first place taking home $100 and an amazing trophy by Todd Fischer, a mixed-media sculptor and artist. Second place pockets $50 and bragging rights, while third place gets a bar tab to drown out their sorrows. Fri., Oct. 30, 9 p.m.-1:30 a.m., 314-890-8333, james@waitingroombar.com, www.facebook.com/events/162782434066957. The Waiting Room Bar, 10419 St. Charles Rock Road, St. Ann.


WILDE: Witches and Hos: Calling all butches, trans girls, bi kids, kinky punks, cross dressers, queer folx, sassy fatties, qtpoc cuties, riot grrls, sissy bois, lipstick lesbians, poly divas, gender queers, leather mommies, hairy bearbies, gay dandies, fags, softball teams and pals! Don your sickest costumes to party Halloween style at WILDE, a monthly radical queer underground party! DJ Jillian will spin the beats. GutterGlitter is a group of quierdo feminists that throws underground parties for fellow marginalized citizens. Look for folx wearing glow sticks — we're keeping the space safe. $5 at the door, but no one is turned away for lack of funds. Wed., Oct. 28, 10 p.m.-3 a.m., $5, 618-406-7904, gutterglittertillyoudie@gmail.com, www.facebook.com/events/1025567524143817/. The Crack Fox, 1114 Olive St., St. Louis.
See also: Confessions of a Creepyworld Paintball Zombie