Photo by Caroline Yoo
These revelers enjoyed Halloween at Ballpark Village in 2014.
Ballpark Village is not screwing around.
The downtown entertainment complex is hosting a Halloween costume contest next weekend with a staggering grand prize — $4,000 goes to the winner. The runner-up gets $800; third place gets $200.
We seldom get that worked up about Halloween costumes, but anyone who doesn't get excited about the prospect of winning four grand just for coming up with a super-cool outfit is positively un-American.
See also: The Crazy Costumes of Fright Night at Ballpark Village
For those who have their eye on the money, here's how you get there, courtesy of Ballpark Village and sponsor Johnnie Brock's Dungeon:
There are two ways to enter the contest. From October 1 through October 24, participants can submit photos of their costumes on the Balllpark Village Facebook Page and fans will vote for their favorites. The top seven photos with the most votes will move on to compete in the final, live round at the Halloween Bash on the 31st at 11:30 p.m. on the FOX Sports Midwest Live! stage.

The second way to participate is to simply arrive at the Halloween Bash and compete in one of three individual costume contests at participating Ballpark Village venues including Budweiser Brew House, Howl at the Moon or PBR St. Louis. Winners of each of these individual contests will move on to compete in the final round vs. the Facebook-selected winners. The final contest will be judged by an expert panel, including Ed Brock of Johnnie Brock's Dungeon.
Tickets for the event are $40 through October 30 and increase to $50 on the day of the event. See
Ticketfly for more details
.
In the mean time, for inspiration, here are three clever costumes from last year's event:
1. Three blind mice ... get it?
2. Anyone can be a pirate ... but being a pirate's parrot? Polly wants a cracker!

3. The Ice Bucket Challenge ... remember that?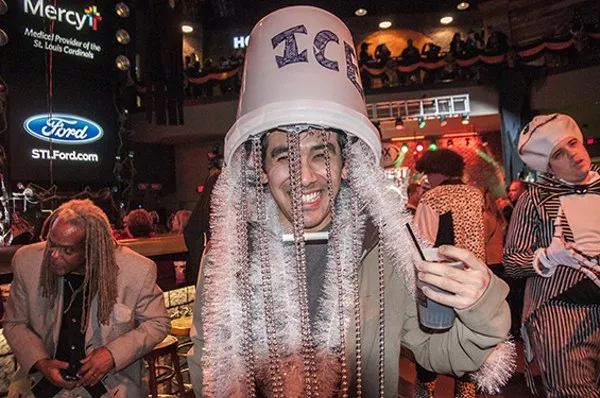 Does anything better capture the essence of the fall of 2014? Now to figure out what says 2015 .... just stay away from
the sexy corn
. We hear that's going to be way overdone in Missouri this year.
We welcome tips and feedback. Email the author at sarah.fenske@riverfronttimes.com