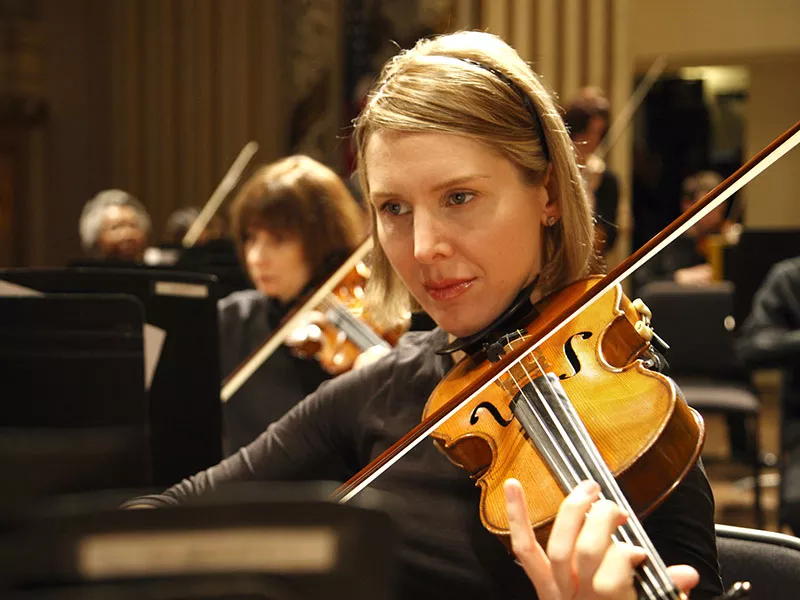 Photo by Scott Ferguson
The Saint Louis Symphony Orchestra's string section.
It's not quite Halloween weekend, but the festivities start early this year. Try a zombie-filled spoof or a creepy orchestral score. Or go in a much different direction with all-you-can drink vodka. Nothing scary about that! (Right? Umm, right?)
Here are our picks for the weekend's best events. For even more Halloween options, check out our roundup of
25 ghost-and-ghoul-filled gatherings
.
1. Get Goosebumps at Powell Hall
If the noises of Halloween too often sound like "Daa-aaad, Ashley stole my last Snickers," help your brood get into the spooky mood at the Hoot & Howl at Powell. This concert, featuring very special guest Luna the Bat (from the Saint Louis Zoo), includes music from Night on Bald Mountain (part of the Fantasia suite) and from John Williams' soaring score for the Harry Potter films. As an added bonus, this afternoon event allows you to introduce the kiddos to the splendor of the internationally acclaimed talent of the Saint Louis Symphony Orchestra. The performance starts at 3 p.m. Sunday at Powell Hall (718 North Grand Boulevard; 314-534-1700 or www.stlsymphony.org), and tickets are $8 to $19.— Brooke Foster
2. See an Art Show Riffing on a St. Louis Childhood
St. Louis is a town steeped in nostalgia — which is just another way of saying "fond memories." Steven and William Ladd grew up here, engaged in the standard pursuits of youth sports and Cub Scouting. Those halcyon days inspired the duo's new exhibition, Currents 111: Steven and William Ladd — Scouts or Sports? The Ladds create their multimedia pieces as a pair (teamwork, just as both sports and Scouts taught them), combining paper, fiber, pigments and metal trinkets to make their paper landscapes. Their Cardinal Nation is a familiar red field studded with holes and pleasantly tactile rosacea of metal bits that add three-dimensional depth to the work. The layers of material mimic the way memories accrete in our mind, new piled on old in a steady growth of time's passage. The show opens Friday, October 23, in gallery 250 of the Saint Louis Art Museum in Forest Park (314-721-0072 or www.slam.org). The exhibit remains up through Tuesday, February 14, 2016, and the museum is open Tuesday through Saturday. Admission is free. — Paul Friswold


3. Catch a Downton Abbey Spoof
Manners and etiquette are the order of the day on PBS'
Downton Abbey
, that popular show about upper crust English folk and their ways. But you don't need social niceties when you're dead — even if you're walking dead.
Downton Zombie
, Wade Bradford's spoof of the series, centers on the maid, Petunia, who just left Downton Abbey to work for Lord and Lady Brampton. As dinner party guests arrive, Petunia hunts down the most delicious-looking visitors instead of performing her duties, and it's up to the rest of the servants to keep her from eating everyone in sight. Chesterfield Community Theatre presents
Downton Zombie
at 7:30 p.m. Thursday through Saturday (October 22 through 24) a the West County Family YMCA (16464 Burkhardt Place, Chesterfield; 636-532-3100 or
www.gwrymca.org
). The show is recommended for ages six and older, and tickets are $5 to $8.
— Paul Friswold

Turn the page for more weekend fun....

4. Freeze Your Tail Off with the Blues
Although the season is still young, every game counts for the St. Louis Blues, a team that made key off-season moves with hopes of drinking from Lord Stanley's Cup for the first time. Led by David Backes, Alexander Steen and scoring machine Vladimir Tarasenko, the Blue Note will be tested when they lace up their skates against the much-improved (101 points and a spot in the playoffs last year) New York Islanders tonight at 7 p.m. at Scottrade Center (1401 Clark Avenue; 314-241-1888 or www.stlblues.com). After 43 years spent on Long Island, the Islanders now hangs its four championship banners in Brooklyn. Led by John Tavares and featuring former Blues netminder Jaroslav Halak, the Islanders hope to dampen the high hopes of the home squad. Tickets are $25 to $260. — Rob Levy


5. Get a Course in Theater History
One of Oliver Cromwell's greatest crimes against the English people was his closure of all theaters, which was the equivalent of shutting off the Internet in the modern era. In 1669 the restored English monarch reopened the theaters after seventeen years of darkness, with some notable improvements — one being that female roles could now be played by women. April De Angelis' comic drama Playhouse Creatures is set in this era of England's first actresses, including Nell Gwyn, Elizabeth Farley, Rebecca Marshall, Mary Betterton and the wonderfully named Doll Common. These women are shown onstage and backstage as they navigate this new world: Women can adopt multiple theatrical roles roles, but they must always adhere to the tightly constrained roles society allows them in their real lives. The Fontbonne University Theatre Department presents Playhouse Creatures at 8 p.m. Thursday and Saturday, and 2 p.m. Sunday (October 22 through November 1) at the Fontbonne University Fine Arts Theatre (6800 Wydown Boulevard; 314-719-8060 or www.mustardseedtheatre.com). Tickets are $10. — Paul Friswold

And finally, this week's last recommended event....
<!———StartFragment———>
6. Drink Lots of Vodka with the RFT
Vodka is perhaps the world's greatest pick-me-up. It's bracing in the mouth and warming in the belly, and it now comes in a bewildering variety of flavors and styles. If you're a fan and you want to sample a large cross-section of the possibilities — or if you're a neophyte who wants to know what the fuss is all about — the RFT's Vodka2 event is for you. From 7 to 11 p.m. tonight at Atomic Cowboy (4140 Manchester Avenue; vodka.riverfronttimes.com), you can enjoy complimentary food from Three Kings Public House and complimentary mixed beverages made with some of the vodka world's heaviest hitters. Try Holland's Ketel One; Poland's Belvedere (made from quadruple-distilled rye); the corn-derived Deep Eddy from Austin, Texas; and Sweden's mighty Absolut, made of winter wheat and "distilled an infinite number of times," according to the company. The evening also includes music and dancing, and admission is only $25. — Paul Friswold
<!———EndFragment———>
See also: 25 Awesome Halloween Events in St. Louis 2015