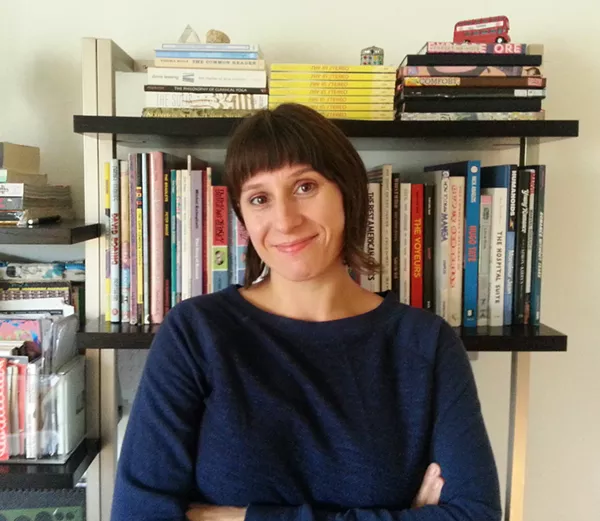 Photo courtesy of Sacha Mardou
Sacha Mardou, a Brit living in St. Louis, has a new book out this week.
St. Louis-based cartoonist Sacha Mardou is taking her first leap into the world of graphic novels. Sky in Stereo, which is being released this week by Revival House Press, combines two previously released mini-comics with two additional chapters, one prequel and one sequel, bringing to life the world of Iris, a teenage girl growing up in 1990s northern England.
Iris begins the novel as a 14-year-old girl whose mother joins the Jehovah's Witnesses after speaking to door-to-door missionaries. Iris is pulled into the church as her mother's first convert and spends two years trying to decide whether to be baptized. Her choice to leave the church before her baptism upsets her mother and sets the rest of the story in motion. The tale is broad in its thematic scope, covering everything from religion to drug use to teenage relationships and the search for one's place in the world.
Now 40, Mardou grew up in Manchester, England, and Iris is loosely based on her. But the characters, especially Iris, take on a life of their own, evolving in ways much different than Mardou herself did.
"To an extent it's autobiographical. Some stuff in there happened to me, but I didn't want to do an autobiography," Mardou says. "It's much more freeing to make a fictional world and just do what you want in it."
In this case, that includes weaving in lyrics from great 1970s band throughout the story. Whether it's Nick Cave or The Supremes after a nasty breakup, Jefferson Airplane on a gloomy afternoon or David Bowie during an acid trip, music plays an important role in revealing Iris' state of mind throughout the novel.
Courtesy of Sacha Mardou
A page from Sky in Stereo.
"There are lots of little, I don't want to call them Easter eggs, but there's a lot of little windows in there, where the music gives a sort of dimension to the story," Mardou says. "There's posters and song lyrics floating around. These things are very important.
"Iris is this … kind of literal-minded person," she adds. "She takes song lyrics, and she kind of has this literal spin on things. The music is this sort of angle. I think if you're familiar with some of the songs, it might make the book resonate more."
Mardou first began drawing comics at 23, though she started out drawing for stories written by a friend, rather than her own. It was not until a while later that she began illustrating her own writing. From there she began working on mini-comics, including "Manhole" and "Anaïs in Paris," and the anthology
Whores of Mensa
. She draws inspiration from Julie Doucet, Françoise Sagan and Sylvia Plath, among others.
Mardou began writing
Sky in Stereo
nearly 10 years ago, soon after moving to St. Louis with her husband, cartoonist Ted May. Going was slow at first, but after releasing two issues, she was approached by Revival House Press, which wanted to turn her story into a graphic novel. It was then that Mardou added the two additi
onal chapters in order to complete volume one.
Although it's only now coming out as a single volume,
Sky in Stereo
has already been nominated for an Ignatz Award for Outstanding Series in 2014. The awards are presented each year at the Small Press Expo in Bethesda, Maryland, and are meant to recognize achievement in comics and cartooning, especially by self-published artists.
"It's really nice because it's kind of peer-nominated," Mardou says. "The panel of judges who put together that short list, they're people I've known a long time in [the world of] comics."
Sky in Stereo
will have an official launch party at Left Bank Books (399 N. Euclid Ave.,
left-bank.com
) on Thursday, Oct. 15 at 7 p.m. Mardou will be reading and acting out an excerpt from her novel while the pages are projected on the wall behind her. Copies of the novel will also be available for purchase.
In addition to
Sky in Stereo
, Mardou spent time earlier in 2015 working on
The Missing Girl
, a film that premiered at the Toronto International Film Festival in September and will be playing at the Tivoli Theatre this November for the 24th Annual Whitaker St. Louis International Film Festival. After being approached by director A.D. Calvo, who had purchased
Sky in Stereo
, Mardou drew the sketchbook for one of the main characters — an aspiring graphic novelist — and also designed the chapter cards used throughout the film.
"It was super nerve-wracking. You know this isn't just like going to a show and giving someone a comic. This is going to be on a big screen. So that was terrifying," Mardou says.
Will the cartoonist ever mine her adopted home for her art? She promises that St. Louis is about to make its first cameo — in the script she's working on currently, called
Gold Record
, there's a scene set here, at the
late, great club Mississippi Nights
.
There may be more to come. "Down the line, I can totally see myself setting a story here," she explains in a follow-up email. "I think because right now, I'm assimilating life as a teen, and next up (in
Gold Record
) what it's like to be in your twenties, I feel like I have to use British characters to express that. But when I write the great American novel about my thirties, it'll be in America, no doubt. Haha."
We welcome tips and feedback. Email the writer at joshuakconnelly@gmail.com