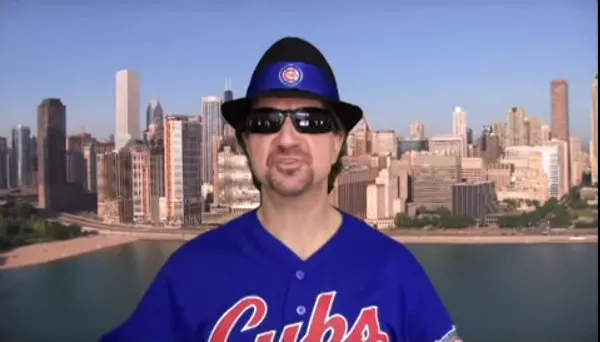 The ghost of Jim Belushi is alive and well in Chicago. Wait, Jim Belushi is also alive?
OK, so the Cubs beat us on Saturday — and
Back to the Future seems to suggest they're going to win the whole thing this year
. We're still not worried.
Why? Chicago is filled with a bunch of losers ... and we're not just talking about the ever-hapless, seriously cursed baseball team. Even the fans in the Windy City are lame.
As proof, we present six Cubs rally songs, written by and for their fans. Warning: These suck harder than a Dyson. Proceed with caution.
1. "Cubs Will Do It Again," by Michael Riser

"Hi! Have I told you about my white-boy blues band?"
2. "This Is the Year," by Michael Minogue

"I saw Bruce Springsteen's bulge in person, and it changed me."
3. "Believe," by RJ Gibson

"I like the
idea
of Sigur Ros, but I can't even write made-up lyrics."
Turn the page for more songs that give Chicago a bad name.

4. "All the Way," by Eddie Vedder
We've always suspected Eddie Vedder was a damnable shit. Now there's proof.
5. "By the Lakeside," by Katie Day
Soon to be heard in a Whole Foods just south of hell.
And for our final Cubs rally song ...
6. "Immortality," by Michael Dunker
Is there a way to combine the blase horror of a Ted Talk with the nightmare of Cubs fans? There IS?
See also: The 5 Most Offensive Cardinals-Cubs Shirts