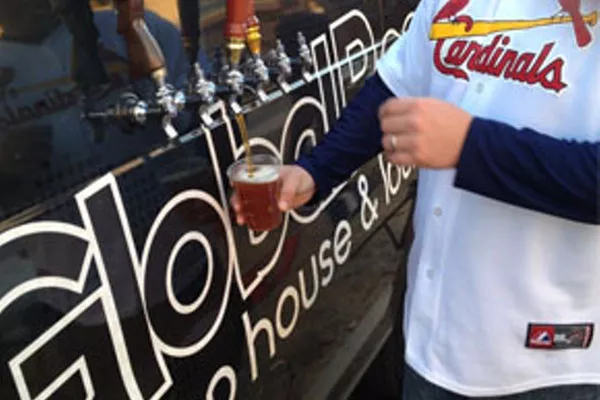 Oktoberfest kicks off Saturday in Edwardsville. Prosit!
The weather should be gorgeous this weekend — making it a perfect time to plan some outdoor festivities. Whether you're into some
plein air
drinking to celebrate Oktoberfest or an al fresco production of Twelfth Night is more your thing, the weekend is packed with great options. Best of all, all five are free.
Allergies acting up? We're also highlighting a cool museum show and a Sunday-morning book reading. You really have no excuse not to do something.
1. Catch an outdoor dance concert
When a breeze blows the grass, the blades move and dance independently, yet of one accord. With Dawn Karlovsky's Dine on Dance outdoor concerts, which feature contemporary dance and live music, the dancers, too, perform individually but in chorus, all inspired by a single source: their surroundings. The first Dine on Dance concert happens at noon on Friday, September 18, at Strauss Park (Washington and North Grand boulevards), and you can bet that this green space's grass and trees will play a part in the works performed by the dancers, some of whom are Grand Center Arts Academy students. The second concert is presented at noon on Thursday, September 24, at the Old Post Office Plaza (North Ninth and Locust streets), with its water feature enjoying a starring role. Both lunchtime concerts are free, and brown-bagging it is encouraged; visit www.karlovskydance.org for more information. — Alison Sieloff

2. See Shakespeare in the streets of Old North
Unless you are an actor, "Shakespeare performance proficiency" is not a skill likely to wind up on your résumé. However, for several residents of Old North St. Louis, this uncommon competence shall be theirs after Shakespeare Festival St. Louis' Shakespeare in the Streets (www.sfstl.com). The group performs The World Begun, an adaptation of Twelfth Night, on North 14th Street (between Montgomery Street and St. Louis Avenue). Residents are joined onstage by professional actors, and together, they sprinkle the neighborhood's stories throughout Shakespearean comedic action. The World Begun is staged at 8 p.m. Thursday through Saturday (September 17 through 19), and admission is free; bring your own lawn chair. — Alison Sieloff
3. Celebrate fall at Oktoberfest
It's an open secret: Edwardsville is cool. Hell, it's always been cool in an appealingly modest, quiet way to those of us who've been friends with it for years. Now, however, the town (the third oldest city in the state of Illinois, first settled in 1805) boasts a nice 'n' easy blend of mellowness with urbane amenities and culture. Today, you can eat well in Edwardsville; you can drink well there, too. Especially this weekend, as E'ville's Global Brew Tap House hosts its second annual Oktoberfest today in Edwardsville City Park (Illinois Route 159 and South Buchanan Street, Edwardsville, Illinois; 618-307-5858 or www.globalbrew.com). Trailers will dispense ten German-style brews as well as six craft-beer options. Food is available from the acclaimed restaurant Cleveland-Heath, and there's live music on tap of both a traditional and contemporary Bavarian bent. The event is free to the public and runs from 11 a.m. to 8 p.m. Saturday.— Alex Weir



Bright Spirit of Marimekko, taken June 24, 1966 by Tony Vaccaro for the cover of LIFE magazine © Tony Vaccaro
Blow-Up, now at the Saint Louis Art Museum, features these gorgeous prints.
4. Eye some gorgeous '60s fabrics
With an eye for the beautiful and a sense for the tough-to-replicate, St. Louis curators put together some of the most captivating exhibits. Such is the case with Blow-Up: Graphic Abstraction in 1960s Design, curated by Genny Cortinovis. The show celebrates the large-scale, abstract patterns in the fabrics, furnishing and fashions of the 1960s. Anyone with a love of style will drool (neatly) over the gorgeous Marimekko textiles, as well as Ettorre Sottsass Jr.'s red-and-white-striped Superbox wardrobe and Gaetano Pesce's UP 1 chair. Tony Vaccaro's photographs of a Scandinavian design festival sponsored by Famous-Barr in 1966 round out the exhibition. Blow-Up is on display in gallery 100 at the Saint Louis Art Museum in Forest Park (314-721-0072 or www.slam.org) through Sunday, March 20, 2016. The museum is open every day except Monday. Admission is free. — Brooke Foster
5. Make a punk rock playdate
Parents: If you equate "artistic awareness" with the dire hellscape that is Caillou, it's really time to turn off the TV and introduce the sprogs to something truly amazing. Do so on Sunday at 11 a.m. the Punk Rock Playdate with Eric Morse at Subterranean Books (6275 Delmar Boulevard, University City; 314-862-6100 or www.subbooks.com). St. Louis native, entrepreneur and (now) children's-book author Morse reads from What Is Punk?, his fantastic new book illustrated with Anny Yi's playful clay figures. Show the kiddos what changed your world when you were young with this punk primer. The reading is followed by a coloring activity and a punk sing-along. Admission is free.— Brooke Foster