John Lamb
Chris Tipp and Meadow Tien Nguy.
Somewhere inside Spellbound! A Musical Fable is an entertaining story trying to get out. Three nights into the play's premiere run, however, that story has not fully emerged from the welter of ideas, characters and fairy tales that writers Gary F. Bell and Robert L. White have incorporated in their script. There are flashes of wit and engaging songs, but they are impeded by too many elements vying for stage time.
Bell, who is Stray Dog's founder and artistic director, acknowledged as much in his introductory address before the curtain went up. Calling Spellbound! "still a work in progress," he cautioned the audience that not everything mentioned in the program was still present in the show -- and that there might be more alterations coming. And there needs to be; with a running time just short of three hours (including the two intermissions), the overall impression left by Spellbound! is that it overstays its welcome.
The story, which Bell and his writing partner initially conceived in 1994, is a twist on Cinderella. Arabella (Meadow Tien Nguy) is a drudge in service to her stepmother Layla (Deborah Sharn) and her stepsisters Muchaneta (Maria Bartolotta) and Kokumo (Eileen Engel). She has a fairy godmother of sorts in the enchantress Inaambura (Paula Stoff Dean), and an actual father in Bangababo (Patrick Kelly). Our prince is Adama (Chris Tipp), a wastrel who doesn't want to marry or settle down, which angers his father Changamire (Zachary Stefaniak).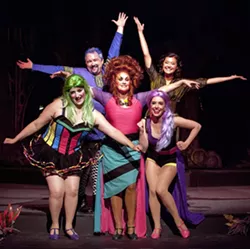 John Lamb
The cast of Spellbound!.
All of the characters are linked by Arabella. Nguy plays the role with genuine warmth and charm, and she has a fantastic singing voice, so much so that it's disappointing that we don't get to hear it until the end of the first act. Which is not to take anything away from the rest of the performances -- but the steady introduction of new characters in the first act made it unclear who, exactly, we are supposed to be rooting for. Is it Bangababo and his attempts to get away from his cruel wife? Is it Changamire and Inaambura's budding romance? Is it Adama and his quest to have a good time with every girl in the village? All of these people and plots are entertaining, but coming one after the other as they do makes Spellbound! feel jumbled and uncertain.
Visually, the show is a treat. Bell and Eileen Engel designed the costumes, which are fanciful takes on fairy-tale couture and cosplay culture; a great deal of face paint and make-up effects are used. Rob Lippert's set is extravagant, with sliding trees, a functional tower on one side of the stage and a treetop hideout on the opposite side. The band is at the back of the stage, under an overhang draped with camouflage netting.
The musicians sound good and confident, but they were occasionally drowned out by larger vocal ensembles, such as during the raucous "Gonna Have a Ball at the Carnival." The song is a standout, as are "The Tiger's Tango," "The Lady Bird Burlesque" and the love song "Who Would Imagine?" Musically, Bell and White hew to the Disney musical school of soaring ballads and comic romps. I am decidedly not a fan of that particular school, but there's no denying its broad popularity.
Ultimately, Bell and White have all of the pieces that make a successful show. Some careful editing and a bit more focus on the heroine will make those pieces shine rather than just intermittently sparkle.
Spellbound! A Musical Fable Through August 22 at Tower Grove Abbey, 2336 Tennessee Avenue. Tickets are $10 to $25. Call 314-865-1995 or click here.