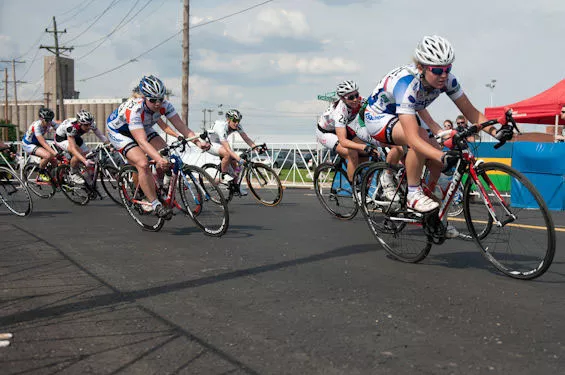 Jon Gitchoff
Gallant racers slash their way to victory on two-wheeled knives.
August is the only month that has a "g" in its name. And no one plays the game like a G, son. Respect. Here are six G-thangs you can do this weekend.
1. Good movie? Tommy Wiseau's The Room What elevates The Room above being just another "worst movie ever made" is the passion of its producer, writer, director and star, Tommy Wiseau. Self-financed at a cost of $6 million, The Room was conceived as a romantic melodrama about a banker (Wiseau) who is betrayed by his fiancée. But when audiences responded to the clunky dialog and Wiseau's eccentric performance with laughter and raspberries, Wiseau retroactively characterized the film as a carefully calculated black comedy. His latest effort is The Neighbors, a sitcom that attempts to build on his newfound reputation for comedy. But he again misses the mark, this time by being too self-aware and trading The Room's endearing earnestness for broad strokes of humor. Wiseau appears at the Landmark Tivoli Theatre (6350 Delmar Boulevard, University City; 314-727-7271 or www.landmarktheatres.com) for midnight screenings of The Room this Friday and Saturday (July 31 and August 1). The premiere episode of The Neighbors will also be shown both nights. Tickets are $15. — Mark Fischer
(c) Union Avenue Opera and John Lamb
Rigoletto has problems at work and at home.
2. Get right with Giuseppe Verdi's Rigoletto. Giuseppe Verdi's Rigoletto comes from the late-middle period of the composer's productive life, when he was incorporating more realism in his operas. The title character is a hunchbacked jester who serves the Duke of Mantua. The Duke is a rapacious despoiler of women, a hobby that Rigoletto underscores by openly mocking the husbands of the Duke's conquests. One of those cuckolded husbands curses Rigoletto for his sharp tongue, and in very short order that curse reaches fruition: The Duke now fancies Rigoletto's daughter, a beautiful woman Rigoletto has thus far successfully kept hidden from the courtiers. Despite Rigoletto's best intentions, the bloom of first love lures his daughter from safety, and then everything comes crashing down. Union Avenue Opera continues its season with Rigoletto. The opera is performed in Italian with English subtitles at 8 p.m. Friday and Saturday (July 31 through August 8) at Union Avenue Christian Church (733 North Union Avenue; 314-361-2881 or www.unionavenueopera.org). Tickets are $32 to $52. — Paul Friswold
3. Throw your hands in the air for Mr. Goldthwait. For more than three decades Bobcat Goldthwait has done it all — standup, acting, writing, voiceover and directing. His turbulent ride to fame and fortune established Goldthwait as a daring and dangerous humorist whose puissant mix of black humor and satire pulls no punches. His new standup tour finds him mining his past failures and successes for more unconventional laughs than your typical comedian. Goldthwait performs sets at 7:30 and 9:30 p.m. Friday and Saturday (July 30 and August 1) at the Funny Bone (32 Meramec Valley Plaza, Valley Park; 636-529-1201 or www.stlouisfunnybone.com/valleypark). Tickets are $20. — Rob Levy
4. Get around with the Grove Criterium. Cycling enthusiasts, rejoice — the Grove Criterium returns with a 1.2 mile-long course that has six turns packed in that short circuit. It's billed as a technical race that will challenge all divisions of riders, from juniors to elite racers. All heats have a set time limit, with the cyclists trying to complete as many laps as possible in that time. The first heat starts at 1 p.m. today in front of Urban Chestnut Brewing Company (4465 Manchester Avenue; www.thegrovecrit.com). Non-cyclists can enjoy Urban Chestnut's beer garden, or visit neighborhood restaurants and businesses. Registration for potential racers is $40 on the day of the event; spectating is free. — Paul Friswold
5. Catch up with Ms. Gabler. Henrik Ibsen's classic drama Hedda Gabler ends with its heroine shooting herself. Jeff Whitty's The Further Adventures of Hedda Gabler picks up immediately after the fatal gunshot. Hedda wakes up, and discovers she's doomed to exist eternally only as a tragic literary figure. Fortunately, she's not alone. Mammy, the black stereotype of a domestic servant created during Hollywood's golden age, is there, as is bloodthirsty Medea and poor Ophelia. Can these fictional women change their fates? This irreverent comedy from the man who wrote Avenue Q at least offers them the opportunity to try. St. Louis Shakespeare opens its new season with The Further Adventures of Hedda Gabler. Performances take place at 8 p.m. Friday and Saturday and 2 p.m. Sunday (July 31 through August 9) at the Ivory Theatre (7620 Michigan Avenue; 314-361-5664 or www.stlshakespeare.org). There is one 7:30 p.m. show on Thursday, August 6. Tickets are $15 to $20. — Paul Friswold
6. Watch gorgeous Gabrielle Kniery on the catwalk. America's Next Top Model devotees surely remember the beautiful Gabrielle Kniery, a St. Louis native who was part of the fourteenth cycle of Ms. Tyra's model-competition program. Since the show, Kniery has appeared in magazines, music videos, ad campaigns, TV shows and more. Now she tales some time out to give a little love to emerging fashion designers as she hosts the Pins and Needles designer competition at 7 p.m. tonight at the Boo Cat Club (812 Union Boulevard; www.brainchildevents.com). Six designers, five of whom are from the Lou, send looks down the runway, competing for your love, and that of the judges, $1,000 and a spot at Saint Louis Fashion Week -- quite a prize! Plus, Pink Elephants Designs, last year's winner, shows new looks as well. Admission is $15 to $40, and a VIP option is available. — Alison Sieloff