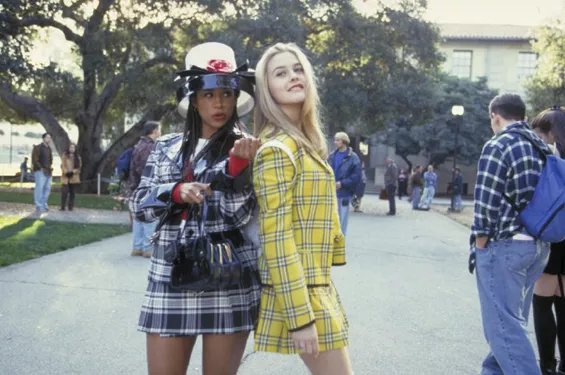 Cher and Dionne ride again.
July is winding down, but summer isn't over yet. This is a weekend to remember the films, philanthropists and summer camp fantasies of our youth. See you all on the ice.
1. Celebrate 20 Years of Being Clueless The Saint Louis Art Museum's pick for the Art Hill Film Series this week is Clueless, that formative tale of Beverly Hills blonde teenager Cher Horowitz's inspired journey to better the lives of the "less fortunate." Whether it's the new classmate, two lonely and lovelorn teachers or hurricane victims (who actually don't need more bongs, but thanks?), Cher is there to offer insight and fashion advice. It's the forever campy but oddly relevant '90s flick you will earnestly watch again and again. The Saint Louis Art Museum partners with Artscope, formerly SCOSaG, to enable moviegoers to get their fashion on with a cotton tote bag decoration project. Food trucks do a brisk business starting at 6 p.m., and beverages are sold near the Louis IX statue at the top of the hill. The film starts at 9 p.m., as if you would miss an opportunity to see Clueless on the big screen one more time. Admission is free. Call 314-721-0072 or visit www.slam.org for more information. — Nicole Beckert
2. Party on Henry Shaw's Birthday The man and legend who gave St. Louis the Missouri Botanical Garden, Henry Shaw, would have been 214 years old today. Shaw hailed from Sheffield, England, and sought to enrich the citizens of St. Louis with a wealth of botanical and horticultural knowledge, and so he left us his estate as a public garden. Today admission is free in his honor at the Missouri Botanical Garden (4344 Shaw Boulevard; 314-577-5100 or www.mobot.org), so we can all enjoy the lush, pastoral view. You can also sign Shaw's giant birthday card, tour the Henry Shaw Museum and enjoy stilt walkers, silhouette artists and marionette shows throughout the day. Thanks, Henry! — Nicole Beckert
3. Relive Your Summer Camp Fantasies You're too old for summer camp, but that doesn't mean you can't enjoy the summer camp experienced in every '80s movie about a bunch of misfit campers. The Randy Dandies provide all the dirty jokes and topless scenes you could want in Camp Lik-A-Twa-Ta-Lotta: A Choose Your Own Burlesque Adventure. Lucky Deluxe provides the ribald campfire stories, and Chicago's Sally Marvel brings the fireworks with her angle- grinding act, during which she applies an angle grinder to the metal protection on her costume in order to produce a wild comet-tail of sparks. The show starts at 9 p.m. tonight at the Ready Room (4195 Manchester Avenue; www.thereadyroom.com). Tickets are $15 to $20, but bring money to buy the official Camp Lik-A-Twa-Ta-Lotta T-shirt, created by STL-Style.— Paul Friswold
Courtesy of the Muny
Heather Headley stars as the Witch in the Muny's Into the Woods.
4. Remember When Balloons Were Awesome Why are balloons terribly exciting for kids and terribly "meh" for adults? And when does the change in attitude occur? Theatre Nuevo asks the tough questions about balloon frivolity, especially as they relate to our conception of adulthood and its origins in its new group-devised piece, This Is Not Funny. Using recreations of actual newscasts and a Vaudeville-type framework, Theatre Nuevo dives deep into the mysteries of wonder, fear and our shifting sense of what's fun. The group advises that, despite the show's title, This Is Not Funny is in fact funny. Ah! The mystery begins. This Is Not Funny is performed at 8 p.m. Thursday through Saturday and 7 p.m. Sunday (July 23 through August 2) at the Chapel (6328 Alexander Drive; www.theatrenuevo.com). Tickets are $15 to $20.— Paul Friswold
5. Watch a Face in a Crowd If the woman in the film Face in the Crowd looks uncannily like Elizabeth Banks, you're not losing your mind. Video artist Alex Prager often recruits professional actors for her projects, and that is indeed Banks dressed in 1950s garb and wading into a crowd of people. The eleven minute long, single-channel film begins with Banks watching a thick crowd of people from her window, and then entering into the tide of humanity. Walking against the crowd's flow, polite greetings and friendly smiles soon turn into collisions, slowed progress and a suffocating sense of claustrophobia. Alex Prager: Face in the Crowd is shown on a loop in gallery 301 at the Saint Louis Art Museum in Forest Park (314-721-0072 or www.slam.org) through Sunday, November 1. Admission is free, and the museum is open Tuesday through Sunday.— Paul Friswold
6. Take in a Musical Fairytale Fairy tales are often dismissed as "kids' stuff" because people mistake the form's simplicity of storytelling for being simplicity of meaning and moral. But Stephen Sondheim and James Lapine realized that the inherent simplicity allowed them to tell an emotionally complex story with Into the Woods. The duo set the stock characters of fairy tales -- Cinderella, Rapunzel, bold princes and horrid witches -- in the same magical forest and let their desires and motivations create a tangle of plots and cross-purposes that result in an emotionally complex (and satisfying) story. The Muny presents its first-ever production of Into the Woods at 8:15 p.m. Tuesday through Monday (July 21 through 27) at the Muny in Forest Park (314-361-1900 or www.muny.org). Tickets are $14 to $87.—Paul Friswold