A Bastille Day celebration takes over Soulard beginning Friday.
Supposedly, it's finally going to stop raining this weekend. So why not venture out into the world and do something different? There are plenty of options -- from the Internet Cat Video Festival at the Museum of Contemporary Art to Bastille Day taking over Soulard to the "world's largest catsup bottle festival birthday party and car show" in Collinsville, Illinois. Yes, it's all a bit random -- but doesn't it sound like a blast?
Read on for our six picks this week, all for $15 or less.
1. LOL at the Internet Cat Video Festival If you're a cat owner, you've witnessed your fur farmer do all manner of lovably silly things. You're continually intrigued by the intelligence, invention and sheer gonzo squirreliness of your cat when it's got its goofball phase on. But have you whipped out that smartphone to shoot this playfulness for public consumption? If the answer's no, well, start — then attend the Internet Cat Video Festival at 7:30 p.m. Thursday and Friday (July 9 and 10) at the Contemporary Art Museum St. Louis (3750 Washington Boulevard; 314-535-4660 or www.camstl.org). Anyone can watch a cat video online, alone; better to watch cat videos together with others. Shared laughs beat solitary ones any day. On top of all the kitty vids, there's a cat-themed photo booth, a craft table on which to make your own cat ears, face painting, cash bar, and cat adoption opportunities courtesy of the A-1 folks at Tenth Life Cat Rescue. Tickets are $10 to $20. — Alex Weir
2. See a Play ... in a Bar If you're in the market for a different sort of theatrical experience, check out the Midnight Company's short (but solid) repertory season at Herbie's Vintage 72 (405 North Euclid Avenue; 314-487-5305 or www.midnightcompany.com). Joe Hanrahan remounts two one-man shows by Irish playwright Conor McPherson, St. Nicholas and The Good Thief. The former is about a burned-out Dublin theater critic who trails an enchanting young actress to London. His interest is more personal than professional, and he somehow finds himself tangled up with a vampire gang that uses him as bait to bring in more humans. The Good Thief is about a hard-nosed Irish thug who's been betrayed by his boss and is now on the run from both the crooks and the cops. St. Nicholas is performed at 8 p.m. Friday and Saturday, and 6:30 p.m. Sunday (July 10, 12, 18, 24, 26). Show times for The Good Thief are 8 p.m. Friday and Saturday and 6:30 p.m. Sunday (July 11, 17, 19, 25). Tickets are $15. — Paul Friswold
3. Watch People Play Ball Blindly for a Good Cause Like young Jedi apprentices, the players of beepball must master body-mind coordination. Sighted players are blindfolded and then play six innings of softball with a beeping ball and buzzing bases. Only the pitcher and catcher are spared the blindfold, and they play on the same team as the batter. Beepball was created in the 1960s to allow visually impaired athletes an opportunity to enjoy the national pastime, but today's Ultimate St. Louis beepball tournament even lets 20/20's in on the fun. With more than twenty teams confirmed to participate, the event will be one of the largest of its kind ever hosted. The tournament benefits MindsEye, the radio and internet service that reads newspapers, books and magazines aloud for the blind and print impaired community of Metro St. Louis. Games are played from 8 a.m. to 9 p.m. Saturday at the Assumption Parish ball fields (4709 Mattis Road; 618-394-6447; www.mindseyeradio.org). Admission is free for spectators. — Mark Fischer
Turn the page for more things to do this week, including a celebration of Harper Lee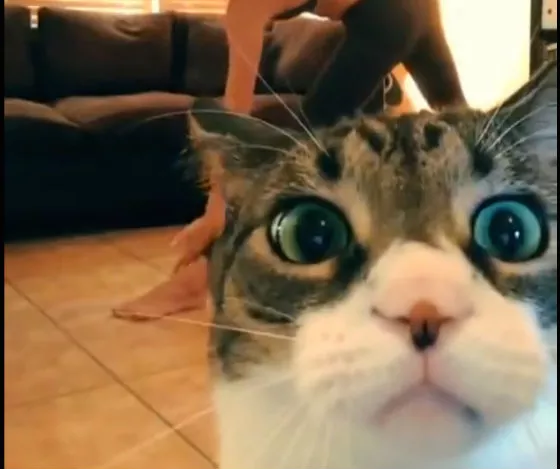 Milo the scene-stealing cat -- just one of the many famous cats of the Internet featured in this weekend's Internet Cat Video Festival
4. Hail the Almighty Catsup Bottle in Metro East The enlightened among us know that things like french fries and hot dogs are truly just vehicles for delicious, delicious catsup. Join other tomato enthusiasts at the seventeenth annual Brooks World's Largest Catsup Bottle Festival Birthday Party & Car Show today from 10 a.m. to 5 p.m. in Woodland Park (Vandalia Street and Pine Lake Road, Collinsville, Illinois; 618-344-8775 or www.catsupbottlefestival.com). This full day of fun includes eating contests, a Big Bottle Bike Ride, a pageant for the wee ones, and visits from VIPs including the Rams cheerleaders. The Collinsville-Maryville-Evening Lions Club serves up brats, pulled-pork sandwiches, and more, and the Horseshoe Restaurant and Lounge offers cold beer for sale. Connect with other catsup aficionados by using the hashtag #CatsupFest. Admission is free. — Brooke Foster
5. Storm the Bastille in Soulard The streets of Soulard will be under mob rule this weekend as the masses salute the red, white and blue — of France — with a two-day celebration marking Bastille Day, the French Independence Day. At 5 p.m. Friday, July 10, the "gathering of the mob" parade congregates at Howards in Soulard (2732 South 13th Street). When the King and Queen of France appears, the masses (in period costumes, preferably), rise against the aristocracy and force the royal couple to meet their end at Pontiac Park, where jubilation, spirits and cake await. At 6 p.m. Sunday, July 12, at Franco (1535 South Eighth Street; 314-542-0400 or www.eventbrite.com),the revolution gets fancy with Bastille en Vogue, a fashion show with a whimsical take on period dress. The evening includes beer, wine and appetizers while you marvel at the designs by Luann Carmody Denten. The gathering of the mobs is free, while admission to Bastille en Vogue costs $25. — Rob Levy
6. Celebrate the Life of Harper Lee at Left Bank Famously reclusive author Harper Lee set the literary world abuzz with the revelation of a new book: Go Set a Watchman. Left Bank Books (399 Euclid Avenue; 314-367-6731 or www.left-bank.com) celebrates the release of Lee's novel with a full-day party. Show up at 8 a.m. Tuesday and take part in a read-a-thon of To Kill a Mockingbird, the book that put Lee on the map more than 50 years ago. Preorder or purchase a copy of the new novel, and you'll be treated to coffee and doughnuts in the morning and a literary cocktail hour in the evening, with additional fun in between. Admission is free with the purchase of Go Set a Watchman. — Brooke Foster