Brandon Voges/Bruton Stroube
The original Bony Tony Garbage Pail Kid card next to Tony Bony 30 years later.
At first, they were just part of the mounds of junk in Jake Houvenagle's mother's basement. Stacks of paper, old Halloween decorations he'd made as a third grader roughly 30 years ago, and then, the childhood collection that would inspire him all over again as an adult: his original Garbage Pail Kids cards.
Produced by the Topps Company, Garbage Pail Kids came out in 1985 as a big middle finger to Cabbage Patch Kids, which were then wildly popular. Depicted on a series of trading cards, the Garbage Pail Kids were the dolls' grotesque cousins. There was Noah Body, a kid with just a head; Armpit Britt, a girl with massive amounts of armpit hair; and Bony Tony, a boy whose skin unzips to expose his skeleton.
"What was not to love? Bizarre kids with bizarre afflictions all with common names of people I knew -- Topps made it easy to make fun of your friends," Houvenagle explains.
Brandon Voges/Bruton Stroube
One of the six cards showing the Garbage Pail Kids 30 years created by Brandon Voges and Jordan Gaunce.
As a child living in central Illinois, Houvenagle loved to imagine the lives of each Garbage Pail Kid.
"These cards kept my imagination running wild as a kid," he says. "What if I had that: What if my skin unzipped? What if I could blow up the world by pushing a button? What if, what if?"
After he remembered the dusty cards sitting in his parents' basement, Houvenagle, now working in advertising, found his imagination fired up anew. He again pondered the Garbage Pail Kids -- only in his daydreams, 30 years had passed for them, too.
"What if my skin has been able to unzip for over 30 years?" Houvenagle says. "Well, the zipper is probably pretty worn and my skin is probably sagging and my face is probably a wreck from the constant off and on. Would I be able to find a job? Have I been able to hold steady relationships over the years? Do I care?"
Houvenagle was inspired to buy a set of Garbage Pail Kid cards on eBay -- "knowing I could get someone else to ship them quicker than I could find the time to drive to my folks."
Then he brought the idea of a photo series documenting the grown-up kids to his friend Brandon Voges, a photographer. Voges was immediately interested, enlisting co-worker and digital retouching genius Jordan Gaunce for the project.
"The two of them took this beast to places beyond my tiny brain's imagination," Houvenagle says.
As a partner at Bruton Stroube Studios, a commercial photography and motion studio located at Locust and North 23rd streets in downtown St. Louis, Voges had the ability to make Houvenagle's ideas come to life.
The shooting locations varied for each card, Voges explains. "Adam Bomb was shot in studio along with Clogged Duane, which we built a set for. Noah Body was shot in an office building in Clayton. Bony Tony was shot at a friend's bar/music venue. Armpit Britt was shot at a liquor store close to my house in south city, and Barfin' Barbara was shot in the kitchen at Lumen event space."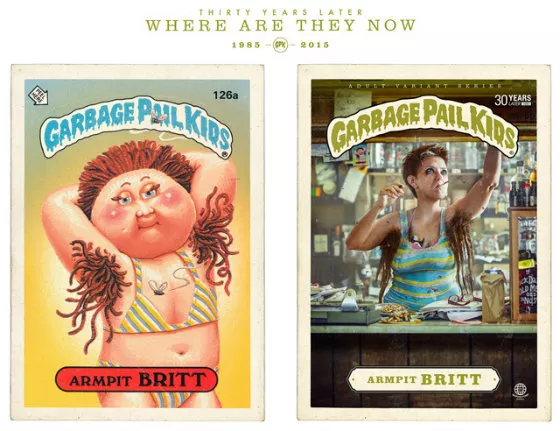 Brandon Voges/Bruton Stroube
The original Armpitt Britt Garbage Pail Kid card next to Armpitt Britt 30 years later.
The casting was as diverse as the shooting locations. Some talent was found through talent agencies, some people were friends of friends, and Voges even resorted to Facebook.
"Nothing like sending out a Facebook post that says, 'Looking for a female with shorter hair to have dreadlocks glued to their armpits for a personal project,'" Voges says.
After all of the casting and shooting, the images were digitally retouched by Gaunce.
"Once I started the retouching, I reached back into my inner child grossness to flesh out these new Garbage Pail Kids and their updated lives," Gaunce says. "I would manipulate each photo -- up to a dozen photos per image -- to achieve an odd fellow."
The result: six grown-up -- but equally gross -- cards to complement the originals. (They can be seen online at Bruton Stroube's website.)
"Doing what we do for a living, with the skills and resources we have available, it was really exciting to actually be able to make something out of those memories and ideas," Voges explains. "Half of the fun was making the photos, but really, a huge part of the enjoyment for me was thinking through the stories."
Although Houvenagle, Voges and Gaunce produced these images as a fun side project, an ode to fan art, people are loving the retouched photos they created.
"When we started making these, people that didn't know the original GPK still thought they were funny, interesting or gross," Voges says. "But those folks who hadn't thought about them in twenty years really got a kick out of them."
The details of casting, costumes, lighting, set, and location were a group effort.
"I might have done the sketches in the beginning, but each image evolved as we shot it," Voges says. "Someone on set would say, 'What if one of the girls was holding Bony Tony's card to get an autograph?' and things like that, and we'd all laugh and get excited and try it. That happened on every image. Everyone had input and threw out ideas."
A little bonus for those with sharp eyes: Each photo has the original card somewhere within it, Voges says.
Although the group does not intend to sell the images, people are pleading for more. The artists say they'll see -- there's been discussion about additional cards, but nothing is definitive.
In the meantime, soak up the raunchy Garbage Pail Kids on their 30th anniversary. They may be older, but they're still stuck in the identities that grossed you as a kid. And isn't that exactly why you loved them?