Photo Courtesy of Elena Seibert
The one, the only ... Judy Blume
So far, summer in St. Louis has been a bit of a bust -- yes, it's gotten hot, but it seems to rain every damn weekend (and, lately, most of the week too). How can we enjoy yourselves if we keep getting stuck in a downpour?
Fortunately, this week's roster of events contains a whole bunch of cool stuff you can do indoors. From a screening of one of the greatest summer blockbusters of all time to a visit from no less than Judy Fucking Blume, here are eight things you could do for fun even while keeping high and dry this weekend.
1. See a play at St. Lou Fringe Daniel MacIvor's House is a play about a man whose persecution complex colors everything. He says his mother suffers from demonic possession, his father is the saddest man in the world and the person he loves doesn't love him back. Is he an unreliable narrator lost in his own resentments, or is he only partially unreliable? If it's the latter, doesn't that make him the same as everyone else? Joe Hanrahan of the Midnight Company performs the one-man show House at St. Lou Fringe this year. The Friday, June 19, show takes place at 9 p.m. at Creative Exchange Lab (3307 Washington Avenue; www.stlfringe.com). Tickets are $10 in addition to the required $5 Fringe badge. — Paul Friswold
See also: The Cheapskate's Guide to Summer in St. Louis
2. Make your way through a giant cardboard maze Paul Vandivort hadn't made a cardboard maze in almost a decade. But the local artist has recently returned to this craft, creating the Labyrinth at Contemporary Art Museum St. Louis (3750 Washington Boulevard; 314-535-4660 or www.camstl.org) as part of the Family Day Block Party, co-presented with the Pulitzer Arts Foundation and the Sheldon. Vandivort doesn't do small; his newest maze is a real humdinger, spanning an area bigger than a two-car garage and using more than twenty refrigerator boxes for 25 different rooms, corridors and hallways. While those entering may feel a little boxed in, they will encounter no minotaurs. Family Day takes place from 10 a.m. to noon Saturday, and admission is free. — Rob Levy
3. See a Free Arthouse Film Korea was in political and social tumult in the late nineteenth century — but so was Jang Seung-up, a self-taught artist from the lower class. Jang has obvious artistic talent, but his humble origins preclude him from advancing as an artist. But a merchant recognizes his genius, and acts as his patron. Constrained for too long by societal structures and his own early limitations, Jang eventually breaks free and develops a new style of art in traditional Korea. In doing so, he leads the way for all future Korean artists. Kwon-taek Im's film Chihwaseon (also known as Painted Fire in the West) documents the turbulent life of a free spirit who rose above the limits of his time and place to achieve immortality through his art. The film screens at 11 a.m. and 2 p.m. Saturday at the Saint Louis Art Museum in Forest Park (314-721-0076 or www.slam.org) as part of the Dano Korean Spring Festival. Admission is free. — Paul Friswold
4. Remind Yourself That It's Never Truly Safe to Get Back in the Water Turner Classic Movies has clearly decided that you're all swimming too much; the cable channel celebrates the 40th anniversary of Jaws with a series of nationwide screenings. Steven Spielberg became a household name thanks to Jaws and its hungry, hungry shark that terrorizes a small resort town during a hot summer. Even if you've seen the film countless times, this time it's different: Spielberg personally approved the 4k restoration that will be shown. TCM's Ben Mankiewicz introduces Jaws, which screens at 2 and 7 p.m. Sunday, June 21, at Wehrenberg Des Peres 14 Cinema (12701 Manchester Road, Des Peres; www.fathomevents.com). Tickets are $12.50. &10;— Paul Friswold
Turn the page for more rainy weather fun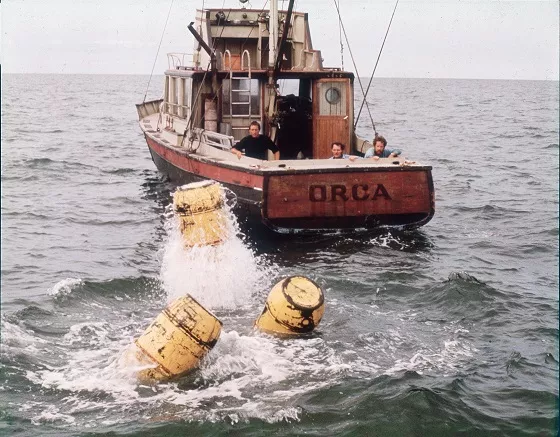 Photo Courtesy of Universal
They're going to need a bigger boat....
5. Shake Hands with the Author Who Helped You Understand Yourself For so many, Judy Blume is synonymous with childhood nights spent reading under the covers; she is the author who assuaged our adolescent fears and wrote so realistically about young love. Friday at 7 p.m. at Maryville University Auditorium (650 Maryville University Drive; 314-367-6731 or www.left-bank.com), Left Bank Books and Maryville Talks Books welcome the beloved author, who will read from her new novel (for adults!), In the Unlikely Event. The story follows Miri Ammerman as she revisits her hometown and her 1950s girlhood, which was filled with tragedy, new romances, complicated friendships and panic about the A-bomb. Admission is $31 for one and includes a copy of the book, or $36 for two people and one book. Ms. Blume will be signing copies of the novel this evening. — Brooke Foster
6. Check Out a New Museum Exhibit Hollywood meets hi-tech at the Saint Louis Science Center's new exhibition, Alien Worlds and Androids. Visitors discover what extraterrestrial life may be like through the use of advanced laboratories, telescopes, robots and probes. Nine themed areas demonstrate how new technologies are being implemented to discover if we are alone in the universe. A Mars rover simulator journeys to the Red Planet, while movie icons Iron Man and C-3PO explain the differences between androids and robots, and why the sci-fi future of the movies is coming faster than we think. Alien Worlds and Androids is open daily through Monday, September 7, at the Saint Louis Science Center (5050 Oakland Avenue; 314-289-4400 or www.slsc.org). Admission is $4 to $8. — Rob Levy
7. See the City's Best Musicians for Just $10 Join the RFT in the Grove on Saturday, June 20 for our 14th Annual Music Showcase. You can check out more than 70 of the finalists for our RFT Music Awards at fun, low-key venues like Atomic Cowboy, HandleBar and Layla, all located in one of the city's best neighborhoods for nightlife. Genres on tap include everything from hip-hop to country to noise. The music blog I Went to a Show compiled a handy spreadsheet showing who's playing when; check out the schedule and plan accordingly. Until then, vote for your favorites online and buy your all-access wrist bands online. — Riverfront Times Staff
8. Wallow in Nazi Atrocities at the Missouri History Museum Everyone who hasn't been spending inordinate amounts of time dwelling beneath rocks knows what Hitler's Third Reich did to millions of innocent Jews during World War II. Not quite as universally well known is the fact that the Nazis killed large numbers of others, too — Poles, Roma Gypsies, Jehovah's Witnesses, priests, pastors and the disabled. German dissidents were executed, as were homosexuals. Between 1933 and 1945 the Nazi regime arrested 100,000 men for real or suspected homosexuality. Being gay wasn't only frowned upon in Hitler's Germany — it was outright illegal. The documentary Paragraph 175 (referring to the section of the German penal code outlawing homosexuality) reveals the fate of these men, only about 4,000 of whom survived the Fuhrer's death machine. Five appear in this film to relate their harrowing stories for the first time to a world audience. Paragraph 175 screens free Wednesday at 7 p.m. at the Missouri History Museum (Lindell Boulevard and DeBaliviere Avenue; 314-746-4599 or www.mohistory.org). — Alex Weir