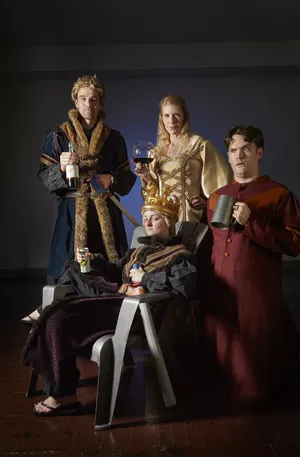 Steve Truesdell
Meet Joffrey, Jaime, Cersei, Tyrion and the rest -- albeit quickly!
When watching Magic Smoking Monkey's Game of Thrones: GoT Parody?, you have two choices. You can either try to remember actors' faces and names so you know who is playing whom, or you can lean into it and just let the show explode all over your face. I strongly recommend the latter. This advice holds even if you've never seen the TV show -- I haven't -- or read the books. (I read one, and it was OK at best. George R.R. Martin is no Maurice Druon.)
Cramming the entire first season of HBO's Game of Thrones into about 80 minutes was ambitious, to say the least. Jaysen Cryer's adaptation retains the big moments, but many of them occur at warp speed. Bran Stark, who spies on an incestuous tryst in the tower between Cersei (Suki Peters) and Jaime Lannister (Ed Cole), is played by a puppet. And in this production, instead of pushing him from the window, Jaime instead tosses him completely over the set and into the backstage area. It took you longer to read the previous two sentences than it did for Jaime to spot, chuck and forget Bran.
- See also: How Magic Smoking Monkey Is Taking on Its Biggest Target Yet: Game of Thrones
But not everything is accelerated. The fan-favorite scene in which Tyrion (a very tall Casey Boland on his knees) smacks some sense into his little shit of a nephew Joffrey (Kimberly Byrnes, who is wonderfully shitty) becomes a group collaboration, with actors streaming across the stage from both wings so they can get in on the slappin'. It is just as satisfying as you would hope.
Even with director Donna Northcott's whiplash pacing, the actors are occasionally able to invest their characters with distinct personalities. Suki Peters' Cersei always has a drink in hand, and she slips into a self-righteous and wobbly rage that is reminiscent of Edina Monsoon from Absolutely Fabulous -- you expect her to call Joffrey "sweetie-darling" at any moment.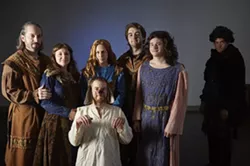 Steve Truesdell
House Stark welcomes you (not you, Jon Snow).
Ed Cole cycles through a food court's worth of accents for swordmaster Syrio Forel, and he transforms the art of "water dancing" into a wiggly jig that is more silly than deadly. The folks in the front row, who are about eighteen inches from having an actor in their lap, got a close-up look at Syrio's technique that was nearly a bit too close: His foam sword forced one audience member into a couple of sinuous dodges during one frantic duel.
The real star here is Carl Overly, who plays Khal Drogo with a warlord's swagger, and also portrays Lysa Arryn as a terrifying (and heavily lactating) pile of femininity. Drogo enters "riding" a hobby horse, which he disdainfully hands to someone sitting in the front row. His braid stars in a brief porn interlude (complete with the appropriate soundtrack), before he gets down to fathering children with Daenerys (Shannon Nara) -- an act of coition prefaced by Drogo bellowing "sexual chocolate!"
Overly is a very large man, and in the performance I attended, he twice nearly brought down the backdrop with his enthusiastic action scenes. The second time it happened, it appeared that someone backstage pushed the plywood set back into place an instant before calamity.
Which might be the perfect way to describe Magic Smoking Monkey's whole approach to theater. It's fast, loud, obviously cheap and very funny, but there's just enough control to keep everything, always, an instant from calamity.
Game of Thrones: GoT Parody? Through June 27 at the Regional Arts Commission, 6128 Delmar Boulevard. Tickets are $10 to $15. Call 314-361-5664 or click here.