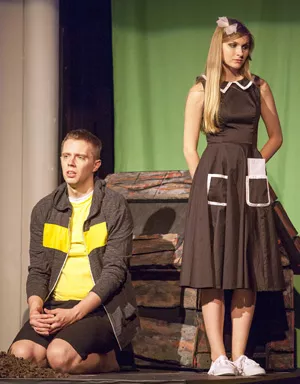 John Lamb
Michael Baird and Sierra Buffum as CB and CB's Sister.
Being a theater critic has its perks. You always get a good seat if you want it. You have access to a lot of interesting work being done by actors in all stages of their careers. You occasionally see a director try something new or daring, and as a result experience a well-known show in a different light.
But sometimes you have to see Bert V. Royal's Dog Sees God: Confessions of a Teenage Blockhead, so it's not all magic and wonder.
Stray Dog Theatre's staging of Dog Sees God is the best version of the play I've seen yet, but I still can't recommend it to anyone. Royal's "black comedy" (those quotes are sarcastic) was a breakout New York Fringe Festival hit in 2005. It imagines the familiar characters of Charles M. Schulz's Peanuts comic strip in their teenage years. In Royal's imagination, Linus (here called "Van") is a stoner dipshit, Pigpen ("Matt") is a psychopathic homophobe and clean freak, Peppermint Patty and Marcy ("Tricia and Marcy") are promiscuous boozers and Charlie Brown ("CB") is struggling to get over the recent death of Snoopy, who caught rabies and devoured Woodstock right before CB's eyes. Royal's imagination peters out when it comes to Sally, so she's stuck with being "CB's Sister" and has a corresponding lack of identity.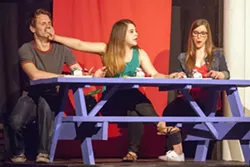 John Lamb
Ryan Wiechmann, Sara Rae Womack and Eileen Engel as Van, Tricia and Marcy
Perhaps in abler hands all of that human misery could be spun into a challenging play about the horrors of growing up, but Royal's script is simply so much nihilism, undercut by a jarring final scene that tries to put a cutesy bow on a slow-moving nightmare.
Director Justin Been has helmed some sterling productions at Stray Dog in the past (his Tommy was amazing in all regards), and he intermittently succeeds in making this collection of miserable scenes and juvenile dialogue into something interesting. His young cast is game and enthusiastic. Viewed empirically, they make the most of the script. Michael Baird and Sierra Buffum create a natural, compelling rapport as CB and CB's Sister in the penultimate scene. Ryan Wiechmann is at times charming as the perma-stoned philosopher Van. Brendan Ochs does good work as Matt, making him both immediately unlikable and violently angry, and Chris Tipp creates a wholly sympathetic character out of the wounded and timorous Beethoven, the frequent victim of Matt's abuse. (Lovers of the cartoon strip might remember when he was a young piano prodigy named Schroeder.)
Ultimately Dog Sees God confuses shouting for emotion, cruelty for motivation and being edgy for having something to say. It is not a good time. But there is good news: Several of the actors in Dog Sees God will be in Stray Dog's next show, Spellbound: A Musical Fable. I expect they'll be even better in that, not least because Bert Royal didn't write it.
Dog Sees God: Confessions of a Teenage Blockhead Through June 20 at Tower Grove Abbey, 2336 Tennessee Avenue. Tickets are $20 to $25. Call 314-863-1995 or click here.