J David Levy
The cast of Antony and Cleopatra.
For many people, the arrival of Shakespeare Festival St. Louis' annual production signals the official start of summer. A night on the lawn at Shakespeare Glen with a bang-up cast of actors performing a classic under a vault of stars? If there is a heaven, it should be something like this.
And as always, there is much to like in this year's show, Antony and Cleopatra. Shirine Babb is a beautiful Cleopatra whose facility with the play's language is superlative. Everything she says is clear, regal and captivating. Our Mark Antony is Jay Stratton, a physically imposing actor who looks good in a suit of armor and is capable of generating a real spark in his romantic scenes with the Egyptian monarch. Conan McCarty brings real pathos to Enobarbus, Antony's second-in-command who foresees destruction in the boss' romantic entanglement.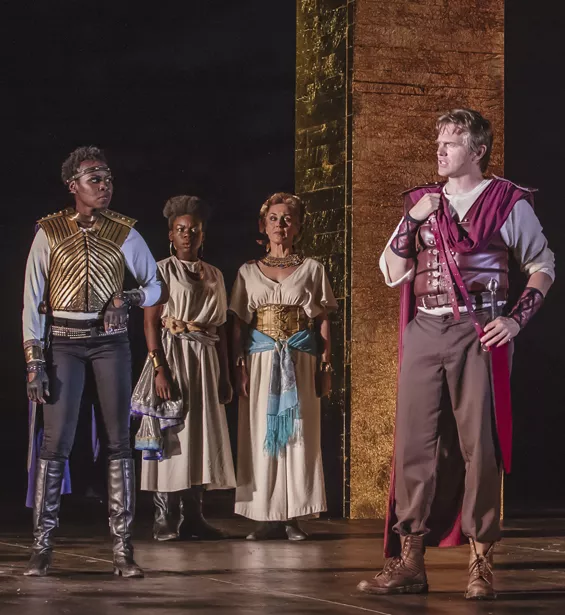 J David Levy
From Antony and Cleopatra.
And that stage! Scott C. Neale's austere set is simply a canted, bi-level stage with four golden plinths standing sentinel across the back, with a matching plinth downstage left. Early in the show it's the sort of minimal scenery that Wieland Wagner adored, but as the night deepens, lighting designer John Wylie uses the reflective power of those columns to bathe the stage in washes of fantastic light. A heavy red-gold tint colors all of Egypt, while Rome is seen in crisp white shades of raw marble. With a solid core of actors on a set like this, what can go wrong?
Technically, nothing does. The cast knows what it's doing, the scenery is great, the setting is perfect...but there are no peaks or valleys.
Part of the joy of Shakespeare is the openness of the scripts; there are no real stage directions, so directors are free to insert fights, dance scenes, even musical interludes as they see fit. Those little breaks are what make Shakespeare palatable to young audiences (and old folks, too), who are far more common at a free outdoor show like this one.
Here, though, director Mike Donahue follows the script as written, almost slavishly. The result is unbroken talking for the entire first act. Heading toward intermission, this Antony and Cleopatra felt like a wind-up show that had made it this far on inertia alone. There were no surprises, no real spark of life.
The second act happily opens with a brief naval combat that we see (and feel) through a series of explosions and some water plumes — it's an eye-opener, but it ends quickly, and we dive back into reports of battles with no movement onstage. To never see in action a guy like Mark Antony, who is feared for his warrior prowess, is a great disappointment. The closest we get to combat is Cleopatra's savage but brief beating of a messenger. Later we see her encased in a suit of armor, which raises hopes that at last we'll see her prove her royal worth on the battlefield. In vain, all in vain.
That said, at least this Cleopatra knows how to die well. Torn from Antony's side, soon to be paraded by a victorious Caesar before the filthy mobs of Rome, Cleopatra makes her bid for eternity.
A comic messenger arrives at last bearing poisonous vipers. Babb exults in their cool and deadly touch, then swiftly places one and then a second inside her bodice. Joyous relief flickers across her beautiful features as she looks skyward to find her dead Antony, his name on her lips. Then she falls, proud in bearing even in death, into his spectral arms. Heaven at last is attained.
Antony and Cleopatra Through June 14 at Shakespeare Glen in Forest Park. Free. Visit www.sfstl.com for more information.