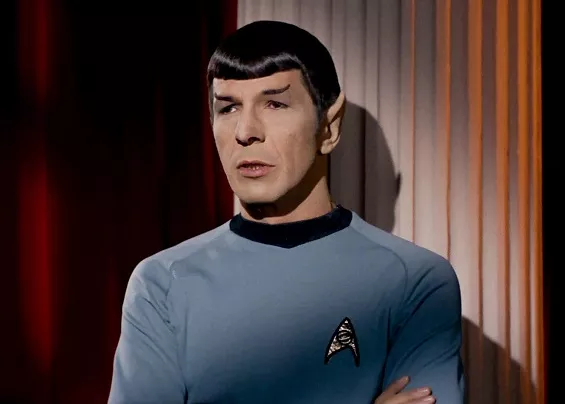 Unseasonable cold got you down? Beginning today, St. Louis will start to heat up with all manner of excitement for a three-day holiday weekend bonanza.
This week's activities include a burlesque festival, some amazing live music and even some Star Trek fun for the Trekkies out there. Stop shivering and make some plans!
1. Eyeball the City's Top Burlesque Dancers Never has the state's nickname been more appropriate than it is now, when the bold, beautiful, bodacious bodies of the Show-Me Burlesque festival take the stage through Saturday (May 21 through 23). The festival honors St. Louis' rich burlesque and vaudeville history with four different shows held across a variety of venues. Thursday's opening-night bash was at 8 p.m. at 2720 Cherokee (2720 Cherokee Street; www.showmeburlesque.com) and starred a cast of award-winning burlesque performers sure to get pulses pounding, but if you missed the fun, you're not out of luck. Weekend passes good for all shows are $65 to $120. — Mark Fischer
2. Catch an Opera Classic Opera Theatre of Saint Louis opens its new season with the frothy fun of Gioachino Rossini's The Barber of Seville. A wealthy count, Almaviva, is enamored of the beautiful Rosina. He wants to be certain she can love him and not just his wealth, so he concocts a series of ridiculous disguises to get close to his lady love without her knowing who he really is. This also helps him dodge her grumpy and greedy guardian, Bartolo, who plans to marry Rosina himself in order to gain her dowry. Stuck in the middle as usual is Figaro, the clever barber who helps Almaviva with his plan. This witty and fast-paced comic opera is performed at 8 p.m. Friday at the Loretto-Hilton Center on Webster University's campus (130 Edgar Road; 314-961-0644 or www.opera-stl.org). Tickets are $50 to $130. It is performed eight more times in repertory through Saturday, June 27.— Paul Friswold
3. See Some (Free!) Shakespeare Can two powerful and driven people make a long-distance relationship work? In the case of Shakespeare's Antony and Cleopatra, the couple would have better odds if Antony kept better company (and maybe didn't secretly marry someone else). But you know how emperors and empresses are — headstrong and passionate. The duo's romantic life has thrilled audiences for 400 years, so it's little wonder that Shakespeare Festival St. Louis presents Antony and Cleopatra as this year's show. The drama is performed outdoors at 8 p.m. every night except Tuesday (May 22 through June 14) at Shakespeare Glen in Forest Park (near Art Hill; www.sfstl.com). Admission is free.— Paul Friswold
4. See a Show at The Ready Room For nearly 25 years Doug Martsch has been keeping the oft-stale genre of "indie-rock" fresh with Boise, Idaho's Built to Spill. Influenced heavily by Dinosaur Jr.'s thunderous-but-catchy guitar riffs, the band has become an elder on the scene, with relatively younger groups including Modest Mouse, Death Cab for Cutie and Brand New citing its output as inspiration for their own. This year's Untethered Moon, released in April, is Built to Spill's first album without Scott Plouf and Brett Nelson since its breakthrough in the mid-'90s. That it is as vital and listenable as ever only serves as proof that Martsch still has some tricks up his sleeve. He plays 8 p.m. Friday at The Ready Room (4195 Manchester Avenue). Tickets are $22 to $25. Call 314-833-3929 for more info. Portland's Wooden Indian Burial Ground will open the show with its unique brand of surf-influenced psychedelic rock. Arrive on time or miss out.-- Daniel Hill
Turn the page for more awesome events in St. Louis this week.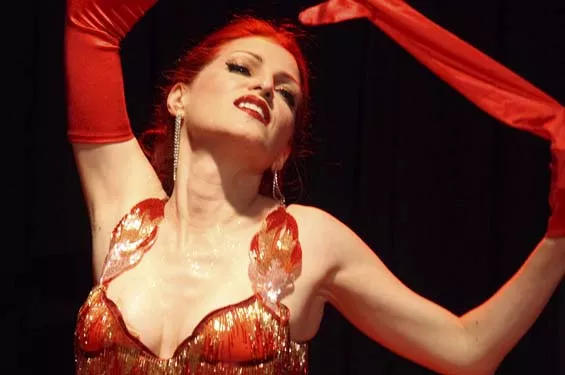 Photo by Allen Lee
The Burlesque Fest runs through Saturday night.
5. Enjoy Magic Lanterns at the Botanical Garden The Missouri Botanical Garden (4344 Shaw Boulevard; 314-777-5100 or www.mobot.org) is once again leaving the lights on with the new exhibition, Lantern Festival: Magic Reimagined. This celebration of China's cultural heritage features 22 specially commissioned silk-and-steel sculptures made by craftspeople in Zigong, China. The garden's 2012 lantern festival was both a critical and popular favorite, offering attendees an opportunity to experience an event rarely staged outside of China. This year's installment is open 6 to 10 p.m. Thursday through Sunday (May 23 to July 31) and nightly from 6 to 10 p.m. August 1 through 23. Admission is $5 to $22. — Rob Levy
6. Geek Out at Wizard World St. Louis So, a Khaleesi, a Jedi and a Dalek walk into a convention center...because this is the weekend for the Wizard World St. Louis comic convention. Fans of comic books and the sci-fi/fantasy genre will crowd the exhibition halls at America's Center (701 Convention Plaza; or www.wizardworld.com) to browse the collectibles, take pictures with cosplayers and attend panels on everything from how to get started in the video game business to the history (and future) of Doctor Who. Comic-book stalwarts Gerhard (inker on many issues of Cerebus), Jim Mahfood (Grrl Scouts, Tank Girl) and Michael Golden (Hulk, X-Men and Daredevil) will sign autographs and meet with fans. If you're lucky you might just spot Naomi Grossman, who played Pepper on American Horror Story, walking around — but you probably won't recognize her out of character. The con is open from 3 to 8 p.m. Friday, 10 a.m. to 7 p.m. Saturday and 11 a.m. to 5 p.m. Sunday (May 22 through 24); admission $39.50 to $49.50 per day, or $79.50 for a three-day pass. — Paul Friswold
7. Witness Theater That Matters Relations between large segments of the African American population and law enforcement have been problematic for years. This was a charged issue well before Michael Brown's death in Ferguson last summer, but post-Brown, of course, the controversy got super-sized — fast. Lee Patton-Chiles' play Black and Blue takes a closer look at this aspect of our American reality. Crucially, the author took the time and care to attempt to approach this famously complex subject with the nuance and patience it demands: The play is built on a series of interviews conducted with both police officers and members of the African American communities they serve. Black and Blue is performed at four separate locations over the next four weeks. Opening weekend shows are at 7:30 p.m. Friday and Saturday, and 3 p.m. Sunday (May 22 through 24), at the Missouri History Museum (Lindell Boulevard and DeBaliviere Avenue; 314-746-4599 or www.mohistory.org). Admission is free. For information on the rest of the run, visit www.gitana-inc.org. — Alex Weir
8. Buy Crafts for a Good Cause The St. Louis Symphony Orchestra's Gypsy Caravan is back again for Memorial Day weekend at its new location, the Family Arena (2002 Arena Parkway, St. Charles; www.stlsymphony.org/gypsycaravan). The air-conditioned venue will be packed with more than 170 booths selling everything from antique furniture to handmade craft items, with an additional 300 vendors in the parking lot. Quite a bonanza for the thrift-shopping fanatics in your life, no? The Gypsy Caravan officially opens at 9 a.m., but you can pay extra for early-bird entry at 7 a.m. The money you spend on your new knickknacks goes to the STL Symphony and education concerts that visit more than 1,000 schools each year. Admission is $10 to $20. — Nicole Beckert
9. Sober Up with a Documentary Your perception of your parents changes gradually as you grow up. Finally, in maturity, you see them not as accoutrements of your identity but as separate, unique and complex human beings in their own right. Now imagine finding out, at age eleven, that your father was hanged as a war criminal when you were a baby. That's the cold shock Monika Hertwig got when she learned the truth about her father, Amon Goeth, the infamously sadistic commander of the Krakow-Plaszow concentration camp in Poland. The documentary Inheritance tells Monika's story in tandem with that of a young inmate of Plaszow, Helen Jonas. Jonas was pressed into service as a maid in Goeth's household, which saved her life and brought her into regular contact with Oskar Schindler, a friend of her boss and the subsequent hero in the feature film Schindler's List.) The film screens Wednesday at 7 p.m. in the Lee Auditorium of the Missouri History Museum (Lindell Boulevard and DeBaliviere Avenue; 314-746-4599 or www.mohistory.org). Admission is free. — Alex Weir
and for one last event this week ....
Courtesy of the Missouri Botanical Garden
The Lantern Festival at the Missouri Botanical Garden kicked off yesterday.
10. Go Deep with the Trekkies Leonard Nimoy is no longer with us, but he truly took his character's sage advice to live long and prosper to heart during his time here. The Webster Film Series celebrates Nimoy and the crew of the starship Enterprise with a run through the six Star Trek films (from Star Trek: The Motion Picture through Star Trek:VI The Undiscovered Country) with the original cast, along with Rod Roddenberry's documentary on the history of the series, Trek Nation. Trek Nation screens at 7:30 p.m. on Thursday, May 28 at the Moore Auditorium on Webster University's campus (470 East Lockwood Avenue; 314-968-7487 or www.webster.edu/film-series). Admission to all films is $4 to $6. — Mark Fischer