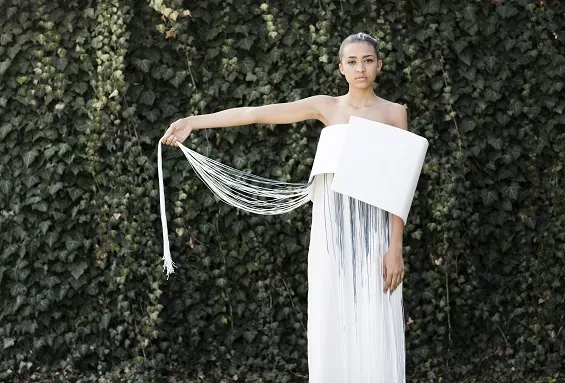 Photo by Jennifer Silverberg/WUSTL Photo.
The 86th Annual Fashion Design Show features up-and-coming Wash. U. design students. Pictured is a design by Rebecca Savitt, worn by model Sheridan Young.
Who said there's nothing to do in the Lou? The weekend of April 24 to 26 is positively packed with fun, artsy, even enlightening events designed to keep you stimulated. Some of them are even free.
Check out our roundup of the weekend's top events, and then make plans to hit one or two.
1. Check out a contemporary design show As part of its ongoing artistic vision, the Luminary highlights contemporary shapes, sizes and structures with FORM. This gathering and fundraiser galvanizes fresh ideas from local innovators in the fields of architecture, furniture, functional object manufacturing and interior design. It's all about inter connectivity as artists, craftsmen and buyers meet to network, stimulate creativity and explore bold ways to broaden community involvement. Now in its fourth year, the a two-day summit, held at The Luminary's new digs, kicks off with a special VIP party and silent auction on Friday night followed by a free public opening on Saturday. 7 p.m-10 p.m. Fri., Apr. 24; 10 a.m. to 5 p.m. Sat., Apr. 25. The Luminary (2701 Cherokee Street; 314-773-1533 or www.formdesignshow.com. Friday admission is $30, Saturday admission is free. -- Rob Levy
2. See modern dance with international flair Hip-hop blends many traditions and styles, combining hypnotic rhythms and smart lyrics with the innovative dynamism of b-boy dance moves. Compagnie Käfig takes this iconic genre several steps further, adding in samba, bossa nova and electronic music. With additional nods to Bollywood and Russian dance, Compagnie Käfig gives a hip-hop performance unlike any you've ever seen. Troupe founder Mourad Merzouki, a native of Lyon, France, brings his martial-arts and circus-arts background along, too. The result: a Dance St. Louis show filled with remarkable choreography and damn-near-electric energy. 8 p.m. Fri., 2 & 8 p.m. Sat. Apr. 24-25). Touhill Performing Arts Center at University of Missouri-St. Louis (1 University Drive at Natural Bridge Road; 314-516-4949 or www.touhill.org). $28 to $55. -- Brooke Foster
3. Catch some live theater When a society divides itself along lines of socioeconomic class, common ground can be hard to find. But to live apart is to go without all of life's opportunities: to learn new things, to uncover unexpected joys. In Once on This Island, a spirited girl from a peasant village in the French Antilles falls in love with an upper-class boy. This beautiful one-act musical -- full of Caribbean rhythms and songs both playful and poignant -- tells the story of how true love can transform us now, and for generations to come. 7 p.m. Thu., 8 p.m. Fri. & Sat., 3 p.m. Sun. (Apr. 24-May 30. The Edison Theatre on Washington University's campus (6445 Forsyth Boulevard; 314-534-3807 or www.theblackrep.org). $35 to $45. -- Brooke Foster
4. Enjoy a festival of Irish music The love of the Irish runs deep in St. Louis and that sentiment is not confined to March 17 only, fortunately. This weekend St. Louis Tionól returns for its eighteenth annual go-round; the festival of traditional Irish music regularly attracts the top talent from that island's trad-music community. For three days the inexhaustible font that is Irish musical art is celebrated with workshops for novice, intermediate and advanced players, then capped off with the main event - a concert tonight at the Sheldon. Among the musos appearing this year are Patrick Ourceau, Máirtín de Cógáin, Liz Knowles, Leonard Barry, Jimmy O'Brien Moran, Blackie O'Connell and Cormac de Barra. 8 p.m. Sat., Apr. 25. Sheldon Concert Hall (3648 Washington Boulevard; 314-533-9900 or www.thesheldon.org). $15 to $18. -- Alex Weir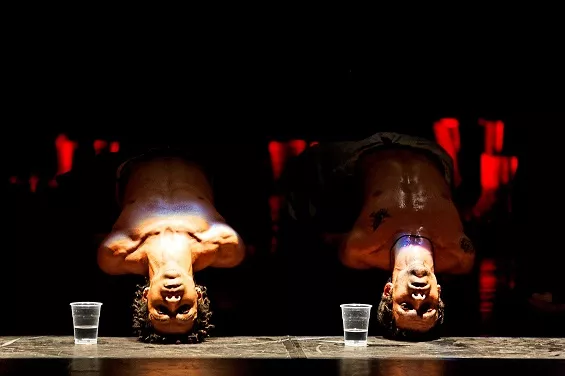 Photo by Agathe Poupeney
Compagnie Kafig dances on Friday and Saturday at the Touhill.
5. Watch a Neil Simon chestnut -- with a gender-bending twist Neil Simon's The Odd Couple has been presented in various iterations since opening on Broadway in 1965. This hilarious story of two friends forced to become roomies has been rebooted as a film, two television series (there's a third on the way) and countless stage versions. Now Dramatic License Productions, St. Louis only company producing shows for and about women, presents The Odd Couple (female version), adapted by Simon and directed by Alan Knoll. In this change up Olive Madison (the slob) and Florence Unger (the neat freak), their besties and their boy-toy neighbors create madcap hijinks as the roommates try to not drive each other crazy. 8 p.m. Fri. & Sat., 2 p.m. Sun. (Apr. 24-May 10). Dramatic License Theatre (211-A Chesterfield Mall, Space 510; 636-821-1746 or www.dramaticlicenseproductions.org). $18 to $25. -- Rob Levy
6. See filmmaker Kevin Smith A some Qs Somewhere along the way from Clerks to today, Kevin Smith transitioned from filmmaker to multimedia guy-you-know. His blog, his daily podcasts and his numerous books all offer fans a very large, very clear window into Smith's life. But his frequent personal appearances are where the Jersey Raconteur really shines. Ask Smith a question about one of his films and then sit back down as he relates a thirteen-minute anecdote about what was happening behind the scenes. Even better, ask him a question about a film he regrets not directing and prepare to be drowned in a burst pipeline flow of information about cruddy producers, sniveling personal assistants and vain actors. Come hear about the Hollywood experience at An Evening with Kevin Smith, tonight at the Pageant. Will he address those new Star Wars trailers? Oh, try and stop him. 8 p.m. Sun., Apr. 26. The Pageant (6161 Delmar Boulevard; 314-726-6161 or www.thepageant.com). $39.50. -- Paul Friswold
7. See the next big things in fashion at a real, live show The next class of emerging designers from the Sam Fox School at Washington University showcase their work at the 86th Annual Fashion Design Show, which is now part of Saint Louis Fashion Week. Grab a seat near the front row to see dozens of models wearing clothing that demonstrates the designers' mastery of construction, pattern-making and fabric use. A reception and meet-and-greet with the students follows the show. 3 p.m. Sun., Apr. 26. St. Louis Union Station (1820 Market Street; edison.wustl.edu). $55 to $500. -- Erin Williams