Peter Wochniak/Pro Photo STL
Upstream Theater's Bashir Lazhar.
Violence is the undertow that inexorably tugs on Bashir Lazhar. It drags on his clothes, it makes his hands flicker nervously and it holds him in place, unable to move forward with his life. But we don't know any of this in the beginning of Upstream Theater's one-man show written by young Canadian playwright Évelyne de la Chenelière. All we know is that Bashir (played with verve by J. Samuel Davis) is an uncertain substitute teacher painstakingly rehearsing possible introductions to his new class, and the way he stumbles over his assignment signals the violence that clings to this new place like a caul.
Yet in short order we see Bashir grow comfortable with his middle-school students, even as he alienates himself from his fellow teachers. As an Algerian in Montreal, he's a long way from home, and his formal politeness and commitment to teaching through books and essays (as opposed to coddling the children with play activities and games) sets him apart from the school's other teachers. The ever-present memory of the violence that drove him across the world also keeps him from connecting to anyone — except for Alice, one of his pupils.
One-person shows often suffer from a lack of action, as everything that occurs is channeled through a lone actor. Upstream director Philip Boehm circumvents this through musician Farshid Soltanshahi, who sits ensconced in a circle of guitars and music stands on one side of the stage. Soltanshahi whips up a live soundtrack that indicates location (sinuous North African rhythms, for example, represent Bashir's Algerian past) and gives the show another character. Not that it's entirely necessary.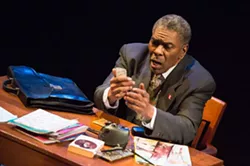 Peter Wochniak/Pro Photo STL
J. Samuel Davis as Bashir Lazhar.
Davis is a powerful enough actor to carry the proceedings alone, and his hands essentially serve as a supporting cast. They smooth his jacket, turn papers relentlessly, flutter over the debris on his desk and squeeze two photographs with such intensity that you know losing these two pictures would be the death of him. The identities of the people in these photos, and their fates, are revealed in a flashback that slashes through the play like shrapnel. Davis' hollow stare and frantic hands convey the horror of losing his entire family — and his purpose — during the course of a single phone call.
The actor's melodious accent further lights up de la Chenelière's poetic language. "Hands are meant for petting cats, and fists are meant for hiding surprises," Davis' Bashir tells his class in a lesson about fighting. Later, in a flashback scene with his own children, he kisses his fist and gestures with it solemnly, turning the potential weapon into another teaching prop.
But violence is ever present, and Bashir knows it. "It's not the writing that's violent, life is violent," he tells the school's principal in defense of an essay written by Alice. This essay proves to be Bashir's undoing, but it also frees him. The nature and import of fables is the one lesson we see Bashir teach. His students compose an original fable, and Bashir joins them in writing one for them to grade. Violence and loss are the teacher's theme, just as it is for Bashir Lazhar. But he also acknowledges that life goes on even after death.
"It's up to children to gladden our playgrounds," Bashir says near the end, and it is his delight in Alice's spirit and intelligence that allows him to finally move on. The only people who remain in place forever are the deceased, and Bashir, at the end of this gloomy and heartrending work, is back among the living.
Bashir Lazhar Through February 15 at the Kranzberg Arts Center. Call 314-863-4999 or click here.