Jerry Naunheim Jr.
From the Rep's Ring of Fire.
Fresh off its glimmering success with A Midsummer Night's Dream, the Repertory Theatre of St. Louis returns with Ring of Fire: The Music of Johnny Cash, a shallow-end tribute to the life and work of the Man in Black.
Neither a retelling of Cash's life nor a straight holiday concert, the hokey, Branson-style show tips its hat to the performer's biography, jumping around the Cash songbook to deliver polished renditions of Cash standards.
Confusingly, the show uses certain songs to highlight specific episodes in Cash's life. We learn early, for instance, of Cash's humble roots ("Country Boy") and the death of his brother ("Daddy Sang Bass"). Other songs, meanwhile, come seemingly out of nowhere, because, well, a Cash tribute wouldn't be complete without hits like "A Boy Named Sue" and "Ring of Fire," even if they aren't autobiographical.
See also: Behind the Scenes of 'Ring of Fire' at the Repertory Theatre
Of course, grafting songs to specific episodes takes some legwork, and the show, created by Richard Maltby Jr. and conceived by William Meade, tasks the tribute's two Cash-like principals with delivering much of its very clunky exposition. ("I never did any time in a correctional institution," we are told before the ensemble launches into a suite of Cash's prison songs, "but I felt a kinship with those who are.")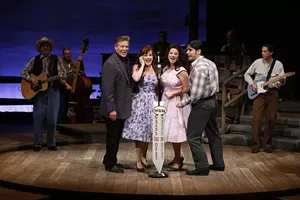 Jerry Naunheim Jr.
Principals Jason Edwards, Allison Briner, Trenna Barnes and Derek Keeling.
I say Cash-like because (again, confusingly) although the two male leads are meant to resemble, dress like and often speak as Johnny Cash, they are not actually playing Johnny Cash. Rather, the program notes refer to performers Jason Edwards and Derek Keeling merely as "principals." (The same goes for Trenna Barnes and Allison Briner, principal performers who play the show's June Carter-like characters.)
And this, writ-small, is the real problem with this high-gloss show: Although it purports to be a tribute to the life and music of Johnny Cash, the inimitable, folksy, but often raw and dark Cash is nowhere to be found. Instead, we get a soft-edged theme concert where during the prison sequence, for instance, the cast is dressed bafflingly in rough work shirts and shiny dress slacks.
That's not to say Ring of Fire isn't without its merits. With orchestrations by Steven Bishop and Jeff Lisenby, the show features a terrific ensemble of musicians. John Iacovelli's set, featuring a round stage, an unfortunate video screen and a folksy shack stage left, enables the band to spend most of the show onstage. John W. Marshall's entr'acte bass solo is one of the show's best moments, as is Brantley Kearns' soulful rendition of "Delia's Gone." While not all of the musicians have terrific voices, the four principals all sing well, particularly on "Big River," "In the Sweet By and By" and "Tear Stained Letter."
Directed by Jason Edwards, the show hints at Cash's earlier marriage, touches on his courtship with June Carter and describes his battle with drug addiction. Still, it makes little reference to Cash's rediscovery of a fervent Christian faith that came later in life, or his work with Rick Rubin on the American series — the iconic sextet of albums (some released posthumously) that introduced Cash to a whole new generation of fans.
But Ring of Fire, glossy and glib as it is, never tries to be a full accounting of Cash's life or career. Its aims are more modest. It seeks rather to entertain lightly, and by that measure, at least, the show succeeds — if only modestly.
Ring of Fire: The Music of Johnny Cash Through December 28 at the Repertory Theatre of St. Louis. Call 314-968-4925 or click here.
Follow RFT critic at large Malcolm Gay on Twitter @malcolmgay.