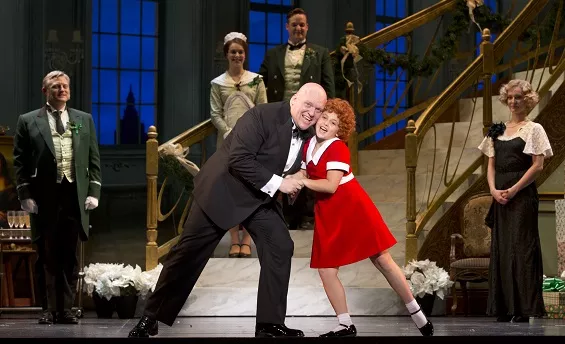 Courtesy Fabulous Fox Theatre
Gilgamesh Taggett as Daddy Warbucks and Issie Swickle as the title character in Annie.
Say what you will about that old warhorse, Annie, but remember this: It's a pretty frigid heart that doesn't melt a little when the plucky, ginger-haired orphan and her foundling friends launch into that brush-scrubbing, pail-banging anthem of discontent, "It's the Hard Knock Life."
Like so many other facets of this benchmark 1977 musical, the song has become a cultural ear-worm -- a nostalgia-inducing set piece that this handsome touring production, now playing at the Fox Theatre, seeks to recreate with all the spunk, hope and, yes, cuteness, of the Broadway original.
Directed by that show's original lyricist and director, Martin Charnin, the non-equity touring show tells the rags-to-riches story of Annie, a Depression-era orphan who after a series of misadventures is adopted by the tycoon Oliver "Daddy" Warbucks.
With music by Charles Strouse and a book by Thomas Meehan, the show is about as traditional a song-and-dance tuner as you can imagine. Still, with its well-worn plot-line and a song list that's been all but tattooed into our cultural memory, this latest production has plenty of pleasant surprises.
First among them? Issie Swickle, who in the titular role of Annie delivers an unfailingly sunny performance, holds her own in numbers like "Tomorrow" and "Maybe." She plays well opposite Gilgamesh Taggett, who, while not a terrific singer, makes for an impressive Daddy Warbucks, the bruising industrialist who rediscovers his humanity after spending a couple weeks with the optimistic orphan. Ashley Edler, on the other hand, lends the show its strongest voice in the role of Warbucks' demure assistant, Grace Farrell, infusing some of the harder-edged numbers with a well-trained and ethereal tonality.
With choreography by Liza Gennaro, the show's troupe of orphans, while not always in sync, are adorable (with a particular standout performance by Lilly Mae Stewart, who steals scene after scene as Molly). Meanwhile, Lynn Andrews is very funny as the daffy orphanage mistress, Miss Hannigan, who along with her brother, Rooster (Garrett Deagon), schemes to trick Warbucks out of a small fortune and Annie out of her posh new life.
A live orchestra gives the show's musical numbers a lush, three-dimensional sound, while Beowulf Boritt's intricate set design uses a blend of backdrops and moveable panels to recreate everything from Ms. Hannigan's orphanage, to the streets of New York, to the White House.
Later this month, Sony Pictures plans to give Annie a makeover, releasing a new film version of the musical. Produced by Jay-Z, and starring Jamie Foxx, Cameron Diaz and Quvenzhané Wallis, the modern adaptation promises to be an Annie for "a whole new generation." And while this current stage production -- now nearly 40 years old and boasting references to hazy historical figures like tennis player Don Budge -- may not be an Annie of the moment, it may be the closest thing we have to an Annie for the ages.
Annie Though December 7 at The Fabulous Fox Theatre. Call 314.534.1111 or visit www.fabulousfox.com.
Follow RFT critic-at-large Malcolm Gay on Twitter @malcolmgay.