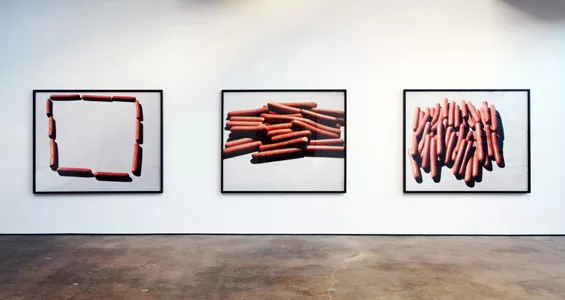 Courtesy White Flag Projects
Installation view, Lucas Blalock: Late Work.
If you're suffering a postprandial hangover this holiday season, you may want to steer clear of White Flag Projects, where photographer Lucas Blalock is exhibiting a series of nine outsized prints that present — in all its packaged, processed, juicy glory — the lowly hot dog.
Happily, the gallery's sausagefest is less stomach turning than it is vertiginous. Produced on a gargantuan scale (many of the images are more than five-and-a-half-feet wide), the mass-produced hot dogs quickly shed their familiarity. No longer do they appear as the neat tubes of meat we associate with cookouts and baseball games. Rather, they become strange cylindrical objects, which Blalock has arranged in artful piles, circles and squares. Clinically presented and stripped of their usual context, the images enable viewers to reconsider their subject — in this case the hot dog — as both a form and an object. It's as though we're seeing, alas, a hot dog for the first time.
Blalock has made a name for himself in recent years creating disorienting images of everyday objects. In earlier work, the New York-based artist has used a blend of traditional film photography and computer software to create images that both present and subvert the photographic subject, making evident the artifice of its creation. Using digital editing tools, like Photoshop's stamp and shading features, the photographer would deliberately dislocate the image's subject, rendering it distorted but recognizable. The result was a Cubist-like picture of, say, an undulating stone chimney that seems to rise organically from the ground, prompting viewers to observe the object closely, while also keeping in mind the editorial sleight of hand behind its creation.
While the images in the current show, organized by White Flag director Matthew Strauss, don't overtly display the means of their creation, Blalock is concerned with a similar idea in the hot dog series. Set against indeterminate white backgrounds that teem with nicks and scratches, the humdrum sausages — and there are dozens of them to an image — become unflinching tableaux of the objects themselves.
At this scale, slight discolorations from vacuum-sealed packaging, the oily sweat on casing, or imperfections where tubes have split open, lose their quotidian familiarity. Instead, they create formal arrangements that are, to my mind at least, reminiscent of the cylindrically limbed creations of the French painter Fernand Léger.
While at the gallery, be sure to check out the upstairs library, which is hosting a small show (organized by assistant director Marie Heilich) featuring the sculptural works of Lucas Knipscher.
Lucas Blalock: Late Work Through December 20 at White Flag Projects. Call 314-531-3442 or click here.
Follow RFT critic at large Malcolm Gay on Twitter @malcolmgay.