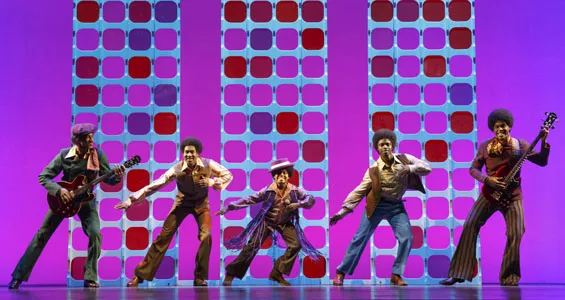 Joan Marcus
Motown: The Musical brings you the Jackson 5...and lots more.
One thing's for sure: You can't wrong with the music in Motown: The Musical, the joyous if frenetic tale of Motown Records, Berry Gordy's Detroit label that not only discovered genre-defining greats like the Jackson 5 and the Supremes, but also acted as a critical cultural bridge between white Americans and their black counterparts during the racially tumultuous 1960s and '70s.
Of course, these weightier social concerns, along with the personal story, sometimes struggle to be heard in this manically paced jukebox at the Fox Theatre, which packs a breathtaking 60 or so songs into two acts. Look down at your program, and you may miss Motown's move to Los Angeles or Gordy's struggles to keep the label independent during the consolidations of the 1980s. Blink, and the rise of the Black Power movement has passed you by.
OK, so maybe that's an overstatement, but the show's book, written by Gordy himself (and based on his autobiography, To Be Loved: The Music, the Magic, the Memories of Motown) takes a back seat to his beloved music, which Motown delivers at a fevered clip. Featuring everyone from Marvin Gaye and the Marvelettes, to Rick James and (even) Teena Marie, the show teems with hits. It's akin to putting the entire Motown catalog on shuffle — only here it's performed in double-time by a stellar cast that not only sounds like the originals, but has dance moves (and production values) to match.
Directed by Charles Randolph-Wright, Motown tells briefly of Gordy's early days, when he founded Motown Records in a two-story home he later dubbed Hitsville U.S.A. With a keen eye for emerging talent, Gordy quickly discovered the likes of Gaye, Diana Ross and Stevie Wonder, crafting the soundtrack of a generation along the way.
While the show catalogs Gordy's many triumphs, it doesn't entirely gloss over his feuds with artists as they left the label — some with lawsuits in their wake — for bigger contracts at larger labels. The producer also outlines his uneasy early relationship with the white music establishment and his equally fraught dealings with black activists who wanted him to take more of a stand. But it's his relationship with the sultry Ross (a lithe Allison Semmes) that drives much of the plot, while Gordy (a likable, honey-voiced Clifton Oliver) comes off as understanding and fatherly — hilarious when he's unable to perform in bed, but sympathetic when she leaves him to further her career.
His outsized personal story notwithstanding, Gordy is more interested in the totality of his work than the particulars of his life. And while he dispatches his biography in breezy outline, he gives a nearly encyclopedic — if often abbreviated — treatment of the music that made his artists famous.
So it is that nearly as soon as the audience starts chair-dancing to the Temptations singing Smokey Robinson's (an amiable Jesse Nager) iconic "My Girl," the abridged song ends, and we're on to the next hit. Maybe it's Ross singing "I Hear a Symphony." Maybe it's the Marvelettes with "Please Mr. Postman," or the Miracles' "Shop Around." It almost doesn't matter. The torrent of hits keeps coming. Even if you don't know the artist, you know the song, and it's at once thrilling to hear them expertly performed in rapid-fire succession. Yet the same format is also unsatisfying, leaving you wanting to hear more than these truncated tunes.
But like any great producer, Gordy knows when to slow it down. So it is that when a young Michael Jackson (a pitch-perfect Leon Outlaw Jr.) takes the stage with his four brothers, Gordy gives him a wide berth in songs like "ABC," "I Want You Back" and "I'll Be There." Gaye (a potent Jarran Muse) gets similar treatment with "What's Going On?" and "I Heard It Through the Grapevine." (Unfortunately, the show's two original songs, sung in their entirety, are also its weakest.)
Led by choreographers Patricia Wilcox and Warren Adams, the talented cast re-creates the signature moves of many acts, and several chorus members do triple duty, not only dancing and backing up on vocals, but also stepping center stage for a song of their own. Accompanied by a live orchestra, Emilio Sosa's immense stable of costumes convey shifting attitudes through years with incremental changes in dress. Meanwhile, David Korins' impressive set manages to be both sumptuous and spare, using a moving grid of illuminated pillars during many of the stage performances, but also taking us into the Hitsville studio and Gordy's home.
It's a wild, heart-pounding ride. Still, I can't help but wish that rather than give us this overpacked shuffler of a show, Gordy had edited it down, delivering a more coherent narrative and a fuller treatment of select songs. But that's not Gordy's style. This is the man, after all, who penned his philosophy in the song "It's What's in the Grooves That Count" — a measure by which Motown: The Musical counts for a lot.
Motown: The Musical Through November 30 at the Fox Theatre. Call 314-534-1111 or click here.