Courtesy White Flag Projects
Shit Like Hair.
You're always taking a risk when the title of your show can't be printed in a family newspaper. What's an editor to do, employ asterisks? Come up with some neutral euphemism? Ignore it altogether?
That would be a shame, because Shit Like Hair, the spare, cerebral, yet potent exhibit now on view at White Flag Projects, is one of the more provocative shows to arrive in St. Louis in months. Loosely organized around what White Flag director Matt Strauss calls "anatomical analogies and abbreviations," the group show features eight artists using different media, who explore notions of the body, self and work — some through painterly shorthand, others in gruesome detail.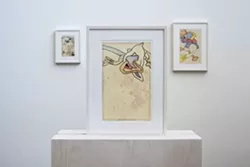 Courtesy White Flag Projects
Installation view, Shit Like Hair.
Among the show's strongest pieces is a series of sculptures (or are they paintings?) by the Chicago artist Gaylen Gerber. Included in the 2014 Whitney Biennial, Gerber's art draws on the ready-made in a series of five works, each titled Support. Unlike the industrial ready-mades of Marcel Duchamp, however, Gerber appropriates the works of individual (though nameless) artists — an ancient Anasazi bowl fragment, a Deangle mask from Ivory Coast — which he meticulously paints over in monochromatic grays, browns and whites. The works become collaborations with past artists, where Gerber draws inspiration from those who came before him. But then he turns the knife, making obvious his appropriation by defacing the earlier work to create something new.
More recognizably destructive is the show's most visually arresting work, John Riepenhoff's sculpture, My Old Head, which features, you guessed it, a likeness of the artist's head, bloody and impaled on the handle of a sword. His body "abbreviated," the sword becomes a corporeal stand-in, piercing a blood-spattered piece of notebook paper where Riepenhoff has scrawled, "I hope you find my old head useful!"
In a similar vein, Susan Te Kahurangi King, a self-taught New Zealand artist who was diagnosed with autism and stopped speaking at the age of four, has several works that twist and cut the body of Donald Duck, making the figure utterly foreign yet somehow familiar. Working in crayon, King created the series of grotesque figures — some apparently beheaded, some twisting in on themselves, all untitled — when she was still an adolescent in the late 1950s and early 1960s. Nevertheless, these images, a sort of grotesque Pop Art, are very impressive, serving as a rich counterpoint by an outsider artist in this show that otherwise takes its art history very seriously.
Shit Like Hair also features the work of Math Bass, Michael Bauer, Sebastian Black, Ann Greene Kelly, and Gavin Kenyon. Also, be sure not to miss a pair of Dena Yago prints, organized by assistant director Marie Heilich, in the upstairs library.
Shit Like Hair Through October 18 at White Flag Projects, Manchester Avenue. Admission is free. Open Tues.-Sat. noon to 5 p.m. Call 314-531-3442 or click here.
Follow RFT critic at large Malcolm Gay on Twitter @malcolmgay.