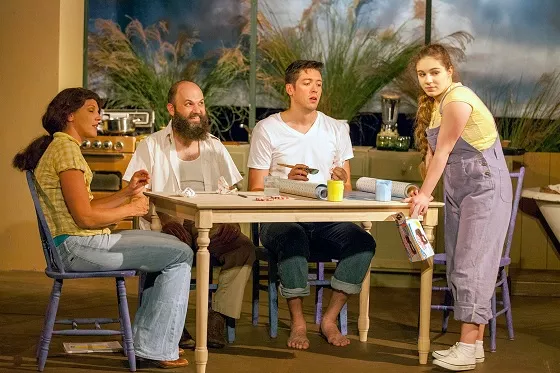 John Lamb
Joan Ackermann's Off the Map brings a lot to the table, not all of it appetizing.
New Mexico, for those who were wondering, is one magical place -- a Land of Enchantment where East Coast IRS agents run feral in the high desert air, abstemious families live lives of Emersonian virtue, slow-tongued fellas find love beyond language, and tyro painters have their first solo show reviewed by none other than the New York Times.
At least that's the New Mexico of Off the Map, Joan Ackermann's odd, somewhat maudlin tale of an off-the-grid family that opens the West End Players Guild's 104th season.
Directed by Robert Ashton, this strange little play, narrated by a woman named Bo (Kathryn Weber), tells of one fateful summer when her father, Charley (John Foughty), came down with a crippling case of depression, spending his days staring off into space before retiring to bed in the afternoon.
Why was Charley so depressed? What answers are the adult Bo searching for? Ackermann leaves that pretty nebulous. Nevertheless, young Bo (Julia Monsey) and her plucky, progressive mother, Arlene (Paula Stoff Dean), make the best of it, with Bo dreaming of life in the big city while Arlene gardens in the buff.
It might have gone on this way forever had the IRS not sent William Gibbs (Bob Nickles) to audit the family. But Gibbs, who young Bo initially hoped would be a link to the outside world, is quickly drawn in by the family's minimalist ways, Arlene's earthy charms, and, we must suppose, that enchanted New Mexican air. He soon gives up his government job, becoming a painter when he realizes the defining story of his life was actually built on false memories.
For the most part, the small cast handles Ackermann's clunky script with aplomb, adopting its quirky rhythms and bringing emotional depth to its several short scenes that have little or no dialogue. Foughty delivers a convincing performance as the miserable Charley, achieving a persuasive emotional consistency as his depression breaks, and he hands it off, like a "baton," to Gibbs. Meanwhile, Dean, who was so great as Sally Bowles earlier this year in Stray Dog Theatre's Cabaret, shows range as the crunchy Arlene, and Matt Hanify is convincingly resigned to his own awkwardness as Charley's reticent friend, George.
The rest of the cast gives similarly strong performances. Still, it's hard to get around the play's drippy sentimentality and inflated gravity. Both Monsey and Weber deliver fine performances on their own terms, but it's hard to see much consistency between these characters. Bo was a hustler as a kid, working the consumer culture she wanted so desperately to be a part of for everything from free Hershey's chocolate to a sailboat purchased on credit. As an adult, however, she's turned mawkish, looking through the syrupy lens of her memory for "answers" to Gibbs' life and -- apparently -- some other questions Ackermann is content to leave pretty hazy.
Still, played out against Mark Wilson's convincing set, Off the Map -- with its ambling tempo, awkward pauses and quiet characters living quiet lives -- makes for a refreshing change of pace. It may not take you all the way to the Land of Enchantment, but it's an enjoyable trip nonetheless.
Off the Map
Through October 5 at Union Avenue Christian Church, 733 N. Union Boulevard. Tickets are $20. Call 314-667-5686 or westendplayers.org.
Follow RFT critic-at-large Malcolm Gay on Twitter @malcolmgay.