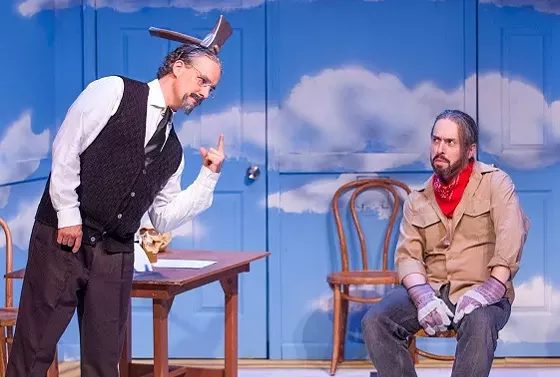 Photo: John Lamb
Trotsky (Sheley) wonders about that pesky climbing axe to his murderous gardner, Ramon (Ritchie), in Variations On The Death of Trotsky.
Language, to paraphrase Mark Twain, is a treacherous thing.
Sure, we carve it in the rough shape of our thoughts. We hone its edges with commas and periods, paragraphs and pauses. But words are unfaithful little instruments, prone to miscalculations and misunderstandings, miscommunications and misapprehensions, misconstructions and misinterpretations... OK! OK! Somebody hand me a thesaurus.
Call it Language and Its Disconnects. Call it the Tour de Babel. But whatever you call it, the St. Louis Actors' Studio opens its eighth season on a high note with All in the Timing, David Ives' fizzy collection of semantically warped one-act plays.
At first glance, this ingenious group of playlets bears little in common dramatically. The works cover everything from the monumental -- the death of Trotsky, say -- to the quotidian: Imagine the composer Philip Glass buying a loaf of bread. But comedy is this sparkling constellation's lingua franca, and each of the six works deal inventively with the impossibility of transparent communication and the myriad meanings that erupt during even the simplest exchange.
Read more theater reviews from RFT's critic-at-large, Malcolm Gay.
Take the show's opener, Sure Thing, where Bill (Ben Ritchie) strikes up a conversation with Betty (Emily Baker), who sits alone on a Friday night reading Faulkner. With that simple setup, their conversation -- punctuated by a ringing bell -- branches off in limitless directions, as the characters' tone, inflection, body language, and yes, timing, elicit a range of responses from the other. It's wildly entertaining -- like a choose-your-own-adventure conversation, where, depending on how Bill delivers a line, Betty will either shun him or take a shine.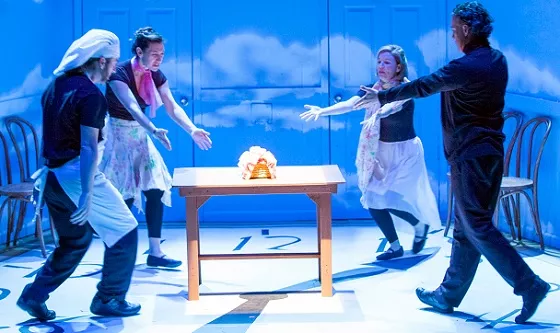 Photo: John Lamb
Behold! The Mighty Loaf. The Actors' Studio cast computes the existential implications of bread buying in Philip Glass Buys a Loaf of Bread.
Compare that to the night's second play, Words, Words, Words (for my money the cleverest and funniest of the bunch), which riffs on the infinite monkey theorem -- the hypothesis that given enough time and a typewriter, a roomful of chimps would eventually compose the entire oeuvre of William Shakespeare. The chimps' task in Words is considerably less ambitious: Swift (Ritchie), Milton (Shaun Sheley) and Kafka (Michelle Hand) are tasked only with arriving at Hamlet. Even so, it's a crapshoot, as these theoretical simians sweat it out like struggling writers everywhere -- worrying their audience will misunderstand them, grousing that their publisher is taking advantage of them. "We're getting peanuts here to be someone else's hack," Swift complains, as Kafka pounds out "KKKKKKKKKKKKKK..." and Milton produces a snatch of lovely prose before retiring "for a shot of papaya and masturbation."
Smoothly directed by Elizabeth Helman, the cast gamely transforms from play to play against Patrick Huber's surreal and cerulean set of clouds and clocks. The always-marvelous Emily Baker is particularly good in The Universal Language, where she plays a stuttering student bent on learning Unamunda, an Esperanto-like language where she speaks without stammering. Ritchie's at his best as Swift the chimp, but he holds his own with talented Actors' Studio newcomer Shaun Sheley in The Philadelphia, where he discovers that a word's meaning transforms with the mood of the speaker. (The moral? Hope to god you don't find yourself in a Cleveland.)
The entire cast comes onstage for the show's most pointed play, Philip Glass Buys a Loaf of Bread, which lampoons the composer's mechanistic, repetitive and gratuitously embellished style. As Glass (Sheley) asks for a loaf bread, the rest of the cast launches into a robotic, uproariously pretentious fugue, bringing a sham highbrow pathos to the purchase of a bathetic loaf of bread.
The show's final play, the surreal Variations on the Death of Trotsky, opens as the titular revolutionary, a climbing axe buried -- no, smashed -- in his head, learns of his assassination from an account in the encyclopedia. It's so factually accurate, he marvels. Still...it's hard to believe -- he'd always feared an ice pick.
Like individual words, each of these clever works stands alone, offering discrete meanings and plot lines. Taken together, however, they become more of a sentence, each play modifying the sense of those that surround it, creating multiple implications that can't be contained by the mere placement of a comma, the break in a line, or even, in this case, the smashing of a climbing axe.
All In The Timing
Through October 5 at the Gaslight Theater, 358 North Boyle Avenue. Tickets are $35.25 to $40.25. Call 314-458-2978 or visit www.stlas.org.
Follow RFT critic-at-large Malcolm Gay on Twitter @malcolmgay.