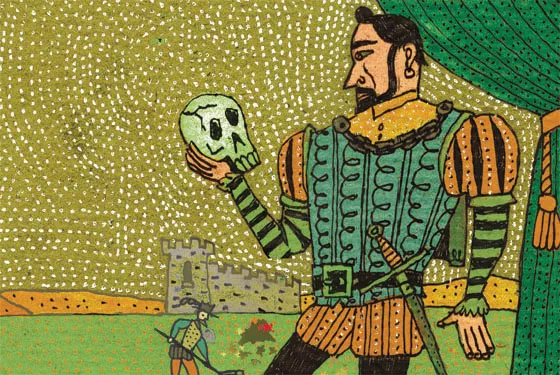 Don't listen to the thermometer and its 90+ degree readings this week. Fall is right around the corner. Really! And so is another exciting season of St. Louis theater, gallery openings and other art happenings. Plan ahead with our annual Fall Arts Guide below...
SEPTEMBER
September 12 Encountering the City: The Urban Experience in Contemporary Art Much like pornography, everybody knows bad architecture when they see it. You may not have the language necessary to explain why you hate it, but artists do. Encountering the City: The Urban Experience in Contemporary Art, the new exhibition at the Mildred Lane Kemper Art Museum on Washington University's campus (1 Brookings Drive; 314-935-4523 or kemperartmuseum.wustl.edu) features artwork that responds to the built environment. Some of the work is critical, addressing the areas in which the architect has failed on an artistic level, but much of it is a more open response to the subject. Artists such as Franz Ackermann, Isa Genzken and Sarah Morris examine the materials used in construction, the concept of place and space, and the ways these buildings will be inhabited. Encountering the City opens Friday, September 12, and remains open every day but Tuesday, through Sunday, January 4, 2015. Admission is free. — Paul Friswold
September 19 All in the Timing Playwright David Ives made his name with All in the Timing when it debuted 21 years ago. Timing is actually a compendium of short one-act comedies, or mini-plays. You could think of it as "theatrical tapas," which is the apt way a New York Times writer put it; that menu description suits the fare well. Each playlet sets up a situation, introduces a theme and ends on a purposely unresolved note. No pretty bows here to tie up in neat packages — they're neither needed nor wanted. Instead, Ives parlays high-flown verbal acuity, gutbucket physical humor, academic allusions and jokes that land all over the map into an overall pattern of gusto and conceptual élan. St. Louis Actors' Studio has a go at All in the Timing at 8 p.m. Thursday through Saturday and at 3 p.m. Sunday (September 19 through October 5) at the Gaslight Theater (358 North Boyle Avenue; 314-458-2978 or www.stlas.org). Tickets are $25 to $30. — Alex Weir
OCTOBER
October 2 Bonnie & Clyde So the banks have failed, your government is frozen and the future seems to be nothing but bread lines and misery. How do you scratch financial security out of that dirt? If you're young and daring, perhaps you feel like the best way is just to take the things you want, like Bonnie and Clyde. Frank Wildhorn, Don Black and Ivan Menchell's musical Bonnie & Clyde recasts the gun-loving young couple as a couple of visionaries who see that notoriety and fame are different sides of the same coin — and if you have enough coins, you're rich. New Line Theatre opens its 24th season with this grim twist on Romeo and Juliet. Performances of Bonnie & Clyde take place at 8 p.m. Thursday through Saturday (October 2 through 25) at the Washington University South Campus Theatre (6501 Clayton Road, Richmond Heights; 314-534-1111 or www.newlinetheatre.com). Tickets are $15 to $25.— Paul Friswold
October 10 Antigone Sophocles' plays have remained in production for more than 2,000 years because they continue to reflect the human experience, as in his Antigone. Antigone is the sister of Polyneices, who has until recently been the leader of one side of Thebes' civil war. He and Eteocles killed each other in battle, and the new ruler of Thebes, Creon, decrees that Polyneices' body will remain unburied where it fell. This contravenes religious law, but Creon believes it's a just punishment for Polyneices' actions in leading the civil disobedience. Antigone secretly buries her brother's body because she believes the law of the gods outweighs the laws of man, but in doing so sets herself against Creon in a war of wills and of words. Civil unrest, bodies lying in streets, fights over religious versus secular law — all Antigone needs is to change a few names and it becomes a collection of the last year's headlines. Upstream Theater presents David Slavitt's new translation of Antigone at 8 p.m. Thursday through Saturday and 7 p.m. Sunday (October 10 through 25) at the Kranzberg Arts Center (501 North Grand Boulevard; 314-863-4999 or www.upstreamtheater.org). There is one performance at 3 p.m. Sunday, October 26. Tickets are $20 to $30.— Paul Friswold
October 12 Atua: Sacred Gods from Polynesia Correction: This article initially had the wrong opening date for Atua. Don't look now but the Saint Louis Art Museum in Forest Park (314-721-0072 or www.slam.org) has the scoop of scoops. And if it's too modest to crow about it we'll do the shouting, as this is truly a special occasion. "This" is Atua: Sacred Gods from Polynesia, a brand-new exhibit organized by the National Gallery of Australia. What's so notable about this show is that SLAM is the exhibit's sole venue in the entire United States. Featuring 60-plus iconic Polynesian sculptures on loan from museums and private collections around the world, Atua: Sacred Gods from Polynesia focuses a meticulous lens on the intimate relationship between objects of art and Polynesian constructs of atua, such as gods, ancestors and spirit beings. The artworks are studied as material embodiments of the eternal ethereal — atua, or spirit. This exclusive American residency is open Tuesday through Sunday (October 12 through January 4, 2015), and tickets are $6 to $12. Admission is free on Friday. — Alex Weir
October 17 Much Ado about Nothing The marriage industry in this country is a hydra, ever-reproducing and growing. Is it more or less reassuring to know that it's been this way since the 1600s? In William Shakespeare's Much Ado About Nothing, a marriage is manufactured because a group of friends can't wait for a previously arranged marriage to take place at the end of the week. Claudia and Hero are the happy couple gettin' hitched, and it is their mutual friends who decide that Benedick and Beatrice should also tie the knot. The fact that both of them hate the institution of marriage only makes the game sweeter for the players, while their unbridled egotism is what makes their downfall entertaining for the audience. The B-plot involves a relentless, if slightly dim, officer of the law — Dogberry by name — attempting to crack the case of the malcontents who attempt to ruin all these marriages before they take place. St. Louis Shakespeare continues its 30th season victory lap of the Shakespearian cycle with Much Ado About Nothing. Performances take place at 8 p.m. Friday and Saturday (October 17 through 25), 2 p.m. Sunday, October 19, and 7:30 p.m. Thursday, October 23, at the Florissant Civic Center Theatre (1 James E. Eagan Drive, Florissant; 314-361-5664 or www.stlshakespeare.org). Tickets are $15 to $20. — Paul Friswold
David Scheinmann
Josef Brown and Amanda Leigh Cobb in Dirty Dancing the Musical.
October 21 Dirty Dancing In the dark days of the late '80s, Dirty Dancing was the closest thing to a big-budget musical Hollywood had produced in years. It's a coming-of-age story in which the hero is a heroine, it has a soundtrack packed with oldies (and a couple newies — looking at you, "She's Like the Wind") and a heaping helping of dance numbers. Little wonder that the film has been reworked into a big-budget musical, albeit one that still leans heavily on its dancers to tell the story. Frances Houseman — Baby to her friends and family — goes to the Catskills and falls in love with the dreamy resort dance instructor, Johnny Castle. She also falls in love with the sensual, high-energy dancing the staff of the hotel practice after-hours — it's definitely not cotillion approved. Learning to dance this way helps her break away from rules and familial expectations, and also teaches her how to make a dramatic entrance; that big dance finale with the lift and the passionate embrace is a justifiably famous movie moment. Dirty Dancing the Musical opens the U.S. Bank Broadway Series at the Fox Theatre. The show is performed Tuesday through Sunday (October 21 through November 2) at the Fox Theatre (527 North Grand Boulevard; 314-534-1111 or www.fabulousfox.com). Tickets are $25 to $95. — Paul Friswold
October 24 Arabesque: The Mist A recurring element in science fiction is the widespread use of a universal language — you know, like the idiomatic English everyone spoke in Star Wars, but with more slang. But that language already exists in the form of dance. Sure, a few hand gestures are construed differently from culture to culture, but the broad strokes of emotional expression translate fairly neatly across nationalities. Arabesque, the first private contemporary dance company based in Ho Chi Minh City, Vietnam, uses dance to tell the world about the cyclical nature of Vietnamese rice farming in its piece The Mist. Rice requires intensive labor in wet conditions, and it comes with a host of rhythmic movements that lend themselves to dance. The Mist uses the traditions of the growing year in a manner that honors Vietnam's traditional agrarian methods through the conventions of a modern dance company. Arabesque performs The Mist at 8 p.m. Friday and Saturday, October 25, at the Edison Theatre on Washington University's campus (6445 Forsyth Boulevard; 314-935-6543 or www.edison.wustl.edu). Tickets are $20 to $36.— Paul Friswold
October 25 The Louisiana Purchase: Making St. Louis, Remaking America We have Thomas Jefferson to thank for the fact that we're writing this in English for an audience of English speakers, within a region and nation where English most certainly is not the only language spoken but is the dominant one. Were it not for a certain colossal real estate deal transacted in 1803, we could well be writing this piece en francais; Jefferson's shrewd bargaining is why we've been sticking with anglais 'round these parts ever since. This massive land acquisition doubled the republic's size overnight and decisively transformed St. Louis into an American city. A new exhibit at the Missouri History Museum (Lindell Boulevard and DeBaliviere Avenue; 314-746-4599 or www.mohistory.org) tells the back-story. The Louisiana Purchase: Making St. Louis, Remaking America recounts familiar events with the advantage of the loan of documents from the National Archives, as well as artifacts from the museum's own collections. The exhibit is free and runs from Saturday, October 25, through Sunday, April 19, 2015. — Alex Weir
Continue on for November events...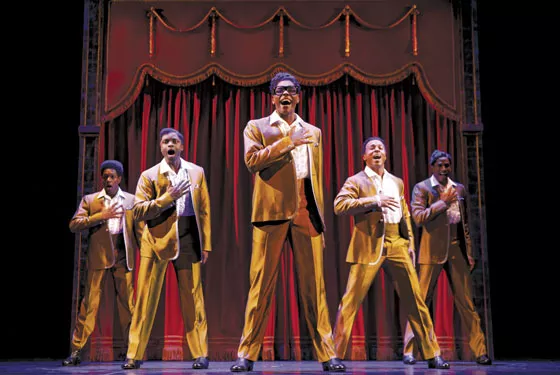 Joan Marcus
Motown the Musical features the music of the Temptations and more.
NOVEMBER
November 14 Bloody Bloody Andrew Jackson Anything from history is grist for the tireless reimagining/repurposing device that is the pop-culture dream machine. Abraham Lincoln as a vampire slayer — check. Andrew Jackson as an indie rock star? Huh?! Bloody Bloody Andrew Jackson is proof that no one's immune from radical reformulation. The famously tough, formidable (he wasn't dubbed "Old Hickory" for nothing) seventh president of a young United States, Jackson is renowned for things like his fierce populism, his antipathy toward American Indian concerns and the founding of the Democratic Party. Yet this brash rock musical takes the stuff of Jackson's wild personal and political life and spins it into theatrical high spirits. See Bloody Bloody Andrew Jackson performed by the students of Washington University's Performing Arts Department at 8 p.m. Friday and Saturday, and 2 p.m. Sunday (November 14 through 23). All shows are at the Edison Theatre's A.E. Hotchner Studio Theatre on the Washington University campus (6445 Forsyth Boulevard; 314-935-5858 or www.edisontheatre.wustl.edu); tickets are $10 to $15. — Alex Weir
November 18 Motown the Musical Try to imagine the soundscape of mid-twentieth century American pop music without Berry Gordy at the heart of that mixing board. You can't. Gordy's Motown label was brazen enough to use the slogan "The Sound of Young America" to promote its brand, but when you had the seismic cultural impact Motown did, that's not an overconfident pitch, really. It's just dead accurate. The Motown sonic V-8 — all pumping instrumental momentum, unerring songwriting concision and of course that genius rhythm section — dominated American radio throughout the 1960s. Why not try to rule the stage, too? Motown the Musical is that attempt. The production's plot bounces to the true story of the record-label founder's life: Gordy, the former featherweight boxer and Korean War veteran, is the man who launched the megastar careers of Diana Ross, Michael Jackson, Smokey Robinson and a passel more. Motown the Musical is performed Tuesday through Sunday (November 18 through 30) at the Fox Theatre (527 North Grand Boulevard; 314-534-1678 or www.fabulousfox.com), and tickets are $25 to $85. — Alex Weir
November 22 Utopia: Revisiting a German State in America Spend five minutes in Missouri and you'll figure out how heavily German this state is. It's evident in the multiplicity of German family and town names (Hermann ring a bell?), the resonant traditions of winemaking in our river valleys and brewing beer in our cities. But most of us probably don't know how key a role a certain group of German immigrants played in antebellum- and Civil War-era Missouri. Utopia: Revisiting a German State in America at the Missouri History Museum (Lindell Boulevard and DeBaliviere Avenue; 314-746-4599 or www.mohistory.org) will fill us in. The new exhibit charts the fortunes of the Giessen Emigration Society, 500 souls who left Germany for the United States in 1834 with the intention of founding a Utopian state. Eventually they settled in Missouri, where their decidedly freethinking (read: progressive) philosophy informed their stance on slavery; they were staunch abolitionists within a state that was mainly pro-Confederate. Originating in Giessen, Germany, last year, the show has emigrated to our city, where it is open daily from Saturday, November 22, through Sunday, March 29, 2015. Admission is free. — Alex Weir
November 29 Ghost Brothers of Darkland County If you had used the names Stephen King and John Mellencamp in the same sentence a few years ago, they would've seemed very curious bedfellows — perhaps like a mashup of Anne Rice and Brad Paisley. But reconsider for a second; the bunk-bed arrangement makes sense. Both artists are canny veteran craftsmen who appeal to a mass audience without ever playing dumb to it. Why not collaborate? The musical Ghost Brothers of Darkland County is the resulting fruit of that question. Set in rural Mississippi, the storyline pivots around two pairs of brothers, two of them living and two dead. Fraternal love, lust, jealousy and revenge drive the narrative, which is performed by an ensemble cast of fifteen actors and a four-piece live band. King wrote the script, Mellencamp the music and lyrics; the omnipresent T Bone Burnett provides the musical direction. Ghost Brothers is performed at 8 p.m. Saturday, November 29, at the Peabody Opera House (1400 Market Street; 314-499-7600 or www.peabodyoperahouse.com). Tickets are $36.50 to $76.50. — Alex Weir