Kim Carlson
Maggie Winninger in the title role of SLS's most recent Hamlet.
Donna Northcott wanted to direct The Liar.
How could she not? David Ives' hysterical adaptation of Pierre Corneille's 1643 farce simply crackles with comedic wit. Written in 2010 The Liar not only offered Northcott an opportunity to direct a fresh new work, but it also afforded her theater company, St. Louis Shakespeare, the chance to produce a play that's all but unknown to local audiences.
Alas, she had to pass on directing The Liar, handing it instead to Suki Peters so she could concentrate on last month's season opener, Hamlet. After all, this season is a big one for Northcott, filled with personal and professional landmarks. Not only does it mark her company's 30th anniversary, but with the March 2015 production of a Sarah Whitney's specially commissioned version of the War of the Roses trilogy (Henry VI), Northcott will have overseen the completion of the entire Shakespeare canon, making it one of only seven troupes in America to have done so.
This season will also be Northcott's last as artistic director. She plans to step down at its end, passing the mantle to Peters, who's planning big changes for the troupe, finding it a new permanent home and re-envisioning the company as less Bard-centric.
Still, like Hamlet says, the play's the thing....
When Northcott founded St. Louis Shakespeare back in 1984, fresh off of her studies at the London Academy of Music and Dramatic Art and crazy for Shakespeare, she chose not to make her professional directorial debut with one of the Bard's more straightforward plays — Romeo and Juliet, say, or Macbeth. No. Northcott, who at that point had directed and a couple of one-acts in college, founded the company with the troubled Prince of Denmark himself — Hamlet, Shakespeare's longest and arguably most morally complex work.
"It's like bumblebees," Northcott says of her first Hamlet. "They don't know that they're aerodynamically unable to fly, so they just do it."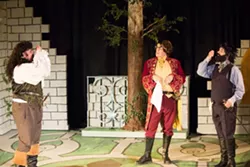 This summer's production is only the second time Northcott directed Hamlet after that initial 1984 production — a notable fact for a director who over the years has staged many of the Shakespeare plays numerous times, logging no less than seven productions of A Midsummer's Night Dream, four of those with St. Louis Shakespeare.
But now, thirty years later, she wanted to open her final season as she'd begun her first — wrestling with the suffering Dane.
"I wanted that bookend," Northcott says.
She also wanted to take a very different approach, casting Maggie Winninger in the title role, and having her deliver one of Hamlet's famous soliloquies as a confession to Ophelia. In many ways, Northcott's Hamlet — novel, but not gratuitously so — was a culmination of three decades of work, bringing to bear the lessons she had learned while directing a small Shakespeare company that has served as a proving ground for many of the city's thespian class.
"She's the mastermind behind everything," says Peters (a Riverfront Times MasterMind Award winner last year). "She built this company from the ground up. A lot of actors here first cut their teeth on a St. Louis Shakespeare play."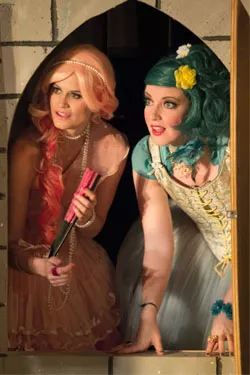 Kim Carlson
A scene from The Liar.
It hasn't always been easy. As a small company with a limited budget, St. Louis Shakespeare's stock in trade has been to work creatively with relatively few resources. For Northcott that has always meant starting with the script, enabling actors and directors to clearly define what's on the page, but also giving them leeway to push the work in counterintuitive directions while still conveying the core drama.
"People get the wrong idea about Shakespeare. It's not about the text being sacred," she says. "You need to trust Shakespeare to know what he was doing. You need to trust the script."
The more famous works — the Macbeths, the Henry Vs — are so well known that the audience comes to the theater with a good sense of the dramatic stakes. The flip side being, of course, that there's precious little new ground to explore. Meanwhile, the more obscure works — The Two Noble Kinsmen, anyone? — can be more challenging. Sure, they offer a lot in the way of creative freedom, but any adaptation must also work hard to illuminate a story that is familiar to only a few audience members.
Over the years, some of those efforts have been more successful than others. There was a terrifically flawed Julius Caesar. "The costumes looked like something from the original Star Trek. The daggers looked like butter knives." But the fiascos have been few, and Northcott, who is known for building lasting relationships with actors, directors, designers and technicians, built an efficient company that often produces moving work. (Paradoxically, her favorite production wasn't a Shakespeare play, but rather a 1997 staging of Robert Schenkkan's The Kentucky Cycle.)
"These people have been doing this for a long time," says Jeff Roberts, a sound technician who started out with the company as a spear-carrier in 1987 before taking several years off. "When I went back I was stunned at the level they were at. Before I'd thought we were a pretty good semi-professional group, but now they're really professional."
While the company has grown, life as a small Shakespeare troupe hasn't gotten much easier — particularly over the past few years. Its popular Magic Smoking Monkey shows (live television and movie parodies that Northcott likens to a theatrical bag of Cheetos) may broaden its audience base and build revenue, but the company still struggles to distinguish itself from the well-funded new kid on the block, Shakespeare Festival St. Louis.
More importantly, the troupe suffered a major blow two years ago when the Grandel Theatre, which St. Louis Shakespeare called home for eighteen years, stopped leasing to theater companies.
"It was very difficult," Northcott says. "Partly because it was so sudden." As a result the company is staging this season's four productions at three separate venues, creating new challenges for the troupe and making it hard for its audience to keep up with the peregrinations.
What's more, St. Louis' theater scene has long been defined by periods of booms and busts.
"St. Louis goes through these cycles — we're in the middle of one right now — where there's an explosion of new theater companies," Northcott says. "That has its drawbacks because while the number of companies has expanded greatly, the number of performance spaces, actors, designers, directors, technicians, funding and especially audience has not increased, so we're just dividing the same pie into smaller and smaller pieces."
If the current boom follows past precedent, some of the newer companies will eventually die off, as its members — overworked and underpaid — start to burn out as their companies search for permanent homes and consistent funding.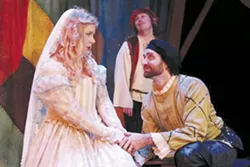 Kim Carlson
Suki Peters at Kate in 2010's Taming of the Shrew.
Northcott has weathered past storms by following one simple rule: "No deficit spending. Audience has gone up and down over the years, but we just do not spend money we don't have," she says. "And while I would love to pay everyone working with us more, we have to have enough money for next season, so we have to be creative."
But as Northcott hands over the reins to Peters — staying on as a director and member of the board — St. Louis Shakespeare seems poised not merely to survive the current boom, but also to grow. The company recently found a permanent home when it signed a contract with the Ivory Theatre for its entire 31st season. What's more, Peters is looking to expand the company's repertoire beyond Shakespeare, producing works by fellow Elizabethans such as Christopher Marlowe and John Webster. She's also considering offering more modern adaptations like this month's The Liar, along with a "wildcard" production — anything from Aeschylus or Harold Pinter to Noël Coward or another Tom Stoppard.
"It's been in the works for a while," says Peters, who assures there will always be at least one Shakespeare play per season. "Donna is amazing and wildly talented. These are very big shoes to fill."