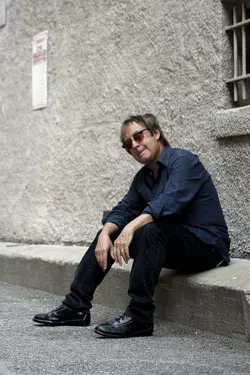 Oh, come on!
Does the Midnight Company really expect us to spend 75 minutes listening to the fevered ramblings of the aging, vain, brutish and drug-addled misanthropists that populate Eric Bogosian's Sex, Drugs, Rock & Roll? Do they really think we'll enjoy — nay, be "transformed," to use one of the character's own formulations — a paranoiac's theory about "The System"? A glib rocker who's come to terms with his own "brilliance"? Or the Hobbesian malcontent who spits that our world is "held together by gross sentimentality and hypocrisy"?
In a word? Yes. Yes, they do — all that and more.
Directed by Rachel Tibbetts and working with a slimmed-down version of Bogosian's ferocious script, Joe Hanrahan leads the audience on a one-man tour of these largely despicable men — refugees of the drug-fueled 1970s who were scattered to the wind like so much shake weed during the blustery Me Decade. Less a play than a piece of performance art, Sex, Drugs, Rock & Roll is brilliant, savagely funny, discomfiting and wildly different from most offerings you'll see on St. Louis stages these days.
Bogosian's script maintains its power to provoke, thanks in part to playwright's muscular writing, which traffics in those stygian realms many of us visit, but precious few ever mention. It's also due in large measure to Hanrahan himself, a gifted actor who delivers a thrilling, multilayered performance as he uses only the sparest of props to bring these characters to life.
Performing in the wine cellar of Herbie's Vintage 72, Hanrahan first appears as a recovering addict, homeless and collecting cans. Or is it bottles? Don't make no difference, he assures, he's just trying to earn enough scratch to buy the occasional egg-salad sandwich.
Todd Davis
Joe Hanrahan wins playing a lot of losers.
From this humble opening, Hanrahan quickly sets the mood, transforming into one of the show's most provocative characters — an emcee who challenges the audience on its very decision to go to the theater. Maybe you think you'll be transformed, he taunts. Maybe you'll be moved? Yeah. Maybe. But more likely his blood, sweat and tears will have all the impact of a Twinkie gliding down your GI tract en route to the toilet. What does he have to do, he wonders, die onstage? Boy, that'd really make you think — you know, as you text it to a buddy.
No, family theater it ain't. The show is caustic, brutal, scathing and in your face. It is also hilarious, as Hanrahan moves through Bogosian's catalogue of characters, many still reeling from the narcotic excesses of the 1970s. There's the aging rocker — an inane Brit who stands in gilded relief to the homeless man — delivering an anti-drug message while regaling an interviewer with drug-steeped tales of sexual conquest. There's the motivational speaker who makes the case for greed as a means toward happiness, and the self-serving therapy patient who wonders how his ex-wife couldn't have seen how all those late nights out were in fact a "cry for help."
Of course, if it stopped there, Sex, Drugs, Rock & Roll would make for only a mildly uncomfortable night of theater. As it is, however, Hanrahan (and by extension Bogosian) doesn't patronize the characters. He doesn't talk down to them or give the audience some knowing nod to the flaws being paraded onstage. Rather, he presents them as they are (or at least as they perceive themselves), compelling the audience to enter the characters' worlds on their own terms — often to frightening effect.
Originally written in 1990, Sex, Drugs, Rock & Roll can't help but feel slightly dated at times, for instance as the aging rocker references "We Are the World" while plugging his ridiculous charity to send electronics to Amazonian Indians. Still, the script has been updated and localized with references to iPads and Ladue, while earlier mentions of Dan and Marilyn Quayle have been elided all together.
Unsurprisingly, some character sketches are more successful than others. But each is engaging (or at least brief), and in sum they take you on a journey that — while it may not leave you transformed — will certainly make you think.
Sex, Drugs, Rock & Roll Through August 17 at Herbie's Vintage 72, 405 Euclid Avenue. Tickets are $15 to $20. Call 314-487-5305 or click here.
Follow RFT critic-at-large Malcolm Gay on Twitter @malcolmgay.