John Lamb
UAE takes Streetcar on an operatic journey.
Fresh off its shimmering success with Giuseppe Verdi's La Traviata, Union Avenue Opera continues its twentieth season with a very different production: André Previn's A Streetcar Named Desire, a modern operatic work based on the Tennessee Williams masterpiece.
This is no easy feat — particularly for a small company like UAO. Setting aside the question of whether Williams' original play — so operatic in scope — really gains any meaningful new dimension in Previn's hands, the opera presents other challenges as well. First performed in 1998, Streetcar marks only the second time UAO has produced a modern work. There's a reason for this. Puccini, filled with swelling arias and hummable tunes, is safe. Previn's Streetcar? Not so much. There are a few impressive arias, but the score remains a jumble of musical styles. Few people outside the cognoscenti are familiar with the opera version of this famous play, and if you're a small company in a market like ours, you need to appeal to a wider audience. As it is, UAO is taking a gamble on Streetcar, hoping Williams' hometown ties will stoke interest in Previn's nearly three-hour adaptation.
Was the wager worth it? That depends on what your definition of "worth" is.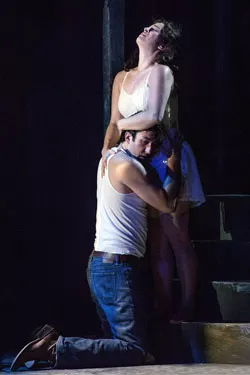 John Lamb
A Streetcar Named Desire.
As with so many UAO productions, Streetcar is masterfully staged. Kyra Bishop's set beautifully communicates the cramped and shabby New Orleans quarters shared by Stanley and Stella Kowalski. Similarly, director Christopher Limber has found a real talent in Lucy Sauter, a gifted actor who has a marvelously rich voice and brings real pathos to the role of the troubled Blanche DuBois. She's matched by Katherine Giaquinto, a talented singer who gives psychological depth to Blanche's sister, Stella, torn as she is between her sisterly bond and loyalty to her brooding husband, Stanley. Although baritone Bernardo Bermudez is occasionally drowned out by conductor Kostis Protopapas' orchestra, he sings well in the role of Stanley, and Anthony Wright Webb delivers a terrific performance as Blanche's well-intentioned suitor, Mitch.
Nevertheless, Streetcar remains a difficult opera to love. Although the lyrics are marvelous (many taken directly from Williams' play), the score is diffuse. It has no definitive sound and forms no integral relationship between the singers onstage and the musicians below.
This is not to say there aren't moments of real beauty. Giaquinto has a marvelous passage in the final scene of Act One, as Blanche pleads with Stella to leave Stanley. But Stella, having spent the night in her husband's arms, responds only with an emotive, non-linguistic song of primal love. Similarly, Sauter and Webb have an extraordinary double aria at the end of Act Two, as Blanche recounts her husband's suicide.
But these scenes, powerful though they are, remain few and far between. The score's lack of coherence is exacerbated in part by the restrained performances of Giaquinto and Bermudez. The baritone doesn't bring much menace to the famously volcanic role of Kowalski. In what should be fiery exchanges between the two, the performers often stand politely by as their partner sings, only to erupt in a paroxysm of emotion when it's time to deliver their lines. It's a jarring, strange inconsistency, and one that adds to the overall sense of emotional dislocation in watching Williams' brilliant work through this obscuring operatic lens.
Nevertheless, the opera's final scene is simply magnificent, as Blanche, dressed in azure satin and bathed in blue light, suffers a complete psychotic break. Sauter's voice soars as she exits the stage through clouds of smoke, imagining that she's headed on an oceanic voyage. Of course, she's actually on her way to the sanatorium — tragic as she passes the other cast members arrayed in a painful tableau.
It's a beautiful, heartbreaking scene of delusion and despair — one that just might, after all that risk, be worth it.
A Streetcar Named Desire Through August 9 at Union Avenue Christian Church, 733 North Union Boulevard. Tickets are $30 to $52. Call 314-361-2881 or click here.
Follow RFT critic-at-large Malcolm Gay on Twitter @malcolmgay.