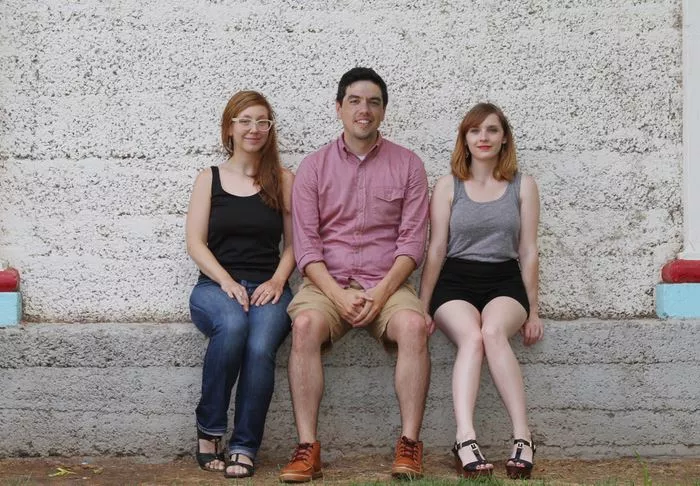 CSA STL
Cassandra Howard, Gardiner Rhoderick and Katy Peace of CSA STL.
Nine local artists specializing in photography, fibers, comics, sculptures, painting and printmaking have beat out 41 other applicants to become the first producers for CSA STL, a community-supported, agriculture-inspired model for connecting St. Louis with art.
Last month, three friends announced they wanted to change the way St. Louis pays for art by adapting the community supported agriculture model for the fine arts. Subscribers will pay $300 for three months of original works, which breaks down to $11.11 per piece of art.
See also: Three Friends Want to Change How St. Louis Buys Art, Get Local Artists Paid
"I really think this project is a really exciting way to get people involved in their local arts communities," says Katy Peace. She's organizing the program, called CSA STL, with two friends, Gardiner Rhoderick and Cassandra Howard. "We want to break down the barriers to entry for both artists and consumers."
A jury of highly skilled and well-respected arts leaders -- Juan William Chávez, Stan Chisholm, Stefanie Jacobson Kirkland and Jeffrey Uslip -- chose the nine participating artists. Here are the artists and an example of their work:
Brandon Daniels (painting) is a current MFA student at Washington University's Sam Fox School of Design & Visual Arts. He moved here last year from West Virginia where he studied graphic design and studio art at Concord University. The things that interest Brandon most are those that we still struggle to understand, like distant galaxies and subatomic particles, or the evolution from single- to multicellular life and the slow formation of a star. These are things that require both scientific understanding and imagination to comprehend. While his paintings aren't scientific illustrations, they often address the size and scale of the universe or point to mysteries of incomprehensible scales. They explore the historical relationship of art and science and strive to utilize recent discoveries of physics and cosmology for their potential as metaphor.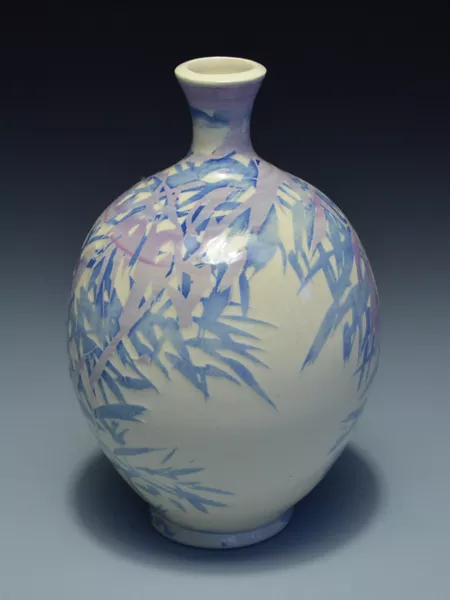 Tom Dykas (ceramics) has lived and worked in south city St. Louis for fourteen years. He started working in ceramics while getting his BFA from Webster University, where he graduated in 1996. He is a teaching artist focused on wheel thrown pottery at Krueger Pottery. He is inspired by the idea that what he makes can be integrated into someone's daily life and feels that a subtle long term relationship to art can be more profound than viewing large scale, high impact work. He is most drawn to a technical exploration of ceramics, glaze development and refinement of technique.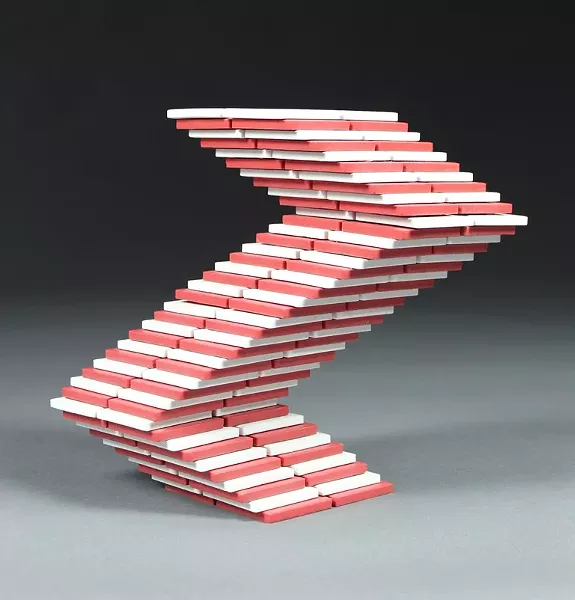 Matthew Paul Isaacson (sculpture) was born in northern Michigan and grew up working on a large-scale industrial fruit-manufacturing farm, a background which continues to inform and inspire his work. His current sculptural work focuses on complex installations of free stacked ceramic and glass tiles, which often reference architectural cityscapes. Matthew received his BFA in painting alongside a minor in music from Western Michigan University in 2004. He then received his MFA from Virginia Commonwealth University in 2007 and was awarded the Graduate Thesis Dissertation Scholarship. Matthew now lives and works in St. Louis as an associate professor and the ceramics coordinator at St. Louis Community College at Forest Park and is represented by Duane Reed Gallery. He has exhibited locally, nationally and internationally, including a solo exhibition at the Luminary Center for the Arts, a group show at SPACE Gallery in Pittsburgh, and recently participated in the Xin Jiang International Sculpture Exhibition in China. Past residencies include the Luminary Center of Arts, Pilchuck, Ox-Bow and Sugar Maples Center for Creative Arts.
Katherine Miller (printmaking) is a St. Louis native pursuing her BFA with an emphasis in printmaking at Southeast Missouri State University. Her recent work focuses on spiritual space as seen through elemental components of the world and of artmaking. Her work has been exhibited nationally and internationally, and she enjoys cats and strong coffee.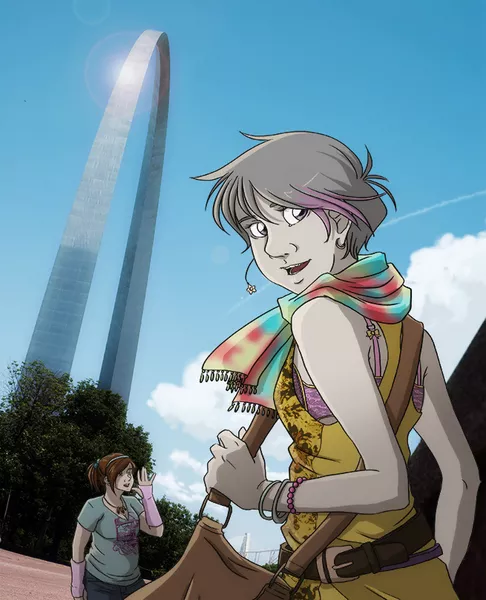 Ray Nadine (comic book) is a comic illustrator and writer, and is currently working on her self-published comic Dollhouse -- a story about a girl, a band and the terrible decisions they make. She graduated from Southern Illinois University Edwardsville with a BA in Art & Design in winter 2011, and has been consumed by making comics since then. She's in love with the city of St. Louis, and lives there with her partner in crime, Rob, in a neighborhood much more suburban than she deserves. She enjoys creating slice-of-life comics with plot lines to break hearts, and she strives to have queer representation in her media.
Emily Peters (fibers) creates mixed-media sculptures and wall hangings. Her primary media are fibers and clay. Her interest in the duality of ceramics, textiles, craft and art has led her to see each medium from many angles. This has led her to seek out a variety of experiences in the craft field at ceramic art centers, in addition to working at one of the last weaving mills in Philadelphia where she wove upholstery for classic cars and felt for Civil War re-enactors. She is an alumni of the Maryland Institute College of Art in Baltimore, Maryland. She recently completed an artist residency at Millersville University in Lancaster, Pennsylvania, and has participated in workshops at Haystack Mountain School of Craft in Maine, as well as Penland School of Craft in North Carolina.
Caroline Philippone (photography) is a fine-art photographer working in both traditional film and digital media. She recently completed her MA in photography at Fontbonne University in 2013, where she focused primarily on black-and-white studies. It was during her time there she decided to work as exclusively as possible with traditional film. When she is not focusing on her personal projects, she regularly does work for local radio station 88.1 KDHX as a concert and in-studio performance photographer. Additionally, she works in Webster University's photographic lab, where she happily assists students in both traditional and digital work. Her current ongoing film-based project "St. Louis, My Love," focuses on neighborhoods and the small businesses within them that enrich the city through their commitment to the community.
Andrew Raimist (photography) teaches architecture at the Sam Fox School of Design & Visual Arts at Washington University in St. Louis. He's a St. Louis-based architect, writer and photographer. His community-arts practice combines the communicative power of photography with its expressive potential for understanding and transforming neighborhoods and lives. His recent book, (en)visioning Hyde Park, documents his work with middle school children living in the Hyde Park neighborhood of north St. Louis. He earned a masters in architecture from Washington University in St. Louis and a bachelor of science in civil and environmental engineering from Cornell University. He's a graduate of the Community Arts Training Institute established by the Regional Arts Commission. His honors include commendations and grants from the Missouri Arts Council, the American Institute of Architects and the Graham Foundation for Advanced Studies in the Fine Arts.
Eric Woods: The Firecracker Press (printmaking) opened shop in February of 2002 as St. Louis, Missouri's only graphic design studio and letterpress printshop. It combines antique printing technology with new thinking to design and produce objects that people enjoy seeing and feeling. Firecracker uses computer-design software to conceive ideas, but it still carves woodblocks and print by hand to produce event posters, business cards, party invitations, advertising and more.
Follow Lindsay Toler on Twitter at @StLouisLindsay. E-mail the author at Lindsay.Toler@RiverfrontTimes.com.