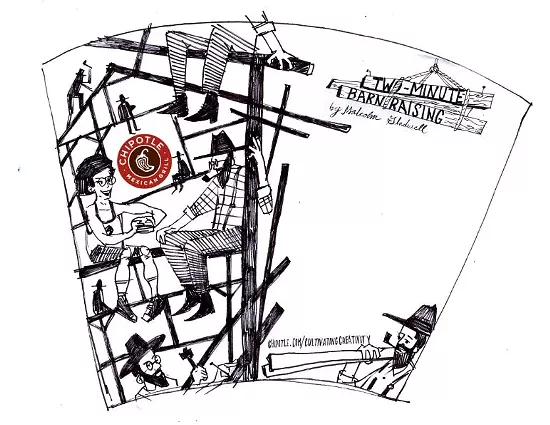 Chipotle -- it's the "fast-causal" restaurant chain that sates the burrito lust of millions, but it's a place where intellectual discussion mainly revolves around whether you should pay the extra $1.80 for a glop of guacamole.
The chain apparently wants to add serious literary depth alongside its burrito bowls; Chipotle customers will soon be grabbing cups and bags imprinted with short pieces by award-winning authors Jonathan Safran Foer, Toni Morrison, Malcolm Gladwell and others. When it came time to turn Gladwell's prose into a cup, Chipotle turned to St. Louis illustrator Noah MacMillan.
"The piece involves obviously different people coming together, and then finding common ground over working together and sharing a meal," says MacMillan, describing Gladwell's story, "Two-Minute Barn-Raising."
See also: Show Me $15 Protests Chipotle, Says Worker Fired for Talking About Higher Wages
MacMillan knows a thing or two about creating art on an irregular canvas: Last summer he unveiled a 2,500 square-foot mural wrapped around the Century Building in the Chicago Loop.
Gladwell is famous for writing books that gather ideas from the sociology, science and social psychology. For the cup, he told a story from his childhood, describing the time his father decided they were going to spend the day at a barn raising. MacMillan was given the challenge of illustrating that story.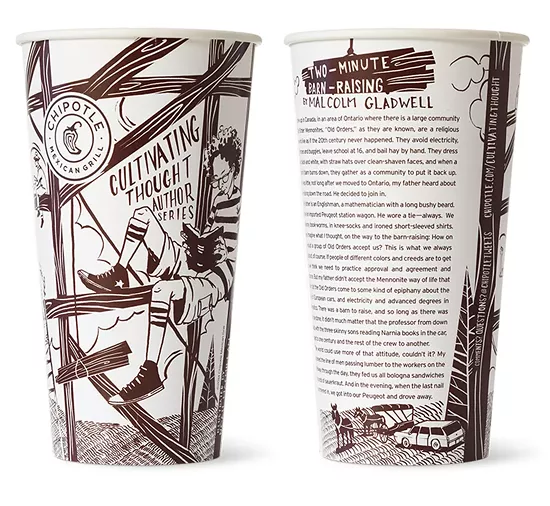 One of Chipotle's "Cultivating Thought" cup, penned by Malcolm Gladwell.
"Chipotle was really fantastic to work with," says MacMillian. "You hear horror stories about working with large brands, that they're really controlling, but I was really pleased with how it went."
However, he tells Daily RFT that he initially sent a fully colored version of the cup to Chipotle, but the higher-ups decided to go with a uniform brown-on-white color palate for all the cups.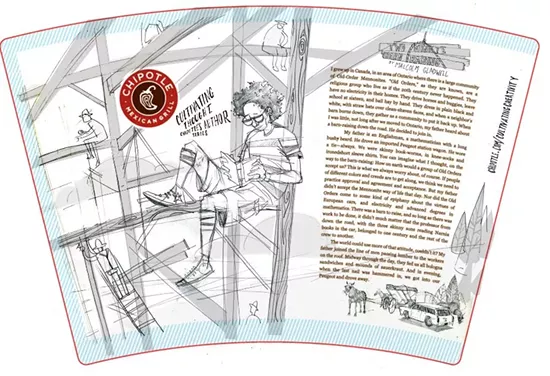 The final sketch MacMillan sent to Chipotle.
Here's another example of MacMillan's earlier designs for the cup.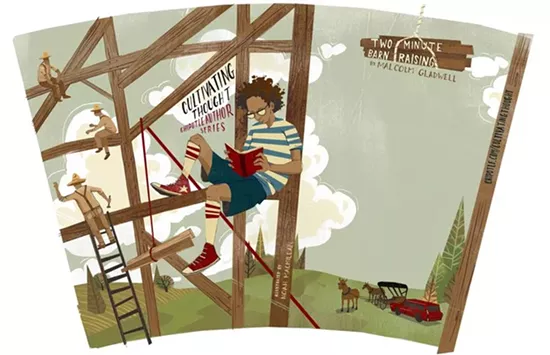 Noah MacMillan
The colorized drawing MacMillan initially sent Chipotle.
See also: St. Louis is the Best City in the U.S. for Writers: Report
You don't have to rush out to grab an $8 burrito to read these pieces; all the stories are reprinted in full on Chipotle's website.
What say you, burrito and literature-lovers of St. Louis? Is this a just another example of capitalist corporations commodifying art, or could this be a meaningful step forward for brand advertising?
Follow Danny Wicentowski on Twitter at @D_Towski. E-mail the author at Danny.Wicentowski@RiverfrontTimes.com