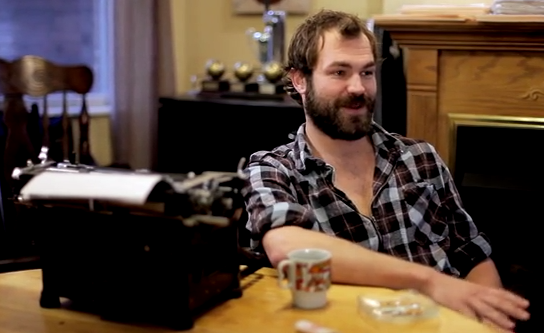 Kickstarter/STL Curator
Henry Goldkamp explains why you should donate to What the Hell Is St. Louis Thinking?
The last time we checked in with poet Henry Goldkamp, he was looking for ways to add more diverse voices to his project called What the Hell Is St. Louis Thinking?
Goldkamp had placed typewriters all over the city for passersby to use, writing a note, story or poem for their fellow St. Louisans and adding to a collaborative, free-form depiction of what's going on in the minds of those living in or near the city.
By last summer, Goldkamp was expanding the project beyond South Grand and Cherokee Street with the goal of hearing from every St. Louis neighborhood, especially from the city's underrepresented black community.
"I want every aspect. I want every neighborhood," Goldkamp told Daily RFT. "The beauty of it is it puts everyone at the same level."
See also: "What the Hell Is St. Louis Thinking?" Project: Artist Addresses Criticisms of Racial Bias
Now, Goldkamp, who works construction during the day, is ready to let St. Louis see what it has been thinking all along. He wants to publish the collected notes into a book, titled What the Hell Is St. Louis Thinking?, but he hasn't found a publisher to get behind the project.
So Goldkamp is again reaching out to the people of St. Louis and launching a Kickstarter fundraising campaign, hoping to bring in $6,400 to publish the book.
"St. Louis wrote the book," Goldkamp writes on the Kickstarter. "Why not have St. Louis publish it? This final aspect of the project is just waiting to leap into your eyeballs and party in your brain."
With more than two weeks left to raise money, Goldkamp already has $2,400 in donations. Goldkamp promises a wild ride of a book if he can get the money to publish the best quotes and submissions from his citywide project.
"The submissions from the project are loud as hell," Goldkamp posts on Reddit. "They are shrill, strange cries of virtue and pain. They are blunt advisors on how to live your life. They are baptized in beer. They are one thousand steeples peering down at you making you consider death on a beautiful spring day. They are inspiring and they are heartbreaking."
Follow Lindsay Toler on Twitter at @StLouisLindsay. E-mail the author at Lindsay.Toler@RiverfrontTimes.com.