The St. Louis letterpress shop known for its iconic concert and event posters has added a second storefront in the recently renovated Crown Square district of Old North St. Louis.
Firecracker Press moved into its newest digs at 2612 North 14th St. earlier this year and has grand designs for the space that -- at 8,000 square feet -- is nearly three times the size of its original storefront on Cherokee Street. Part of the plans for the new site include the launch of a nonprofit called Central Print.
Photos: Chad Garrison
The second location of Firecracker Press on North 14th Street. The space will also be home to a nonprofit arts studio, Central Print.
Eric Woods, owner of Firecracker Press, tells Daily RFT that Central Print will offer after-school programs, host workshops on letterpress printing, offer entrepreneurial programs and help people salvage vintage presses dating back to the 1800s.
The new Firecracker Press is full of such relics. On a recent tour of the new location, Woods shows off a 90-year-old, 3,000-pound type caster that would have been sold for scrap had he not intervened. In the back of the shop sit a half dozen letterpress printers, including a hulking, Rube Goldberg-like contraption from the 1920s that Woods just got working again.
St. Louis has a rich letterpress history, says Woods, partly because the city was once home to large type foundries that made the lead letters and symbols used for printing. At the same time, St. Louis was also home to multiple daily newspapers, many of which were printed in the languages of their immigrant readers.
Eric Woods with his 3,000-pound type caster.
Woods hopes Central Print will introduce a new generation of St. Louis artists to the craft of letterpress printing and spawn creativity. Once it is funded and staffed, the nonprofit will operate out of the northern end of the Firecracker building and be a separate entity from the print shop. A room between Central Print and Firecracker will serve as a physical buffer between the two outfits and offer space for classes, concerts and parties. Speaking of, Firecracker will host a fundraiser gala on Friday, April 4, for Central Print. You can learn more about that here. Continue on for more photos of Firecracker's new north side home.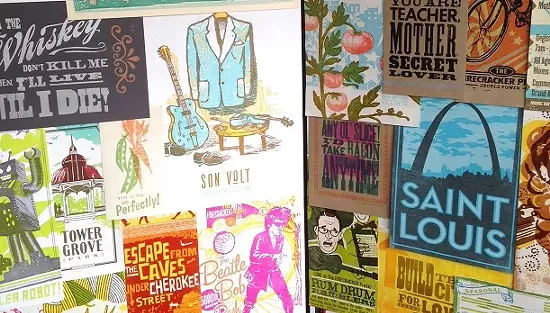 Some of Firecracker's posters over the years.
Just a couple of the presses found at the new Firecracker.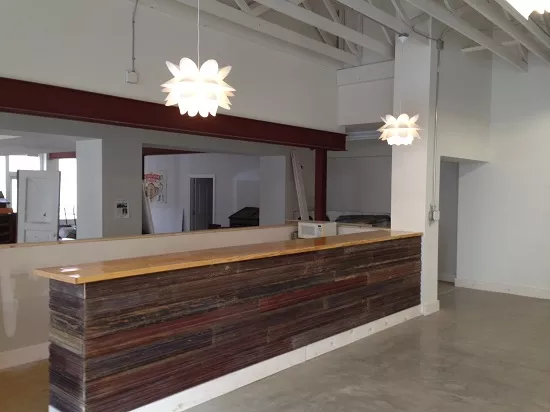 A bar in the events space made of wood found in St. Louis alleys.
A stage under construction in the events space to be shared by Firecracker and Central Print.