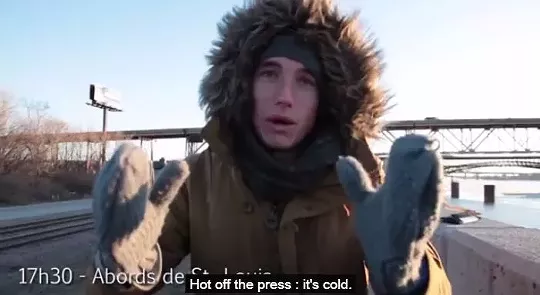 Seán Collins is a consummate veteran radio producer. The St. Louisan spent twenty years producing for NPR on national shows like All Things Considered, Morning Edition and This American Life.
But Collins never produced a film. Until now. In 2009, he became enamored with the talent of a sixteen-year-old French filmmaker, Aurélien Loevenbruck. Two weeks ago, Collins brought Loevenbruck and two other teenaged film prodigies to St. Louis to scout locations for an ambitious historical epic.
"They look youthful, they are youthful, but they're crazy talented," says Collins, who is co-writing the script for The Ground Beneath Our Feet. "They get how to tell this kind of story."
See also: France Warns Tourists Against Visiting North St. Louis
Theo Reynal, one of three French filmmakers who spent two weeks scouting locations in St. Louis
Loevenbruck and his filmmaking cohorts Alex Fortineau and Theo Reynal -- all nineteen years old -- attend the ESRA film academy in Rennes, France. They've directed and produced film projects solo and together, but this particular film isn't for school credit. Their sights are set on something much higher than grades.
Collins describes The Ground Beneath Our Feet as a road movie set in two different time frames: the present day and the 1760s, a time of great upheaval for the thousands of French citizens living on the Illinois side of the Mississippi.
"For most Americans, when we think about colonial America, we think of the British," Collins explains. "But when you look of a map of the United States in 1750, everything from from Canada to the Gulf of Mexico was French territory. There was a huge part of the middle of the county that was New France, and there were French families living in Illinois for hundreds of years."
See also: St. Louis Photographer "Disturbs Reality" of Midwest in These Incredible Photos
Seán Collins
(Left to right) Alex Fortineau, Aurélien Loevenbruck and Theo Reynal at Bequette-Ribault House in Ste. Genevieve.
The historical side of the film's script -- written by Collins -- follows a Frenchman in 1763 who sets off for New Mexico after Great Britain takes control of the territory east of the Mississippi. Collins says many of the French living North American at the time were devout Catholics who refused to live under a Protestant ruler.
"Some of them went across the river to Ste. Genevieve," he says. "Some went back to Montreal, some went to New Orleans and some went across the river to a new village that had just been founded in 1764 called St. Louis."
Fortineau is writing the contemporary plot, adhering to a more well-worn notion of a road-trip movie: The protagonist, an erstwhile American living in France, finds himself in Albuquerque, New Mexico, with no money and no transportation. He must somehow travel to St. Louis to confront a family tragedy.
For the past two weeks, Collins, Loevenbruck, Fortineau and Reynal scouted St. Louis locations to use in the historical part of the movie. They visited the old French colonial village of Ste. Genevieve and fixed on the Bequette-Ribault House, built in 1780, as the perfect location for their 18th-century protagonist.
But Collins made sure to show his charges the present-day St. Louis as well: The three filmmakers spoke to a class of Saint Louis University film students, attended a basketball game at the Chaifetz Arena and discovered just how cold the Midwest can be.
Theo Reynal
One of the historical French buildings scouted for the film.
Collins says the three French filmmaking phenoms will return to St. Louis to begin filming the movie this summer, and they'll be traveling to Texas, New Oreans and New Mexico for other on-location work.
"The story takes place in the U.S., but what we're trying to portray is that almost universal feeling of having to make do when the rug is pulled out from under you," Loevenbruck says, speaking through an interpreter.
"Through the eyes of that present-day young man, we will make the French discover America, but through Seán's story we're hoping to make Americans realize their French heritage."
Here's a (pretty damn funny) video the three produced chronicling their St. Louis adventure. You can follow the film's progress -- as well as more photos and videos -- on the The Ground Beneath Our Feet website, Facebook page and Instagram.
Follow Danny Wicentowski on Twitter at @D_Towski. E-mail the author at Danny.Wicentowski@RiverfrontTimes.com