Maria Romaine, in burgandy, with her sister and co-founder Susan.
For too long, the only roles for women in stories about swashbuckling pirates fell into three categories: wench, madam and captive.
Now, a St. Louis acting troupe known as Swords and Roses is reclaiming the golden age of piracy, training local actresses in stage sword-fighting and performing at events and fairs around the city.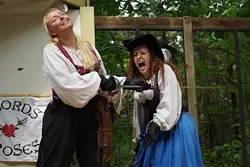 Photos Courtesy of Maria Romine
Maria Romine, playing the pirate Angelique LeFleur, "stabs" St. Louis actress Beth Ashby during a Swords and Roses show.
"I thought it's time the girls had a chance," says Maria Romine, who lives in St. Peters. "I wanted to empower ladies with the knowledge of stage combat so they could get better roles or invent better roles for themselves. We give them that edge."
In typical plays or productions about pirates, there are only two female roles for every ten male roles, Romine says. Romine founded Swords and Roses with her sister fourteen years ago after stumbling onto a sword-fighting seminar with a friend who was dating a stunt man.
See also: Eight Arrr-ful Pirate Jokes in Honor of Today Being "Talk Like a Pirate Day"
Romine perfected her program while working as a sister act: Warm the audience up with witty banter, start a sword fight behind the captain and first mate and then let the crowd decide how the battle ends. When her sister Susan moved away to start a family, Romine opened Swords and Roses up to St. Louis actresses who wanted to learn the challenging and technical skill of stage sword play.
"Our comedy is very tongue-in-cheek innuendo, but it's not bawdy wench humor like people expect," Romine tells Daily RFT. "We don't dress like men to fight pirates. We're obviously women. We're just women with swords."
Romine credits her troupe's success with their lucky timing: The hit movie Pirates of the Caribbean came out three years after the creation of Swords and Roses, making pirates the new "it" thing for birthday parties, fundraisers, fairs and other events.
"When those movies started, our business took off," Romine says. "We'd get chosen over other pirate groups because we are every empowering role models," especially for girls.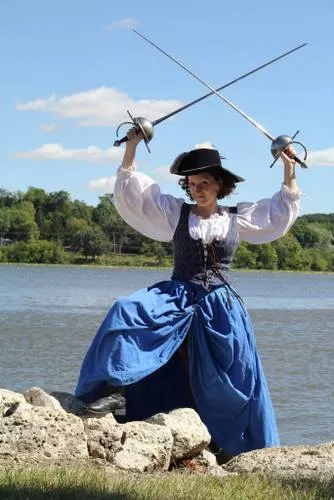 Wenches? Ya right. These ladies are bad-ass pirates.
Forget Captain Hook, with his foppish wig and high heeled boots. Romine says she based her character, French pirate Angelique LeFleur, after Grace O'Malley, the Irish pirate queen.
"She knew how to direct and command her crew," Romine says. "She had all their respect. Nobody wanted to cross Grace. She was a brilliant strategist, a brilliant tradeswoman."
Want to see Swords and Roses in person? The troupe is opening the RAW Artists Presents: Awakening show at 8 p.m. on February 27 at the COlisum at 2619 Washington Avenue.
Follow Lindsay Toler on Twitter at @StLouisLindsay. E-mail the author at Lindsay.Toler@RiverfrontTimes.com.