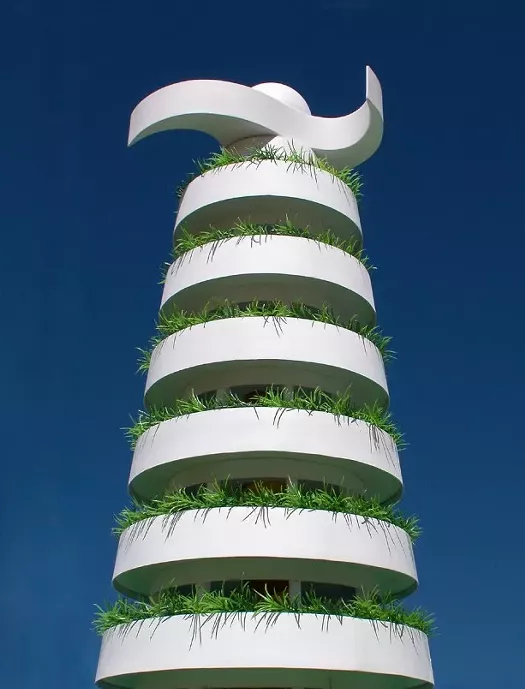 Is it time for St. Louis to get some more "Arches"?
The famous Gateway Arch generates millions in tourist revenue each year for St. Louis as people come from all over the world to see the world's tallest arch. It's a great example of how public art can add beauty and money to a city.
St. Louis architect Michael Jantzen thinks it's time for the city to build more public art, and he has a few ideas.
"The whole purpose of the Arch was to generate tourism, which it did very successfully here, to say the least," Jantzen tells Daily RFT. "A lot of architecture and art projects that are being built and have been built, their prime function is to get people to come to the city and look at them -- not unlike the Arch."
But Jantzen, who hails from Carlyle, Illinois, and studied architecture at Wash. U., hopes to add function to the aesthetics, and his projects include everything from a glass bridge that absorbs sunlight to light it at night to a staircase structure that fights obesity.
Here are a few examples of his work. Which ones do you think would be a good fit in St. Louis?
Space-Time Transformation Footbridge
Michael Jantzen
Stair-Scape Cube
Made of glass and steel, this bridge is designed to interact with pedestrians and sensing their movements and changing shape as they walk through it.
The glass in the structure is coated with a photovoltaic film that converts sunlight into electricity, which is then used to power the shape-changing movements, as well as light the bridge at night.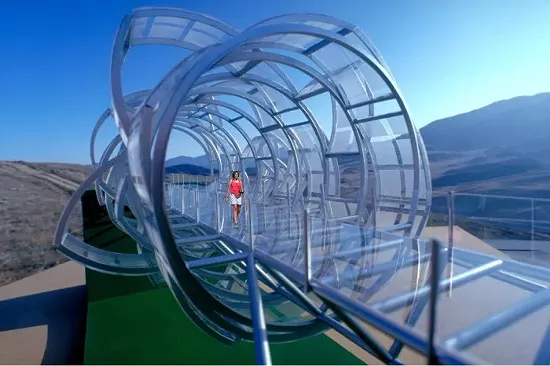 Click on the next page to see more a wind turbine you can walk on and a cubed staircase that creates electricity with your feet...
Great River Turbine
Designed to sit in a river next to a large city -- such as the Mississippi next to St. Louis -- this turbine uses the river current to produce energy while also providing a large open space for people to walk through and enjoy the view.
Stair-Scape Cubes
Ideally situated in a public park such as Forest Park, this stainless-steel structure is designed to be an interactive public space.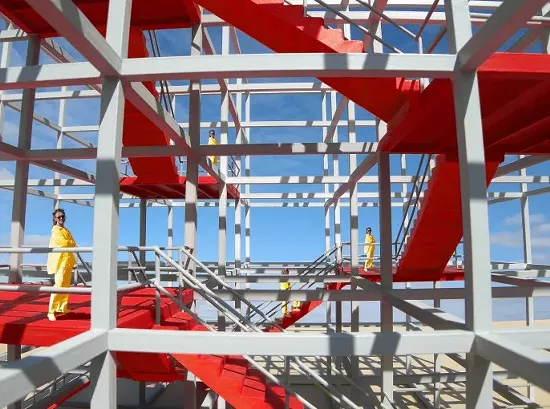 Projects like this "are designed to encourage people to exercise and interact with each other," Jantzen says.
There's a bonus: People's movements create electricity through what's called the "piezoelectric effect," which uses pressure to create energy.
Click on the next page to see a science center powered by the sun and a bridge that helps you burn calories...
Solar Science Center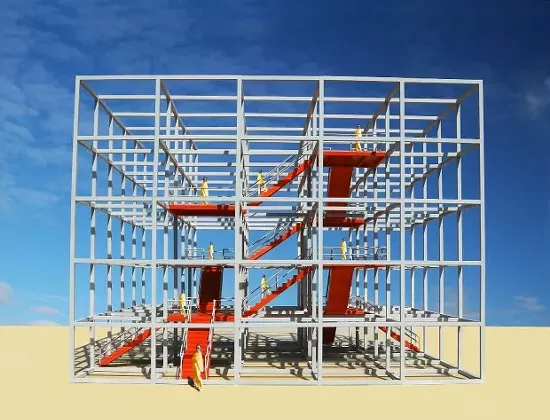 This is a science center that's basically made out of science. A 160-foot-tall cone-shape structure has a surface of photovoltaic solar cells that track the sun's movement throughout the day, which powers the entire science center.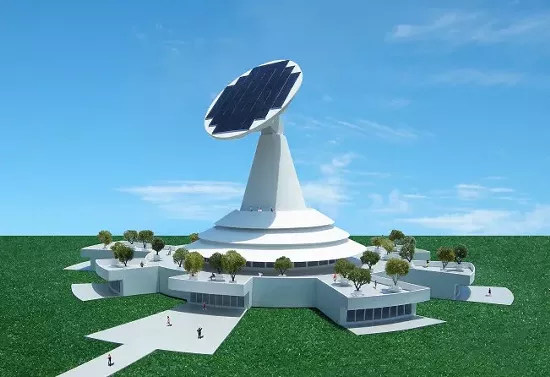 There would also be a large LED screen in the center of the structure that would show images and broadcast sounds that are relevant to sun, such as this image of a solar flare.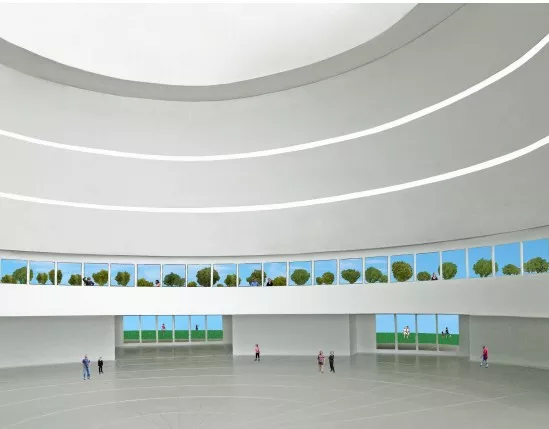 Michael Jantzen
Interior view of the solar science center.
"My Solar Science Center would be dedicated to the science of the sun, and to the technologies being developed to utilize the energy from the sun," Jantzen says, adding that there is a "great interest in the city in the sciences and a growing interest in the potential use of alternative energy."
Stair-Scape Bridge
Jantzen's work obviously aims to promote exercise, and this bridge definitely does that. It has three separate sections: one ramp for people on bikes or skateboards and two made of undulating stairs. The stair design might add a few minutes to the walk, but it will also help burn a few more calories.
Eco-Tower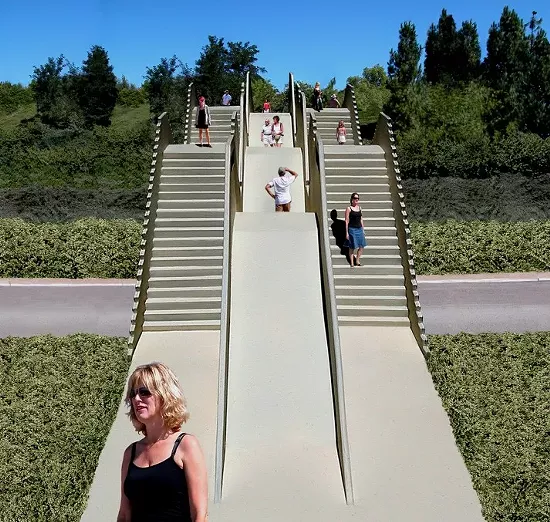 The Eco-Tower is a 120-foot observational structure that collects energy from the sun and wind, which powers the free Wi-Fi that would be available.
"Conceptually, the Eco-Tower is a kind of urban tree that produces and stores energy, gathers and stores rainwater, produces oxygen and provides a unique place for people to gather together while they exercise by climbing the spiral staircase," Jantzen says.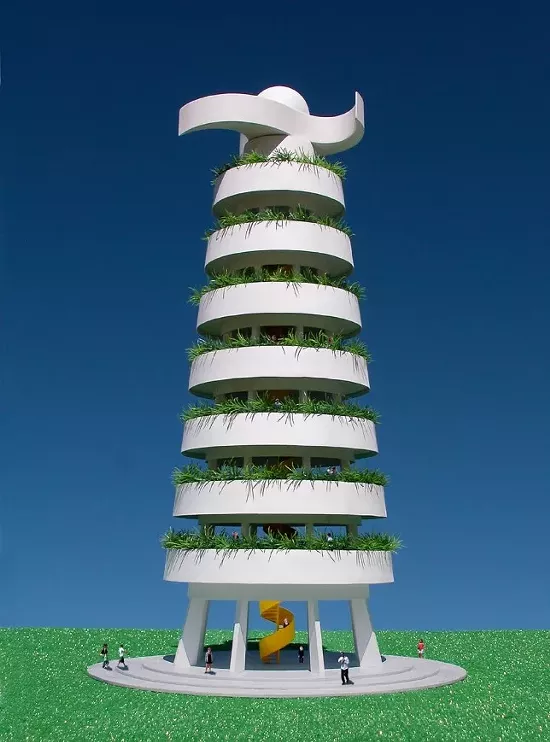 "Aesthetically, the design of the structure comes from the idea of the integrated wind turbine at the top, spinning the shape of the tower into concentric rings that form the vertical spaces below and direct the energy flow down into the surrounding community," he adds.
In addition to his designs for public art/architecture, Jantzen's innovative home designs have been internationally recognized. You can see more of his work on his website.
Follow Ray Downs on Twitter at @RayDowns. E-mail the author at Ray.Downs@RiverfrontTimes.com.