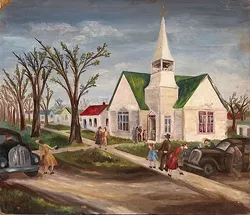 One of hundreds of Terpening's paintings now up for auction.
Last month Riverfront Times introduced readers to Virginia Terpening, an accomplished yet reclusive Missouri artist whose life's work of paintings and sketches was discovered in an abandoned trailer this past May -- some six years after her death.
Slideshow: The Unearthed Paintings of Virginia Terpening
The man who unearthed the artwork, Jason Geisendorfer, hoped he could sell all 700 pieces to a museum or gallery. But at auction last month none of the handful of collectors who bid on the lot was willing to pay what Geisendorfer thought the collection demanded. Now he's auctioning off all Terpening's artwork individually, and this time around he's getting the attention of a St. Louis gallery, albeit in a somewhat unconventional way.
Yesterday the Hinge, a gallery apartment in the Central West End, launched a Kickstarter campaign to purchase as much of Terpening's work as it can at auction.
"We don't have a cache of $30,000 lying around," says Eileen G'Sell, director of the Hinge, in explaining why her gallery didn't bid on the entire collection last month. "What we are hoping to do with the Kickstarter campaign is to purchase some of Terpening's best work and sketches for a January 2014 showing at the Hinge. We then plan on donating the artwork to public institutions, such as libraries, museums and schools."
The Hinge is hoping to raise $3,000 from the public by 6 p.m. this coming Monday, November 18, when the online auction officially ends. Regardless of whether the fundraising reaches its goal, G'Sell says she'll be spending some of her own funds to buy as much of Terpening's work as she can afford.
G'Sell says she realizes that her Kickstarter effort could work against her -- by raising interest in Terpening's artwork and how much money it might command at auction. But she feels it's a risk worth taking.
"Some of the work is awful granny art, but some is great," notes G'Sell, who viewed Terpening's paintings and sketches in person earlier this month. "But that's to be expected in a collection that spans a lifetime. What's important is to give Virginia the visibility she deserved."
Contribute to the Virginia Terpening Kickstarter campaign here.